Home > Arts and Crafts Projects for Kids > Yarn Crafts for Children
YARN CRAFTS FOR KIDS : Ideas for Easy Arts & Crafts Projects & Activities with Yarn for Children, Teens, and Preschoolers
Yarn is a length of interlocked fibres which is mostly used for knitting, weaving, crocheting, embroidery and rope making. Yarn can be used to make so much different crafts, from jewelry to balls. You can also decorate bottles by wrapping it with different color yarns.
In crafts yarn can be used for yarn dolls or just for hair on dolls. You can make a cowgirl wig costume by gluing yarns (as hair in braids) to a cowboy (in this case cowgirl) hat.
Make a Yarn Ball for Quiet Indoors Play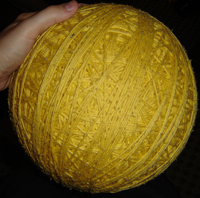 This may seem like a very obvious thing to do, but it really makes a wonderful ball to play with indoors, especially in an apartment where noise should be kept at a minimum. Take some leftover yarn and roll it very, very tightly until the ball is about 2 inches in diameter. The tightly rolled wool gives the ball springiness, and it can be thrown almost noiselessly against a wall or door. If you want an oversized ball, keep winding the yarn to make it even bigger. To make a bouncier ball, try the rubber band ball craft.
Learn How to Make Yarn Buttons

Most appealing buttons may be made with yarn by merely wrapping a button mold, a cardboard disk or a wood disk. Wind the yarn from center hole to outside rim. To finish, lock the threads underneath. These make the most amazing buttons.
Make a Plastic or Glass Bottle Vase with Yarn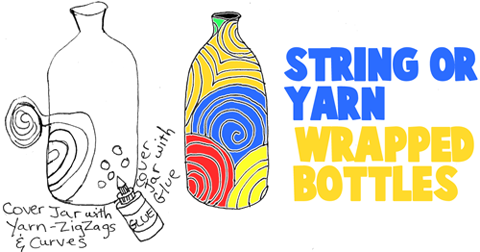 Who would think that you could take some yarn and a bottle and make it turn into such a beautiful masterpiece. You will be surprised how beautifully these yarn covered bottles turn out. Just remove the bottles label and then slowly add clear-drying glue to the bottle while you wrap string around the entire bottle. Create designs of your own, don't necessarily copy from what I drew above. You are the artist.
Make Fake Yarn Beards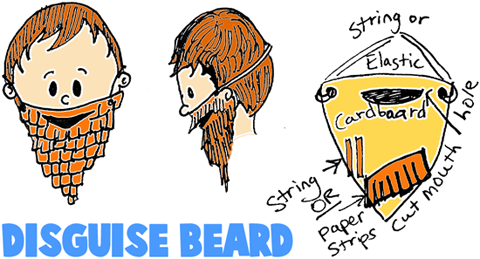 Now there is a use for all of that yarn just laying around your house. :) Cut out a thin piece of cardboard in a beard-like shape. Next find the place where your mouth will be on that piece of cardboard and cut the mouth out. Next poke a hole on both sides of the top of the piece of cardboard. Use these holes to put string through to tie in the back of your head. Just glue on strips of paper and yarn. Next wear this beard like you would a mask....after you let the mask dry that is.
Making Yarn Wigs and Hair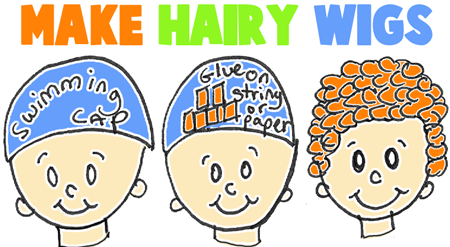 It is so simple to make yarn wigs. Get a swimming cap and then glue yarn all over the swimming cap, overlapping them over each other. Then just let the glue completely dry and you have a great looking wig.
Yarn Scissor Holders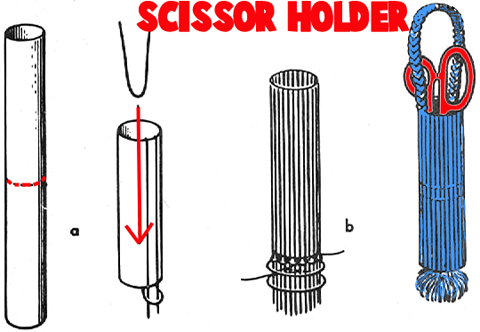 To make this craft, you will need a 5" or 6" length of cardboard tube from waxed paper, foil, paper towels, etc.; approximately 24 yds. of yarn (1 or 2 colors) ; and scissors Cut yarn into lengths 5 times as long as the tube. For example, if tube is 5" long, each piece of yarn should be 25" long. To cover the holder, you will need 26 pieces of yarn. Fold each length of yarn in half and drop loop end through center of tube, insert loose ends through loop at bottom of tube and pull tightly (sketch a). Two colors of yarn alternated make an attractive covering. After tube is completely covered, use a small piece of yarn and tie the loose ends together to form a ball tassel (sketch b). To make a handle for the holder, double three pieces of yarn and make an 8" braid. Punch holes in opposite sides of the holder and tie knot inside. Yarn may be interwoven around holder for decoration if desired (sketch c). Place scissors in holder.
More Yarn Crafts Below

Make Sewing Box or Organizational Box with Box and Scraps of Yarn - Sewing boxes make great Mother's Day gifts as well as presents for birthdays and other special occasions. Below you will find easy step by step instructions for putting together a great sewing box.

Yarn Bird Cages - Make these awesome yarn bird cages by using a balloon, glue, and some yarn. Find out how here.

Making a Groundhog with Yarn Pencil Topper Craft for Groundhogs Day - On February 2nd, the groundhog is going to peek his little head out. He is going out to have a little look around. If he sees his shadow, he know that 6 more weeks of Winter will come, and run back to his home. If he doesn't see it, than Spring is here! Let's make a cute pencil topper groundhog to celebrate Groundhogs Day!

Wooly Fuzzy Yarn Flowers - Make these soft, wooly flowers with some yarn and cardboard. They turn out so soft that you will swear there are sheep in these things.

Give Thanks Yarn Turkeys Centerpiece - These yarn turkeys are sooo easy to make and so cool to look at. Everybody at teh Thanksgiving table gets a paper feather...writes what the yare thankful for...and then sticks it into the back of the Turkey.

Drawing and Doodling with String - This is so much fun. You drop a string (that has glue on it) and let it lie where it lays. Then when the glue dries, you turn the string shape into whatever you want it to be. Fun fun fun.

Mini Yarn Puppet & Theaters - Make this mini yarn puppet in a matches box puppet theater.

Decorate Your Binders with Yarn Art - Make your Binder or Notebook a work of art by winding yarn into beautiful art pieces.

Clothespin Donkeys - Learn how to make these donkeys easily with some cardboard, yarn, and 3 clothespins.

Finger Knitting - Learn how to make real knitted items from a finger-knitting technique.

String / Yarn Easter Baskets - This turns out looking so cool - it is a glued yarn basket that hardens and sets to look really cool.

Yarn Octopus - The craft is an easy one, but it is sure to be a lot of fun. This Octopus toy would make a great gift to give to somebody this Holiday Season. Or, if you like…. keep the toy for yourself.

How to Make a Halloween Spider on His Web with Yarn and Chopsticks - In this post you will learn how to make a Halloween spider on his web perfect for decorating and displaying with your other Halloween paraphernalia. On lookers will love it!!

Making Yarn Dolls with Faces - Learn how to make yarn dlls...some with faces.

Hand Puppets with Yarn Hair and Moving Mouths - This hand puppet is made with rolled oats (oatmeal) boxes or ice cream containers. These puppets turn out so well that people will think you bought them. Find out how to make them with the following instructions.

Clothespin Sheep / Lambs - Learn how to make these sheep with some cardboard, yarn, and clothespins.

Make Your Own Yarn Leprechaun Beards - Use a cardboard loom to make your very own leprechaun beard.

Make Paper Plate Pilgrim Men - Learn how to make these pilgrim boys / men with paper plates, yarn, etc.

Make Paper Plate Pilgrim Women / Girls - Learn how to make these pilgrim Women / Girls with paper plates, yarn, etc.

Make an Organizational Homework Caddy with Yarn Covered Cans - This Caddy is great because your child can take it wherever he / she wants to do their homework.

Beginners Guide to Crocheting a Blanket - Tons and Tons of step by step pictures on how to crochet blankets.

Sewing on Ordinary Window Screens - This is a really cool project...sew on an old window screen...turn it into a beautiful work of art.

Thumb Wrestling Puppets - Make fabric thumb wrestling puppets to play with ... use yarn for the puppet's hair.

Paper Bag Headed Hobby Horses - Find out how to make this hobby horse made with a large paper bag, yarn mane, string reins, and a broomstick as the stick to place the head on.

Circus or Zoo Animal Cages - Learn how to make animal cages with a cardboard box and some yarn.

Styrofoam Lions with Yarn Manes - These adorable lions are made with styrofoam and their manes are made from pieces of yarn.

Yarn & Button Art - Wet the entire picture with glue and then put down string, buttons, and other materials.

Making Yarn Worm Pin Cushions - These worms are made out of styrofoam balls that are wrapped with colorful yarn.

Easy Yarn Dolls

Fancy Boa

Fall Scarecrow Yarn Doll to Make

Floss Friendship Bracelet Yarn

How to Make a Fork Flower

How to Make a Yarn Doll

How to Make Yarn Dolls for Your Christmas Tree Ornaments

Recycled Christmas Cards Basket

String Art

Woven Wall Yarn Hanging Craft

Yarn Tassels

Weaving Frame Craft
::::::::::::::::::::::::::::::::::::::::::::::::::::::::::::::::::::::::::::::::::::::::::::::::::::::::::::::::::::::::::::::
You Might Also Like... Friendship Bracelets Crafts ... Macrame Crafts & Instructions... Crafts with String ... Crafts with Wires ... Crafts with Cords ... Crafts with Elastic ... Crafts with Pipe Cleaners ... Crafts with Shoe Laces ... Yarn Doll Crafts