Home > Arts and Crafts Projects for Kids > Can Crafts for Kids
TIN CAN CRAFTS FOR KIDS : Ideas for Arts & Crafts Activities with Tin Soup, Coffee, Potato Chip, and Juice Cans for Children, Teens, and Preschoolers
They are literally everywhere...tin cans are filled in the cupboard and in the cabinets. And opened aluminum cans are in my recycling bin as well. It feels like such a waste to trhow them out or to put them in the recycling bing. There are tons of ways you can upcycle and repurpose tin cans. As long as an adult cleans up the sharp edges, they are great for crafting. You can decorate them and spruce them up to organize your desk items...such as pencils, pens, crayons, and colored pencils. You could make toy tin can phones with them or even make a piggy bank out of them. The ideas are endless, and we happen to have many of the ideas listed below.
Sardine Can Floating Boat Craft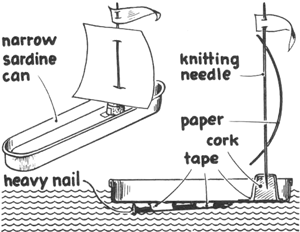 Long ago York Boats were used in North Canada and on the Red River. To make a model York boat, tape a cork in an empty sardine can. Attach a paper sail and a tiny flag to a knitting needle and press the needle into the cork. A heavy nail taped to the bottom of the can will balance the boat so it can float.
Cover a Can with Wooden Clothespins to Make a Mini Barrel

This is a really easy way to turn an average tin or aluminum can into a work of art. Get a mixed nuts can (or other type of similar shaped can) and some wooden (or plastic if you don't have wood) clothespins. Twist all of the clothespins apart. Put 2 rubber bands around the can. Then place your first clothespin (notches side facing out) on the can by placing them on the outside of the can and pushing the rubber bands into both notches as seen in picture b. Do the same thing with the remaining clothespins....placing them all around the can. When you have finished covering the entire can...get some twisty wire and wrap it around the notches and rubber bands and then twist the wire with pliers to hold the wire in place. You now have a miniature barrel...give it as a gift or use it to hold your own special items.
How to Make Native American Drum Banks

Cover a coffee can with colored paper and glue in place. Add Indian designs and a fringe of paper or cloth around the top. Cut a slit in the top for your money. This is a nice decoration for your room.
More Can Crafts Below

How to Make a Magnetic Travel Board Games Set with Altoids Tins - Today I will show you how to make a really cool travel board games kit out of magnets, paper and an altoids tin. This is a great travel game board system that you can stick in your pocket to bring to school with you to play on the bus, in the cafeteria, or what ever. You could even bring it in the car with you to play with your sisters and brothers with. Or you can just play solo since there are 2 different solitaire games to play.

Valentine's Day Card Mailbox (Coffee Can) Craft- Make a Valentine's Day Card Mailbox for your Class's Valentine's Day Party.

Make an Organizational Homework Caddy with Can Containers - This Caddy is great because your child can take it wherever he / she wants to do their homework.

Collection of Crafts Made with Altoid Tins - Here you can find a menagerie of fun crafts to make with recycled Altoid Tins.

Tin Can Tom Tom Drums & Drumsticks- Learn how to make these tom tom drums & matching drumsticks.

Create Your Own Mini Water Well with Branch, String, and Tin Can - Learn how to make a miniature, working, water well to play with.

Halloween Spooky Ghostly Rattle Noise Maker House Decoration Craft - This is a fun arts and crafts project to use to scare Trick-or-Treaters when they get to your house. Hide behind a bush or something and pull the string to make a spooky, ghostly chains type of rattle every time a new visitor comes to your house. This can also be used to announce a new guest arrival to a Halloween party or to a Haunted House Party.

How to Make Tin Can Phones - The basic directions for making the classic toy tin can phones.

Wooden Tin Can Bird Houses - Learn how to combine a tin can with wood to make an amazing birdhouse. This is a great project to do with Mom or Dad, at woodshop, or at Summer Camp. Bird will love their new home.

Tin Can Gardens - Find out how to make these beautiful corned beef can planters.

Tin Can Lanterns - With adult supervision, you can make some cool tin can lanterns for camping outdoors.

Tin Craft Technqies and Methods - Many beautiful as well as useful things can be made out of ordinary tin cans. But you need to know the proper techniques & methods to make beautiful crafts from tin.
You Might Also Like Crafts with Soda Cans ... Crafts with Soda Bottles ... Crafts with Coffee Cans ... Crafts with Pringles Cans ... Crafts with Tuna Cans ... Crafts with Bottle Caps ... Juice Cans ... Crafts with Metal