Home > Arts and Crafts Projects for Kids > Metal Cans > What to do with Empty Coffee Cans Ideas & Crafts for Kids
COFFEE CAN CRAFTS FOR KIDS: Find out how to recycle and make cool stuff with recycled empty coffee cans with the following arts and crafts and activities for children, teens, and preschoolers
If your parents love drinking coffee as much as I do, then they will surely have a lot of coffee cans to disposed of. You can take this as an advantage since there are tons of crafts you can make with them. It's always better to recycling than to throw away right?
You can make a pencil or pen holder/desk organizer, a family time capsule that can be buried, a drum, musical maracas, and a money bank. You can even just use the coffee can plastic lid to make crafts such as a lady bug.
Coffee Can Native American Drum Banks

You will need a coffee can and lid for this craft. Paste all around the outside of the can. Then take some colorful paper and wrap it around the can. Cut off excess paper and make sure paper is sticking well. Use paint or makers to draw designs all around the outside of the can (on the paper). Wrap a thin strip of paper around the top edge of the can. Paste it down. Then cut fringers in this strip of paper. Cut a slit in the lid to turn your can into a bank.
Turn Coffee Cans into Decorated Gift / Cookie Tins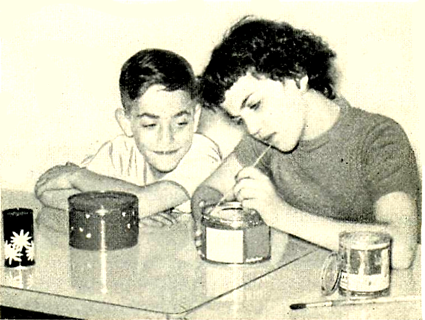 Giving freshly baked cookies or treats to someone on Christmas, Hanukkah, or a birthday is always a great treat. Part of giving a gift like this is to put the treat in a nicely decorated container. That is where this craft comes into play. Wash and dry coffee cans. Paint the outside of the can and the cover. Allow to dry thoroughly. Paint design on can and/or cover. Glitter may be added by sprinkling it on the design while the paint is wet. Dry thoroughly. Wrap cookies or gift in tissue or waxed paper. Place in can. Seal lid to can with colored scotch tape.
Even More Coffee Can Crafts Below

How to Make Coffee Can Drums - Learn how to make this cute coffee can drum along with some denim, yarn, and a few other things.

Coffee Can Lid Wind Bell Chimes - Use the lid of a coffee can to make the base of this noisy wind chimes craft.

Coffee Can Stools - Learn how to make these foot stools with coffee cans, panty hose, and a few other items.


Coffee Can Mailbox for Valentines Day- Use a huge recycled coffee can to make a classroom mailbox.

Coffee Can Bug - Make a very cute bug from simple materials such as a coffee can lid, construction paper, a pencil, scissors, graft glue, markers and chenille stems.

Musical Can - Make musical cans using three small metal coffee cans with lids, uncooked rice, uncooked pinto beans and a few other supplies.

Marching Drum - Make a festive marching drum for your personal Mardi Gras parade.

Pencil Holder - Make an incredible pencil holder for yourself, mom, dad, sibling or a friend.

Recycled Coffee Tin - This is an easy way to recycle a used coffee tin.
You Might Also Like Crafts with Tin and Aluminum Cans ... Crafts with Soda Cans ... Crafts with Soda Bottles ... Crafts with Coffee Cans ... Crafts with Pringles Cans ... Crafts with Tuna Cans ... Crafts with Bottle Caps ... Juice Cans ... Crafts with Metal