Home > Arts and Crafts Projects for Kids > Crafts with Metal
METAL CRAFTS FOR KIDS : Ideas for Arts and Crafts Projects & Activities with Aluminum & Tin Cans, Tins, Foil, Sosa Caps, etc for Children, Teens, and Preschoolers
Below you will find crafts with metal s for Kids. Here are Ideas for Cool Arts and Crafts Projects with Metal such as Tin Cans, Altoid Tins, Cookie Tins, Tin Foil, Soda Caps, etc with with the following crafts ideas, instructions, patterns, and printables for Children
How to Make a Windmill from a Disposable Tin Cake Pan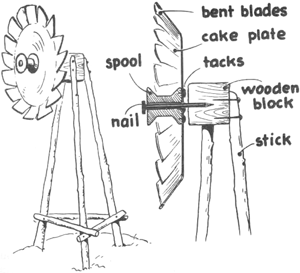 (PARENTAL HELP AND SUPERVISION FOR THIS CRAFT) There are several different kinds of windmills. This type is often used to turn the water pump of a farmer's well. Make this one from a tinfoil cake pan (as your parents first). With a pair of scissors, cut straight lines around the edge of the plate and bend all the blades in the same direction (make sure not to cut yourself). Fasten a spool to the center of the plate with tacks from behind. Mount a wooden block on three long sticks. Then drive a long nail through the front of the spool and the plate into the wooden block. Put the windmill into the ground and watch how it turns on windy days.
How to Make Metal Stipple Art

Ask your Mom or Dad to bind edge of a tin can top with strong tape. Get a block of wood and smooth edges with sandpaper. Fasten tin circle in center of wood with tacks. Draw a design on the tin can lid lightly. Make a stippled design on metal by hammering nail lightly along design marked in pencil. Paint metal with paints if you wish. (See sketch.)
More Metal Crafts Below

Tin Craft Technqies and Methods - Many beautiful as well as useful things can be made out of ordinary tin cans. But you need to know the proper techniques & methods to make beautiful crafts from tin.

How to Make a Magnetic Travel Board Games Set with Altoids Tins - Today I will show you how to make a really cool travel board games kit out of magnets, paper and an altoids tin. This is a great travel game board system that you can stick in your pocket to bring to school with you to play on the bus, in the cafeteria, or what ever. You could even bring it in the car with you to play with your sisters and brothers with. Or you can just play solo since there are 2 different solitaire games to play.

Altoids Tin Emergency Kits - Make a pocket kit for your dad on Father's Day. It can be an emergency kit, a a camping kit, a fishing kit, a sewing kit, or whatever type of kit you want.

Tin Can Lanterns - With adult supervision, you can make some cool tin can lanterns for camping outdoors.

Tin Turtles - These are made by flattening tin cans out so this requires parental assistance for safety reasons.

Tin Can Bookends - These bookends are made out of plywood and flattened tin cans. This is a craft hat requires parental supervision.

Tin Can Gardens - Find out how to make these beautiful corned beef can planters.

A Real Charmer : Metal Crafts Ideas for Kids - - This key-chain valentine seems to defy the laws of physics: as it shrinks, the love just seems to grow.

ABC Matching Game - - Children will have fun learning their Alphabet Cases by matching upper and lowercase alphabet letters in this fun ABC Matching Game craft.

Alien Space Ships - - This Alien Space Ship craft is out of this world - hang as decorations around your room or campsite.

All-Flavor Jelly Bean Cauldron - - Kids can cook up a party spell, by filling this bead cauldron craft with magical all-flavor jelly beans.

Altered Altoid - - Everytime I touch something I am wondering how I can alter it. So today I altered an altoid tin for a Gift card for my nephew for Christmas.

Altoid Box Album - - Metal containers like those that Altoid candies are packaged in can make precious mini-album covers. Recycle your Altoid candy tin into a Gift for someone you love.

Altoid Tin Mini Toolboxes - - Surprise Dad with the Smallest Toolbox Ever! These tins would make a great caddy for holding collections of little odds and ends. Like screws and nuts and bolts and stuff- the things that dads need.

Altoids Clock - - A new mod for an old favorite. Put a custom fix on your wall clock with this easy metal craft project

Altoids Headphone Speakers - - Do you want to throw away your old Altoids Case? Do not! They are very useful! As shown in this Instructable, I made simple speakers (or you can add your own) and added them to the Altoids Case, for a soothing sound. Good enough for make-out music I would say. Have Fun!

Altoids iPod/MP3 Case : How to Make an iPod Case - - In this instructable you will learn how to make an Altoids tin in to a iPod/MP3 player case.

Altoids MP3 Player Case - - With a sturdy construction, your beloved MP3 player will surely be safe from harm with this casing.

Altoids Tin Ear Bud Case - - This is a really simple project that only uses a few components and tools, but is very rewarding in the end when you can rest easy knowing that your ear buds will feel no more pain from getting poked by screws and other useless junk in your pocket. Have fun!

Altoids Tin Emergency Candle - - This is used if the power goes out or if you need a candle when camping or if you are traveling. There are five wicks in the candle, matches and strikers within the Altoids tin.

Altoids Tin Pocket-Sized Watercolor Box - - This Instructable will teach you how to build your own pocket-sized watercolor box. Remember when you were a kid and had a watercolor box? Well, this is the grownup version of it, with high-quality pigments. The best thing about it is that you can carry it in your pocket since its made with the ubiquitous Altoids tin.

Altoids Tin Speaker - - Anyone undertaking this project should have access to standard tools - pliers, diagonal cutters, wire cutters and strippers, soldering iron and solder, multi-meter, electric drill and brad point bits. Experience making PCBs is also required, so ask for Daddy's help on this one. The speaker, circuitry, a single AA battery and 3.5mm male-male audio cable all fit together in the tin.

Altoids Tin Survival Kit - - This goes out to all scouts out there! You never know when you might end up lost in the wilderness, and carrying something as simple as a tin of Altoids with you could save your life. Of course, you'll want to take the Altoids out first and fill the tin with an assortment of survival gear. Be ready to brave the wild all on your own, with just your Altoids Survival Kit to save you. Read on to learn more.

Altoids Tiny Tin iPod Shuffle Case - - I've seen a lot of Altoids iPod cases on this site but none for the shuffle which is less common but lots of people still have it. So here's my plan for a shuffle case using an Altoids tiny tin which are sort of hard to find but are useful.

Aluminum Can Ornaments : Metal Crafts Ideas (Parental Supervision Necessary) - - Before anything else, parental supervision, guidance and a lot of Safetey is needed for this unique metal crafting project. In the end, it will be worth it!

Backyard Melody Maker - - This interactive musical rod is simple to make and easy to use -- over and over again. Kids slide the washers to the top of the metal rod and release them. As the washers slowly cascade to the bottom, they make a beautiful metallic twinkling sound, similar to that of a rain stick. One 4-year-old tester declared it "the most awesome musical instrument I've ever played in my whole life!"

Bicycle Survival Kit - - This is a bike survival kit that I think every cyclist should own and take with them when they bike. The Bike survival kit contains a selection of survival items that will help you survive any situation.

Recycled Bottle Cap Christmas card Frames - - This little recycling project reuses plastic or metal bottle caps, to make frames for pictures cut from old Christmas cards. Children should be able to complete the craft quite easily. You can add a hanger to use these bottle cap picture frames as tree trims, or glue on a magnet to make Christmas fridgies.

Bottle Cap Clinkers Craft - - Kids will shake up some fun and rhythmic beauty with this bottle cap clinkers craft. This clinking rattle will bring a whole new sound to your life.

Bottle Cap Earrings - - There's nothing like a pair of novelty earrings. They can be changed from day to day, according to your color-coordinated outfit, or just because it's fun to have others compliment you on your 'different' earrings. Bottle caps can make great conversation starters as earrings, whether they are made from beer bottles or soda bottles. Here's how to turn those saved caps into an accessory.

Bottle Cap Key Chain - - These bottle caps are a great recycled craft project and allows you to use interesting bottle caps and turn them into bottle cap crafts.

Bottle Cap Lockets - - This guide shows you how to create clever lockets using recycled bottle caps.

Bottle Cap Necklace - - Bottle cap art is the coolest trend around! Make a necklace from the cap of your favorite soft drink.

Bottle Cap Tambourines - - Make and shake these tambourines that are popular in Brazil and Africa.

Bottle Cap Valentine Pins - - These pins are tons of fun to make. Be creative! You can use any type of small decorative items like gems, buttons, sequin, and glitter too.

Brooches to Brag About - - Who needs to show off diamonds when you've got heirloom jewels like these? When my kids each gave one to their great-grandmother to wear on her coat, she was thrilled. Now she has the excuse she needed to talk about her great-grandchildren.

Can Easter Basket : Crafts with Oatmeal Containers for Kids - These are made from concentrated juice cans or round oatmeal containers cut in half and then decorated with wrapping paper or fabric. These little baskets can be filled with Easter grass and candy, or small toys. You can also use them for fresh or silk flowers.

Can Stilts - - Step up on your can stilts and walk like you're in the circus.

Cat Treat Cup : Scary Black Cats Crafts for Children - Find out how to use a tin can to make a treat cup that looks like a cat.

Cat Treat Tin : Scary Black Cats Crafts for Children - Instead of treat bags, dole out these cat-theme goody buckets.

Cauldron Broom and Wand (Pencil) Holder - - This cauldron broom and wand pencil holder craft is perfect, whether for fun or filled with magical jelly beans for a children's Halloween party.

Cauldron Desk Accessory - - Kids can stir up a fun place to store rubber bands or paper clips on your desk with this cauldron desk accessory craft.

Changeable Carryall Tins - - Need a handy place to stash lunch money, notes, or other small but important items? These personalized, changeable tins are just the thing.

Christmas Jingle Bell Door Hanger - - Make these festive door hangers for your home and as Gift s! They are affordable enough to use as a classroom craft or scout troop activity.

Clip Art Candleholder : Crafts with Metal Cans for Children - - With the help of an adult, your child can transform a simple can into their own custom designed clip art mini-lantern.

Coffee Can Caddy : Crafts with Metal Cans- - Store everything from colored pencils and crayons to a deck of cards in this handy carryall.

Coffee Can Drum : Crafts with Coffee Cans for Kids - Kids love music and banging on pots, pans, and plastic containers. Combine their creativity with their musical talent by making this adorable homemade drum.

Coffee Can Lid Wreath : Crafts with Coffee Cans for Kids - Instead of throwing them away, you can make them into tiny wreaths to hang around the house or on your Christmas tree.

Coffee Can Bug : Crafts with Coffee Cans for Kids - Grown-ups may use coffee as a morning eye opener, but these fun, flying coffee can bugs are even better reasons for them to drink up! Here's how to make some plastic insects you can keep or catch.

Coffee Can Drum : Crafts with Metal Cans - - Drums are an important part of life and ceremony in many cultures. Here is a simple method for you and your students to create a fun sounding drum as you celebrate the cultures of the world.

Coffee Can Painting (AKA marble painting) : Crafts with Metal Cans - - Keep those old coffee cans, dig out some marbles or golf balls and discover abstract art with this simple, fun craft that's great for young kids.

Colorful Macaroni Can - - Show off your favorite colors and store your pencils and pens at the same time. Make this adorable pencil holder from a recycled can and pasta noodles.

Coffee Can Money Bank : Coffee Can Crafts for Kids - Ring in the new year with a project that your child can bank on: a custom container that lets him save up for something he really wants.

Coins For Charity Bank : Coffee Can Crafts for Kids - Kids benefit many times over when they create boxes to save Gift s for charity. The whole family contributes to making and filling this Tzedakah.

Cook Up Some Musical Sounds - - As intriguing to look at as it is to listen to, this wind chime is a breeze to make. You'll need a metal colander and 6 or so old kitchen utensils -- the perfect excuse for a family outing to a tag sale or thrift store.

Cookie Tin Time Capsule - - Capture your memories by using a recycled cookie tin and making it into a cookie tin time capsule. Have hours of fun making this fun craft with your kids. Spend New Year's Day or special holidays together with this family craft.

Crafty Candleholders : Crafts with Soda Cans for Children - - Combining recycled and natural materials, these easy-to-make candle holders and can be adapted to suit any decor.

Creepy Crawlers - - Just like the real McCoy, these metallic spiders make an eerie appearance dangling from the ceiling or crawling across a table top.

Crushed Can Craft : Crafts with Soda Cans for Children - - This is making a colorful and funky piece of art with crushed aluminum cans. One of my very favorite things to do is to create something new and fun out of what normally would be thrown away--unless you recycle them, that is. This tutorial will show you how to recycle your cans is a completely different way.

Cute Coin Purse - - Alter a tin container into a cute coin purse! These coin purses really look like mini luggage and close securely. They are also fun to make!

Dangly Doorway Décor - - For a kid, there's something inherently fun about adorning the entrance to her room with a dangly curtain she can part and step through. But before you head out to purchase the classic beaded version, consider the creative possibilities. With a little help, your child can string a variety of interesting items -- such as medallions cut from colorfully printed scrapbook paper, craft foam flowers, and pom-poms -- into decorative doorway strands of her own. Here are five fashionable designs for inspiration.

Decorative Bank with a Pringles Can - - Build your own decorative bank out of a Pringles can AND save money -talk about a fun and economical craft for kids!

Dollhouse Furniture - - Aspiring interior decorators can transform household recyclables into their own line of original home furnishings.

Doorknob Decoration - - Get a handle on holiday decoration routine by turning cupboard and dresser drawer knobs into festive symbols.

Easter Bunny Can Basket - - Transform a soup can into a delightful Easter basket with this adorable craft. Use them as festive table decorations, or fill them with little Easter treats for the kids.

Elephant Pencil Holder - - Not only is this pencil holder cute, but it is useful as well!

Embellished Lunchbox Tin Crafts Activity - - A cute lunchbox tin decorated any which way your heart pleases.

Fake Snake : Craft with Bottle Caps - - If your child is voracious for vipers, this recycled reptile is an easy keeper with undeniable charm.

Fish Lures Craft with Soda Cans - - Fishing lures can be made from almost anything. The trick is to get them to either look or act like live bait. Here's how to make sure catch wooden fish lures.

Fish Ornaments From Soda Cans - These shiny ornaments would be beautiful on a Christmas tree, but they can as decorations year-round. String some together to make a mobile that will catch the sun in the springtime. Or make a chain of them to use for a backyard party in the summer. Soda can fish are both earth-friendly and eye-catching any way you use them.

Flattened Can Craft with Coffee Cans - You will not believe this great flag craft is made out of a coffee can.

Flower Pot From a Soda Can - - Making flower pots is a great way to recycle old soda cans. The cans make perfect pots for small plants and can save you a lot of money on pots. Soda can pots can be used as temporary pots for seedlings or propagations instead of purchasing many small pots. However, you can also decorate them and use them as permanent plant holders.

Fluffy Tin Can Lamb Craft for Kids -If you are looking for a super-easy craft to make as a gift, this is the ideal project. This sweet little lamb makes a wonderful teacher's gift, pencil holder for mom's desk, or a candy or coin holder for your kids!

Foil Etching Crafts with Tin Foil - - By using aluminum foil instead of paper, students will create fabulous (and shiny) works of art.

Funky Vintage Tin with Recycled Magazines - This project uses a recycled crisp tin to create a funky organizer for pencils, small knitting needles, crochet hooks or just about anything else you fancy.

Ghetto DIY Pillow Speaker : Crafts with Altoid Tins - – This is a $2 DIY replacement of an $8 radio shack toy. Listen to music in bed without uncomfortable headphones! Free mints too!

Halloween Luminaries : How to Make Halloween Decorations Crafts - It's easy to make tin can luminaries to light your walkway or front steps on Halloween.

Handmade Copper Garden Signs - - Stake out your territory with this spiffy copper-foil garden sign.

Hanukkah Gift Can - - This children's craft calls for recycling a food can and transforming it into a pretty Hanukkah Gift can.

Heart Key Chain - - Anyone who receives this valentine will know that they not only hold a piece of your heart, but they've got the key, too!

Homemade Soda Pop Can Flower Candle Holders - - Are you looking for another use for those soda cans besides recycling them? Why not learn how to make Homemade Soda Pop Can Flower Candle Holders? It's easy to do, and you'll have unique decorations to spruce up your home everyday, or, for a special event!

Hot Wheels : Coffee Can Crafts for Kids - Spiff up your wheels with red, white, and blue coffee can lids-- and join the July Fourth parade with flair.

iDisguise : Mp3 & iPod Case Crafts for Kids - - Designed as a disguise for your iPod or Mp3 player as well as a protective case, the iDisguise cleverly hides your music player behind a candy tin for the fictional candy company "Olde Lyme Imports".

Jewelry Tree - - This fancy jewelry tree makes a great Gift for a friend or sibling, who will have a blast adorning its branches with all of her silvery chains, beaded necklaces, and pretty bracelets.

Jolt Energy Mints Slim MP3 Player Case - - I bought a tin of these Jolt Energy Mints not just because they are good but, I thought they'd make a good slim MP3 player. The Jolt Energy Mint tin is a great because of the slim design and one end opening to allow head phone cord storage.

Keychain Box : Crafts Ideas with Altoid Tins - - I took to carrying the Altoids Smalls tin as a catch-all box due to it's small size. I've had in my pocket for probably 4 months now, so it's getting pretty tired looking.

Kids Can Stilts - - Walk tall with this juice can stilt craft that provides hours of fun and physical activity for kids.

Kwanzaa Gift Can - - A Kwanzaa Gift craft for kids made out of a recycled can and specially painted for Kwanzaa.

Ladybug Locket - - Simple and cool, this project will be a useful, cheap yet trendy accessory for your kids to make.

Lantern - - Make these pretty lanterns for fall.

Lantern and Tea Light Holder - - There's no better way to make a colorful candle holder than soda cans. Find the most colorful ones lying around the trash bin and transform them into a creative work of art.

Lantern From Recycle Soda Cans - - Summer is here and the four of July is right around the corner. a fun project to do is to decorate the backyard with lighting or protect your family from insect by recycling your soda cans into lanterns you can hang from the porch or several trees.

Love Note Flip-book - - Here's a Gift that serves as a lasting reminder of your family's affection: a flippable compilation of inspirations and love notes personalized for you. Binder rings make it easy to turn messages, drawings, favorite memories, or quotes into a homemade tribute to Mom.

Lotus Tea Light - - Perfect for the dining table. Mom and Dad will surely appreciate you making this craft project.

Luminaria - - Luminarias, or candle lanterns, can lend an extra glow to a stargazing party, an outdoor storytelling session, or a night hike.

Lunch Money Locket - - A kid will never lose his lunch money again if he keeps it in this homemade -- yet eminently stylish -- locket made from a common mint tin. Dress up the lid with toy plastic animals, fake jewels, stickers, and more.

Magnetic Headboard - - Transform your child's headboard into a magnetic display with this easy decorating project. For the complete Board Room bedroom makeover, click here.

Mancala Game - - Play for hours when you create this fun African Mancala Game from recycled egg cartons and tuna cans. Great for all ages!

Marching Drum with Coffee Cans - No Mardi Gras parade could be complete without a marching drum! Here is how your children can make their own.

Metal Tapping & Decoupage Craft Project - - Encourage both computer skills and craftsmanship with this metal tapping and decoupage craft. With simple materials and a bit of clip art, kids will be amazed at what they can create.

Metal Cut-Outs Craft Activity for Children - - These metal cut-outs are like traditional Mexican tin cut-outs. You can make these shiny ornaments from disposable aluminum pie plates or roasting pans. They make great decorations for Christmas, Cinco de Mayo, and other holidays.

Mighty Megaphone - - Even the littlest voices can lead the cheer with this sturdy homemade megaphone.

Mini Gift Pins - - Lightweight and festive, these colorful coat pins make a treasured Gift that will spread cheer year after year.

Miniature Helper Tins : Crafts Ideas with Altoid Tins - - the best tins for these projects are old Altoids tins, because somewhere along the line Altoids changed the design so that the logo is now embossed on the cover. But fear not, because the old ones are easily found in thrift stores and there are also spin off brands like myntz, sucrets, etc. that have smooth tins. So grab a bunch and start passing out the mints! Happy crafting!

Mint Tin Magnetic Word Play - - Take old magazines and turn your favorite phrases into word play. This simple project is sure to make headlines.

Model Airplane out of Beer Cans - - Boys simply adore this ingenious craft project! If you haven't made one yet, now is the time to do so and recycle those trash aluminum cans lying around the house.

Musical Altoid Tin - - I've seen projects similar to this but the trigger mechanisms didn't seem too reliable. So this project is how to install a pressure switch to make your Altoids tin musical. If you haven't tried soldering before this project should be a good start. It only has four simple solder joints to make.

Musical Maracas : Coffee Can Activities for Children - Maraca made from a coffee can.

Musical Can - - This musical can craft will certainly help kids keep the beat. The magic of music is not just in the tune; it's in the rhythm. This coffee can trio of rhythm instruments can help kids play along with any of their favorite songs.

My Own Message Board - - Have you noticed how magnets seem to attract kids like, well, magnets? Capitalize on that fixation with a magnetic memo board right in your child's room.

Nature Can - Now kids can carry their own nature collection box, fill it with whatever they choose and keep it or dump it as they like. These are our new Nature Cans.

Nut and candy tins - - You can add an extra touch to any Boy Scouts' blue and gold banquet with these nut and candy tins crafted from recycled coffee tins.

Nutcracker Ornament - - Add some festive cheer to your home with this nutcracker ornament. Young crafters will have fun fashioning empty potato chip containers into a Christmas keepsake.

Patriotic Treat Can : Coffee Can Activities for Children- This fun coffee can craft makes a wonderful tabletop decoration if you fill it with flowers and flags, or it can even be filled with treats and given as a Gift .

Pen Holder : How to Make Stuff with Soda Cans - - Here is a quick and easy way to make a Pen Holder. Helps prevent misplacing all those pens you have. You can even use the can for any other use as well.

Pepsi Can Crab : How to Make Stuff with Soda Cans - - A 3D crab made out of a single aluminum Pepsi can. Similar to the plastic bottle crab plastic bottle crab.

Pocket Sized Tin Racer Craft Activity to Make a Toy Car - Have you ever gotten bored at school or wanted to make your friends jealous with something they didn't have? Well this is it! This is what you have all been waiting for... The Pocket Sized Altoids Tin Racer!

Polymer Clay - Valentines Treasure Tin - - This free valentines day project shows you how to make a decorative tin for homemade sweets for your Valentine.

Pop Can Christmas Tree Craft - - Find out how to make this easy yet creative Christmas craft. Follow the directions and you can make a Christmas tree using soda pop cans.

Pop Can Purse : How to Make Stuff with Soda Cans - - Be unique. That's what this project is all about. Young ladies, or "tweeners" will surely want to have one of these.

Portrait Pendants - - A hand-drawn portrait turns a metal label holder into a token of affection for a beloved cousin, say, or aunt. Let your little one sketch a self-portrait or draw a picture of the present's recipient, then Gift it on a sweet silver chain.

Potato Chip Can Santa : Santa Clause Crafts for Christmas - Don't throw out those potato chip cans, they make great crafts! Try your hand at this cute little Santa, a perfect display for your holiday table.

Puppy Love Locket - - Reward Rover for all his sloppy kisses and sweet devotion with this customized valentine tag.

Recycled Coffee Tin - Easy way to recycle a used coffee tin.

Recycled Tin Can Candleholders - - The stability of tin cans makes them wonderful floor and ground lights. A row of perforated tin candleholders is a gorgeous way to line a garden walk or the baseboard of a sunroom. With any floor light, you run the risk that a guest will accidentally kick the candle over, so put some rocks, gravel or sand into the base of each can to give it added weight. And remember to add a heatproof layer beneath indoor lights.

Recycled Tin Can Flower Pots - - As any gardener knows, a container garden can get expensive in a hurry. Turning old tin cans into flowerpots can help you alleviate that expense. You can use small cans to start seedlings while large cans can be lasting planters.

Recycled Tin Can Lanterns - - Tin cans come in numerous shapes and sizes, and most of them can be turned into lanterns. Squat tuna cans, petite tomato paste cans, large coffee tins and standard soup cans can all light up the night. Just make sure the candle fits inside, and you're ready to go.

Recycled Tin Can Pen Holders - - Before you spend money on a matching desk set, remember that you might already have one in your pantry. Tin cans are the perfect size to contain pens, pencils, scissors and other office supplies. You could even turn a shallow tuna can into a paper clip dish.

Recycle Cans My Way : How to Make Stuff with Soda Cans - - We want to improve the world by recycling "One Can at a Time". Do you know what happens to a pop can after you drink the soda? Maybe 300 or 400 years later, they will still be around. Here we give them new life. You can see the metamorphosis from soda pop can to useful works of art.

Recycled Aluminum Flowers - - Don't toss those old cans; turn them into funky flowers that add a colorful touch to any garden. Recycling has never looked so good

Recycled space Ships : Space Ship Crafts Ideas for Kids - Turn junk around the house into an interplanetary craft with this Recycled space ship. It's fun for kids to gather and assemble cans, jars and other stuff into something perfect for Earth Day.

Recycled Soda Can Frogs : How to Make Stuff with Soda Cans - - This craft project would look great hanging on your door, just as any frog would look like on a tree branch.

Robot Party Centrepiece - It's easy ... all it takes is empty cans and string!

Secret Hollow Soda Can - - Sometimes in life you need a little stealth. You need to transport something important from point A to point B without even the closest person knowing. Well if that's you, and you have something that you think you fit in the bottom of a soda can, then you are in luck, because you are about to learn how to make a secret hollow soda can.

Sign of Spring - - Stake out your territory with this spiffy copper-foil garden sign.

Silvery Wind Chimes - - Everyone enjoys a good outdoor summer concert, and it's literally a breeze to orchestrate one with this homemade wind chime.

Silver and Gold Soda Can Stars - - If you can find other uses for this easy craft project other than hang it on as a Christmas décor, let us know.

Silver Bells Wreath : How to Make Stuff with Soda Cans- - Make some savings for Christmas by not spending a dime on decors. Use all those trash aluminum cans you can find in making this pretty unique silver wreath.

Silver Bells Wreath : How to Make Stuff with Soda Cans - - Make a silver wreath for the holidays using aluminum cans.

Simple Emergency Lantern - - This is a simple candle powered lantern made from a candle stick and a V-8 juice can. It is meant for power outages when flashlight batteries are dead (this happens to me more than i like to admit) or you want to conserve those batteries. I used this in a power outage and while not terribly bright it provided plenty of light to see by. This was also done during the time i didn't have a digital camera handy, so once again it's a bit skimpy on the pics. I will not have this problem anymore now that i have a new camera.
Simple Cookie Tin - Make this simple cookie holder using a coffee can.

Skelton Shadow Box - - Take a spin by the toy section to pick up some figures, give them a makeover and then stage them inside a glittery shadow box. You can go as small as a mint tin or larger with a cigar box. Either way, you'll have a worthy piece of art!

Slinky Drum - - It is time for your slinky to do more than crawl down stairs.

Smashed Soda Can Animals - - A smashed soda or aluminum can becomes a funny cow, pig or bear. This is fun activity is a great way to teach kids about recycling.

Soda Can Angel Ornaments - Christmas - - Decorations are among the most enjoyable crafts to make, and can be shared as Gift s for friends and family. It is not always necessary to purchase materials from a craft store. Many items can be re-used, such as soda cans, raffia, ribbons, bows and other small decorations. The following instructions will help you create a soda can angel. There is a lot of room for creativity and improvisation with this type of craft, so have fun with it!

Soda can Birdfeeder – Just imagine how much you can help save the environment if only we recycle or re-use all plastics, cans, cardboard boxes, and other recyclable materials in our homes. This bird feeder is just one way of giving back to the environment and helping the birds of nature get some free snacks too.

Soda Can Candle Tray - - Make a candle tray out of soda cans.

Soda Can Cuties - - These are really adorable little toys! In order to make one, you have to follow our easy guide though. Here's how…

Soda Can Fireplace - - Add sand to the bottom of the can, a few sticks, and a piece of paper or tree bark AND YOUR DONE!

Soda Can Flowers - - They're also a "greener" alternative to traditional bouquets. What's more, soda can flowers can be recycled when you're done with them.

Soda Can Flowers - - Do you love the look of flowers around the house, but not the expense and mess? Soda can flowers are permanent, fun displays that add color to your home or office, at little to no cost.

Soda Can Four Leaf Clovers - - This isn't a project you will want to do with younger children, but it is still a fun St. Patrick's Day craft idea.

Soda Can Hinge Wallet Chain - - Make a (semi) quick wallet chain out of hinges found at the top of every soda can! Finally a good use for those lonely hinges!!

Soda Can Lantern - - Since this project requires cutting with sharp objects, we suggest you ask for Daddy's help before you proceed. But once you're done, nothing else can compare to the feeling of accomplishment.

Soda Can Pencil Holders - - If you are crafty and care about the environment, make a pencil holder out of your soda can instead of tossing it in the garbage. Making pencil holders out of soda cans is a project that the whole family can do together. The following steps will show you how.

Soda Can Penguins - - Winter is fast approaching, some have even had little previews. With Christmas approaching, many people are aware that is will be sooner than you may think. Whether you enjoy the winter months, decorations are always fun. Christmas decorations are a tradition in many households. Soda can penguins are a great decoration, even if you don't use them for Christmas, they make great winter decorations.

Soda Can Rocket - - In this instructable I am going to teach how to make a rocket out of a soda can. It really simple to create and only takes a minute or two.

Soda Can Rose - - Want to make something special for that special someone? This instructable will show you how to make a beautiful flower with just a few materials and a little bit of time. The best thing about it is that instead of throwing away your empty soda cans, you can make a wonderful bouquet of flowers!

Soda Can Sculpture - - Students will use reusable objects and individual creativity to create wonderful sculpture.

Soda Can Star Lights - - These easy party lights can be made faster than your average fireworks explosion, not to mention that you probably already have the bulk of the supplies in your pantry. It also proves that from an artistic standpoint, soda pop cans are just as awesome on the outside as they are inside.

Soda Can Stove - - Making a soda-can stove is a convenient and fun way to cook while camping or backpacking. A soda-can stove will burn for about 15 minutes, which is plenty of time to boil water, or even cook some breakfast.

Soda Can Tab Belt - - Yes, it's possible! A belt made from soda can tabs.

Soda Cans Tab Earrings and Bracelet - - If you love to recycle, then this is an easy project for you.

Soda Can Treat Holder - - Here's a little holder for those pretty little trinkets.

Soda Can Wallet - - Stash your cash in this soda can wallet. Ingenious!

Soda Pop Can Baby - - This unique baby craft can be made in a rainbow of pastel colors. Wouldn't these easy crafts be a fun way to personalize baby shower decorations?

Soda Pop Can Bat - - These cute, flying bats are easy to create and would make fun decorations for a Halloween party or haunted house.

Soda Pop Can Cow - - Why not make an entire herd of these tiny cows?! They don't all have to be black and white; you can get creative and make them in many different colors.

Soda Pop Can Ghost - - Find out how you can easily create a flying ghost using an aluminum pop can. Another fun Halloween decoration, and for a fun twist, see if you can find glow-in-the-dark paint at your favorite craft store.

Soda Pop Can Pig - - Make several little piggies using soda pop cans. I promise these pigs will not eat you out of house and home.

Soda Pop Can Puppy - - You can easily make a 'best friend' for every man, woman, and child you know; and these puppies don't even have to be house broken!

Soda Pop Can Santa - - Start out by making a Santa using a crushed can and then follow the same directions and make several elves to help him out.

Soda Pop Can Spider - - Besides using an aluminum soda pop can, this craft is made using handprints.

Soda Pop Can Witch - - This adorable little witch won't scare a soul. This is a fun and unique Halloween project.

Spaghetti & Meatballs Costume - - FamilyFun reader Kelly Wright of Waukesha, Wisconsin, made this saucy costume for her 11-year-old daughter, Carol. All the neighborhood kids ate it up!

Spin and Skip : Potato Chip Cans - This toy is so much fun to play with, your children won't realize they're also getting a workout.

Spring Flower Brooch - - An ordinary soda can provides pretty graphics and shiny metal. They combine to form a bold and beautiful flower brooch.

St. Valentine's Day Aluminum Can Flower - - While searching for an adequate Gift for my girlfriend I decided to revisit an old project. Using pop cans I attempted to make a tiger lily, it isn't the most beautiful thing but I put a lot of work into it.

Star Wand - - These star wands might not have magic powers, but assembled into a big bouquet, they're sure to light up a room.

Starry Santa Tin - Here's a stellar way to spruce up an old tin.

Sticker Star Twirler - Here's a windup toy that's guaranteed to amuse young holiday guests on the Fourth of July. Just crank the handle, let go when the top starts to turn, and watch the starry swirl. Made from the lid of a coffee can.

Stuck-on-You Box - - Toddlers love playing with magnets, so, why not double your tot's pleasure by creating a chunky, easy-to-pick-up set personalized just for him? Decorate them with stickers of his favorite things, from book characters to cute critters, and/or letters that spell his name. Try storing them in a metal lunch box - it makes a perfect carrying case and play station all in one.

The iTIN - - This Instructable will show you how to make the ultimate pocket sized tool. You'll need to ask for Daddy's help on the electrical aspects though. It can charge your ipod, Zune, phone, GPS or anything that runs off of a USB port. It's a flash light, and a TV Remote jammer, who doesn't want one of those right?

Thrifty Crafts Old Christmas Cards - - With a few inexpensive aluminum cookie cutters, and a few old Christmas cards, you can create Christmas Tree Ornaments on a budget. You not only recycle your cards, but create a thrifty Gift or ornament for the holidays.

Time Capsule with Tin Can Craft for Children - - Capture your life in a tin can with this easy, fun craft!

Time Capsule Craft - Instructions for kids to make a special Time Capsule to help celebrate New Year's Day or any other special time.

Time Capsule - Fun to make while you are waiting for the countdown to begin.

Tin Can Frankenstein : Scary & Spooky Decorations Crafts - Make this darling little Frankenstein out of felt, glue and a tin can.

Tin Can Santa - This Christmas try making a Santa craft. These easy to make tin can Santa Claus Christmas decoration craft is lots of fun, and inexpensive too!

Tin Can Totem Poles - Nothing sets the mood at summer camp like a totem pole, especially one flickering in the light of a bonfire. Make a tin can version for your backyard camp by painting your family portraits on coffee cans.

Tin Can Sculpture Craft for Kids - - Students will learn how to use reusable objects and individual creativity to create wonderful sculpture.

Tin Can Train - - Don't let looks fool you. Assembling a shiny freewheeling toy train like this one is a cinch -- the pieces are simply stuck or clipped together. Chances are, most of the parts you'll need for this model-making project are ready and waiting in your recycling bin.

Tin Can Mummy - This cute little mummy is a perfect recycling project. This will work great for holding pens, pencils, or even some Halloween flowers. How about filling your mummy can with lollipops?

Tin Can Storage Containers - - Practical and pretty, and costs next to nothing to make!

Tin Can Turkey Craft : Crafts with Old Tin Cans - - Gobble gobble! This adorable little turkey-themed craft for kids is perfect for filling with wrapped candy. Place him on the Thanksgiving table and everyone will comment on just how cute he is!

Tin Cup Necklace - - Creating your own jewelry can be a very rewarding experience as well as an educational one. Children can often enjoy this fun activity with their parents (or each other) while learning an artistic skill. Jewelry making does not have to be rocket science. The Tin Cup necklace received its name from a movie of the same name that had an actress, René Russo, playing a character that wore the design. It became popular, and as such, entered into jewelry legend. Pearls are the usual fare, knotted together in equal intervals on a silk thread that is lightweight and light in color.

Tin Man - - Keep the birds at bay with this gangly kitchen-gadget scarecrow!

Tin Model Toy Car (Parental Help a Must) - Many old-fashioned toys and models were made of tin because it could be easily shaped into many things. A great project for any model-car enthusiast is the Tin Lizzie itself, the Ford Model T. It was the first car to be mass produced that was affordable for the working class.

Tin Travel Candle - - You could make a bunch of these quickly for emergency kits, camping, etc. enjoy!

Toadville - Create an entire village for your garden frogs using coffee cans.

Toilet Paper Storage : Craft with Old Coffee Can - - Make a decorative container for extra toilet paper storage. An old coffee can and a few other decorative elements found around the house are all you need. This makes for a fun craft out of recycled goods that can be given as a Gift .

Tool Bench Organizer - Easy way for dad to organise his things at the tool bench. Craft made from coffee can.

Tom Turkey Recycled Soda Can - - A great soda can craft to celebrate Thanksgiving celebrations.

Totem Pole - - September 25th is Native American Day. Here is a chance to recycle those tin cans into this fun totem pole and teach young people about our Native American heritage.

Tray Cans - - This fun project will amaze your friends/girlfriends by its simplicity and efficiency. I've been doing these "trays" for a long time now, mostly on holidays, at the beach house when you got time to spare and there's nothing to put your ashes in.

Turkey Wreath - - You can make a sign "Eat More Pork" to go around one of the turkey's neck if you want.

Ultimate Ipod Altoid's Case - - It's happened to all of us. After building so many projects for your Ipod out of Altoids tins and you're left with nowhere to put all those minty little devils. With a few basic tools, a small handful of parts, and 7 to 13 hours of your time you too can have a wonderful new Ipod Altoids Case, or as we call it the original DCIpod.

Valentine's Day Card Mailbox (Coffee Can) Craft- Make a Valentine's Day Card Mailbox for your Class's Valentine's Day Party.

Walking Tall Stilts - Kids are forever wishing they could be bigger and taller. One quick way they can reach new heights is to take a walk on homemade stilts.

Wind Chime - - Wind chimes, available in sizes ranging from tiny to gargantuan, are lovely additions to any garden, patio, or porch. From custom made to mass produced, expensive to inexpensive, small to large, wind chimes offer a delightful way to add to the theme of existing decorations and plants. Homemade wind chimes can be especially clever and can make use of sentimental items, as well as items that would normally get tossed in the trash.

Wishing Well Crafts Activity for Kids - Instructions for making a miniature wishing well using a tin can and popsicle sticks.

Zen Micro Car Mount - - Create a durable and stylish, yet cheap, car mount for the Zen with just these items: Two full-size Altoids tins,; one big-size plastic paper clamp thing; one can of spray paint, and some Velcro strips.
You Might Also Like Crafts with Tin and Aluminum Cans ... Crafts with Soda Cans ... Crafts with Soda Bottles ... Crafts with Coffee Cans ... Crafts with Pringles Cans ... Crafts with Tuna Cans ... Crafts with Bottle Caps ... Juice Cans ... Crafts with Metal ... Crafts with Foil