Home > Arts and Crafts Projects for Kids > Crafts with Boxes > Cereal Box Crafts for Kids
CEREAL BOX CRAFTS FOR KIDS : Ideas for Arts & Crafts Projects & Activities with Cereal Boxes for Children, Teens, and Preschoolers
We go thru several cereal boxes every week in our house. I always save our cereal boxes because they are perefect to use for many crafts. They are a little stronger than card stock, and cost nothing to use. So it is a win win situation. Whenever we have finished a box of cereal, I flatten it up and store it in my pantry. You can make folded paper crafts that are reinforced with these and then they are sturdier and last a lot longer. You can also use them to make masks that last for a very long time. Or you could use them as the building structure for a papier mache project. The ideas are endless...this would probably be the most useful homegoods item that I reuse on a regular basis for crafts. Below you can find some creative ideas for repurposing cereal boxes for your own crafts projects.
Making Cereal Box Masks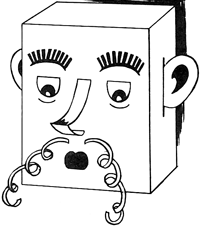 Masks are a lot of fun to make, but they are especially fun to make for Halloween, masquerades, or other parties. Cut a piece of wrapping paper to fit around the box and glue it securely in place. Make the features by coloring them on with wax crayons, or pasting on bits of colored paper. Here are some suggestions for decorating your masks. Try different colors on masks to obtain unusual effects. 1. Cut and fold colored paper to make hats, ears, beaks and horns. 2. Wind strips of colored paper firmly around a pencil until they curl, to make hair, eyelashes, whiskers and beards. 3. Glue on other trimmings such as, wood shavings, ping-pong balls, fringed paper, cotton, broom straws, feathers, carrot greens, beads, earrings, fancy braids and any other trimming available. 4. Draw on eyeglasses, monocles, and any other decoration with colored wax crayons.
Make a Cereal Box Napkin Holder House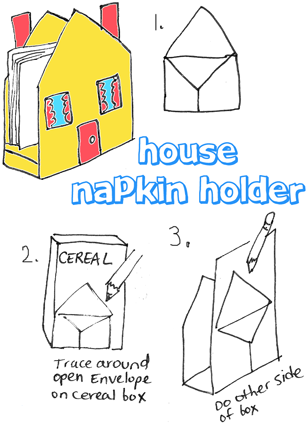 This napkin holder turns out really cute and you can make it from a recycled cereal box. The first thing you do is get a greeting card envelope and open it up so that it looks like a house shape, as illustrated in (picture #1). Then get a cereal bo and hold the envelope at the left corner and trace around the envelope to use as your guide when cutting (picture #2). Then turn around your box and hold the envelope at the bottom right side of the box (picture #3) and trace the open envelope again. Now get a scissor and cut around the lines that you drew....keeping the bottom of the box intact. Now paint the remaining house-shaped box to look like a house. It helps to put a little bit of glue in the paint to make it stick to the waxed cereal box surface. Now let the paint dry and then give as a gift or start using to brighten up your breakfast table.
A Few Fun Ideas for Play with Cereal Boxes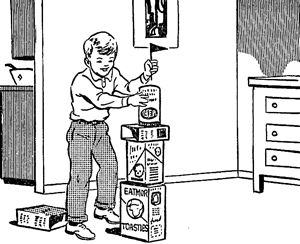 Empty cereal cartons can be used for many play ideas. Here are a few. (1) Build towers and castles. Place cartons on top of each other. Make them so that you have passages and tunnels. Place toy men and animals on them. (2) You can play store with your cartons. Place them on the table or on a box. Pretend that a customer comes in to buy the boxes. (3) Open the tops of three cartons. Set them sideways on the floor. See how many marbles you can roll into them. (4) With a parent's help you can trace animals, masks, and flat boats from the boxes. When they are cut out, you can color them.
More Cereal Box Ideas Below

How to Make Valentine's Day Suitcase Mailbox with a Cereal Box - Today we will show you how to make a cool Valentine's day Mailbox Suitcase to hold your classmate's Valentines Day Cards. There is a slot to place your friend's cards…and when you want to retrieve your cards, all you have to do is unbutton the suitcase straps and get them out. You can then use this suitcase as a treasure chest or storage container.

Cereal Box Puppets - Everybody has cereal boxes lying around in their house...why not upcycle them and turn them into hand puppets with your creative imagination.

Make Picture Frames Holder Made from Cereal Boxes Cardboard- Here is another gift idea to give to your Grandmother or Mom on Mother's Day. This would also be great for Dads and Grandfathers for Father's Day. Make a picture frame from cardboard and the instructions below. If you are looking for something to give Mother for her desk, a picture holder like the one shown here is certain to please.

Christmas Paper Wreaths Craft for Kids - Here's an easy Christmas wreath you can make with just some crepe paper, colored paper, a cereal box, and ribbons. This paper Christmas wreath is easy to make and great to hang on your doors at Christmas time. This easy step by step instructions are given on this page.

Letter Holders Box as Gift for Mom or Dad - Make this cool letter holder as a gift for Mom on Mother's Day or Dad on Father's Day or for someone else you love. You can make this attractive and useful letter holder box gift with recycled cereal boxes sewn together.

Decoupaged Cereal Box School Papers Organizers - This is so easy to make. Just cut up a cereal box and glue on different cut out pictures...this one used Nintendo characters such as Donkey Kong, Mario, Luigi, Link, etc.

How to Make Valentines Day Mailbox Backpack with a Cereal Box - This is a unique Valentine's Day Mailbox crafts idea, but I think all of your friends will ooh and aah over it. It is made from a cereal box and ribbons, amongst other crafts materials. AND you can really use it as a backpack, it really works. Have fun.

#1 Cereal Box Badge Ribbon - Make a #1 badge ribbon that is made with cereal box, paint, and ribbons.

SchoolWork and Homework Organization Organizer Craft - Declutter your kitchen by creating this homework and school paperwork organization system for or with all of your kids...made with cereal boxes.

Picture Frames Holder Gift to Make- Make a picture frame from cereal box cardboard and the instructions below. If you are looking for something to give Mother for her desk, a picture holder like the one shown here is certain to please.

Simple Cardboard Cereal Box Desk Organizer - This is soooo simple to make but turns out so nice. These organizers are just made from recycled cardboard.
OTHER CRAFTS PAGES YOU MIGHT LIKE
Crafts with Cardboard Boxes Page ... Valentine's Day Boxes Craft Page ... Box Making Crafts Page ... Crafts with Cereal Boxes ... Crafts with Soap Boxes ... Crafts with Tissue Boxes ... Crafts with Chocolate Candy Boxes ... Crafts with Oatmeal Containers