Home > Arts and Crafts Projects for Kids > Crafts with Boxes > Oatmeal Boxes Crafts for Children
Crafts with Oatmeal Containers for Kids : Ideas for Arts & Crafts Projects & Activities with Quaker Oats Boxes for Children, Teens, and Preschoolers
I love a good bowl of oatmeal...the kind with brown sugar and raisins it. Mmm...mmm...Yum. You can get oatmeal in packets...the kind that you need to pour boiling hot water in to. Or you can buy oatmeal in a cylinder box...the brand known for this is Quaker Oat, but they also sell it as Quick Oats if you buy the generic brand. The cardboard oatmeal containers are what we will be using for the crafts that are found on this page. You can use these to make lots of different things, such as purses, tall hats, drums, planetariums, baby doll cradles, and much much more. Find some creative ideas below have have a great time crafting!
Make a Toy Fish Tank with an Oatmeal Box
This pretend fish tank makes a nice toy for the little ones, and it is a good project for 7 and 8 year olds to make. Take an empty Quaker Oats Oatmeal box. Cut out a section as shown in the picture above...making sure to ask your parents to help if it is too difficult to cut yourself. Color or paint the inside of the box a sea-green to resemble water. Cover the outside with construction paper, cut to fit, and fasten on with clear tape.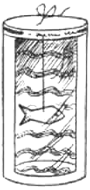 Draw a fish about 2 inches long on heavy cardboard. Color this and cut it out. Punch a tiny hole on the top of your fish—in the middle of his back. Run a piece of string through this hole. Punch another hole in the center of the lid of the tank. Run the string up through this hole and tie it around a small stick—a wooden matchstick or a toothpick. The string should be long enough so that the fish hangs about 2 inches from the bottom of the tank. Cover the section that was cut out with clear cellophane (from packaging of napkins or other packaging cellophane), plastic, or saran wrap. Cut it the right size to cover the opening and fasten it down on both sides with clear tape. Put on the lid, and Mr. Fish can swim happily in his tank. He can be moved up and down by grasping the little stick on top.
Make Cool Marching Drums with Oatmeal Boxes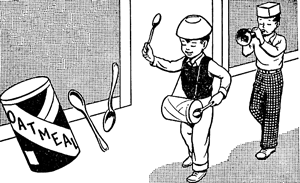 Drums are a lot of fun and so is pretending being a drummer boy in a marching band. Take an empty rolled oats, oatmeal box. Then have your Mom or Dad tie a string in the top and bottom of the container so that it can go over your head. It should be long enough that it is at about your waist level. You can decorate the drum with red, white, and blue...or any style that you want. Use wooden spoons to beat each side of the drum while you march.
Rolled Oats Flower Garden Candy Box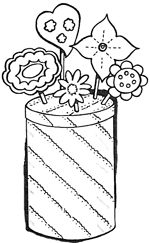 Get an oatmeal container and take off of its lid. Wrap and glue decorative paper around the box. Do the same for the lid. Have one of your parents help you poke holes in the plastic cap. Cut drinking straws in different lengths. Get colored paper and cut out flower shapes, as pictured above. Glue these to the tops of the straws. Fill the box with cookies or candies. Put the lid on and then stick the straw flowers into the holes. Now you have a candy or cookie bok flower garden gift to give somebody special.
Oatmeal Box Planetarium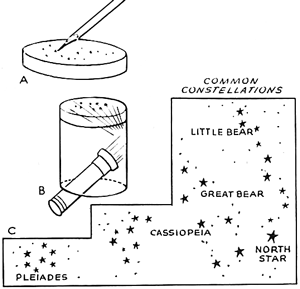 This is an interesting as well as educational project, that will teach you something about the wonders of astronomy. Remove the cover from the oatmeal box. On the outside of the cover in the center, sketch some of the common constellations with a pencil. Make sure to keep the sketch in the center of the cover; otherwise it will not work. Punch out the various "stars" in the system, as in illustration A. Cut out the bottom of the oatmeal box. Replace the cover on the box. To see the planetary system, place a flashlight at a slant inside the box, and point the box at the ceiling, in a darkened room, as in illustration B. The stars will be projected on the ceiling, as in illustration C.
How to Make Rolled Oats Box Knitting Totes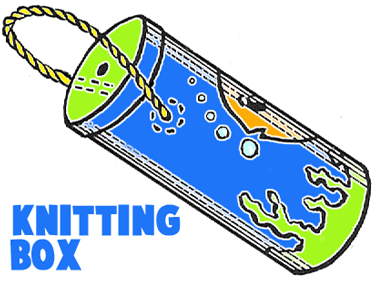 Gather the following items ... a rolled oats box, wallpaper or decorative paper or paint or pictures, glue, brush, 15" piece of lightweight rope, 3 paper hole reinforcement stickers, and scissors. Cover rolled oats box and lid with wallpaper or pictures or paint. If painted, press individual pictures onto wet paint. Cut one small round hole in center of lid and on opposite sides of box about 2" from top. Paste sticker reinforcements over holes on inside of box to strengthen them. Make rope handle by putting rope through holes and tying knots inside of box. Yarn is placed inside box and one end drawn through hole in lid before knitting is begun. Or, foil designs may be glued to painted box.
More Oatmeal Box Crafts Below

How to Make Oatmeal Containers Baby Doll Cradles Craft for Kids - If you make a little cradle like this for your favorite doll, you can be sure she won't disturb you during the night with her crying. This oatmeal container / box cradle is very easy to make and it really turns out great.

Make a Rolling Noise Toy with Rolled Oats Box - Learn how to make this toy for your litte sister or brother.

How to Make Oatmeal Container Hat - Learn how to make Abe Lincoln's hat with an oatmeal container and a paper plate.

Make Oatmeal Box Cases or Totes - These Decorated Totes are amazing and will keep all of your special items in one place.

Hand Puppets with Moving Mouths - This hand puppet is made with rolled oats (oatmeal) boxes or ice cream containers. These puppets turn out so well that people will think you bought them. Find out how to make them with the following instructions.

Oatmeal Box Rocking Horse for Your Doll - Even dolls get bored, make this rocking horse out of an oatmeal container, cardboard, a mail tube, ribbon, and a few other items.

Oatmeal Box Elephants - Make an elephant out of oatmeal box cylinders, wallpaper or wrapping paper, newspaper, felt, buttons, and yarn.

Oatmeal Container Uncle Sam's Hat - Show your patriotism towards American by making these Uncle Sam hats from cylinder oatmeal boxes.

Oatmeal Box Fabric Bags - Use fabric, oatmeal containers, and some cardboard.

Oatmeal Castle Towers - Make a really cool medieval castle with a few oatmeal containers and some creativity.

Desk Trashcan - Use an oatmeal box to make a beautiful waste basket for your desk..stay organized.


Oatmeal Container Sewing Bag & Pin Cushion - Make this sewing box / bag and pin cushion for mom or grandma.

4th Of July Windsock - Show your patriotism with this easy to do craft project.

Asian Lantern - Asian lanterns add a touch of ethnic flair to a party or can be used to decorate a patio or room.

Bedroom Planetarium - Help your first grader learn to recognize constellation with this fun and easy activity. Then, on the next clear night, take a walk and see if he can find them in the sky!

Bits & Pieces Bird Bank - This colorful, chirpy bird bank is such feathery fun to make. Recycle a container and you'll save two ways!

Bongo Drums - Bongo drums are percussion instruments used in Latin American music. Played in pairs, each set of bongos consists of a macho (male) and hembra (female) drum, tuned to different pitches. Bongos are played by hand and help keep the rhythm of dances consistent and quick. Make your own pair of homemade bongos.

Bug Hotel - This simple, yet sturdy, insect observatory lets young entomologists check in guests, then check 'em out.

Bug Observation Tower - Summer is a great time to get outside (even if for a short time in the extreme heat!) and have kids connect with Mother Nature. We've come up with half a dozen craft projects that will keep kids busy and will provide "teachable moments" for talking about the environment.

Bug Catcher - This is by far the easiest kids craft project you will ever make! Even preschoolers will have a swell time making this craft project.

Canadian Wind Sock Craft - You can make a Canadian wind sock from an oatmeal box, construction paper, string, and crepe paper streamers.

Can Do! - Here's a creative alternative to wrapping up a Mother's Day present for Grandma this year. Instead of using gift wrap, have your child turn an empty canister into a decorative, reusable gift holder. They're especially great for presenting homemade treats, candies, or even rolled-up artwork or letters.

Can Easter Basket - These are made from concentrated juice cans or round oatmeal containers cut in half and then decorated with wrapping paper or fabric. These little baskets can be filled with Easter grass and candy, or small toys. You can also use them for fresh or silk flowers.

Cardboard Boxes Castle - Children become intrigued with castles at a very young age, and they continue to be fascinated with them for many years. Castles fire up kids' imaginations as their reading tastes move from Snow White to the Knights of the Round Table. Making little castles out of recycled materials can provide hours of fun for the kids themselves, followed by many more hours of imaginative play using small dolls and action figures.

Christmas Recycled Containers - Turn empty oatmeal containers into decorative and useful Christmas items. Using inexpensive materials, you can create a cardholder for yourself and a treat container for the nice neighbors who always take care of your cat.

Civil War Drum - While today's children may enjoy staging mock battles, warfare was no game during the 1860's. Nine-year-old John Lincoln Clem survived two wounds and Confederate imprisonment to become the youngest non-commissioned officer in Army history. Like Clem, most boys started as drummers, calling soldiers to meals, waking them in the morning, and rallying them for marches. You can make a Civil War style drum, too.

Cool Recycled Gift Canister - Do you obsessively salvage wrapping paper during the frenzy of gift opening? Save an empty oatmeal canister and recycle the beautiful wrapping paper from another gift to make a reusable wrapped package of your own. Oatmeal is good for you, and this project is a great reason to eat your oatmeal!

Crayon School Box – This is something you don't get to see everyday. This art craft organizer/container will make tidying up your children's things not a chore but a fun activity instead. You also get to choose your favorite color in designing this kid's craft item.

Cute Oatmeal Container Pinata - Make a pinata from recycled materials! Turn an empty oatmeal container into a cute pinata.

Dad's Desk Organizer - Give Dad something he can use every day and remember how much you appreciate him.

Decoupage Cookie Jar - This fun craft is perfect for Mother's Day. It's most suitable for grades 3 and up, but younger children can do this with a little help.

Decoupage Patchwork Container - Recycle a drink crystals container, or similar cardboard or plastic tube container, by decorating with decoupage patchwork.

Diego's African Safari Drum - Kids will have a blast running around the backyard with Diego's African Safari Drum.

Dog Food Container - We are all aware that dog food comes in a sack. It also spoils easily when not placed in a proper container, thus what we have here is an easy to make art craft container that even kids can do. Store Buster's food in a neat container such as this one.

Dora's Recycled Craft Container - Kids will enjoy showing off all of their art supplies in Dora's Recycled Craft Container.

Drumroll, Please - This easy-to-make instrument just can't be beat -- no, wait, it can! It provides even the youngest musicians with a wonderfully rich and resonant sound.

Easter Basket - Make fun Easter baskets with the kids ... all from recycled containers and foam or construction paper. Make a cute centerpiece for Easter.

Easter Bunny Container - This craft project aims to teach families how to make crafts out of everyday household items.

Fabric Basket – This rather elaborate looking basket is surprisingly easy to make and it won't hurt your wallet too. The secret is by using recycled materials such as old oatmeal containers and some shredded fabric you have hidden somewhere in the basement. The bottom line is, there's no need to spend a dime on this art craft container.

Fabric covered Canister - Part of my journey to a nearly-free craft room makeover includes making fabulous storage solutions from repurposed containers.

Fabulous Fishbowls - Make a fun fishbowl!

Folk Drum Instrument - Folk instruments are fun for children to make and play. You can create them from materials that are typically found around your home and can be purchased at any arts or crafts supply store. Small children will need help with using scissors or the stapler, but older children can make their folk instruments independently. Here are instructions for how to create a few fun and musical folk instruments. The instructions for each instrument are for one child.

Fourth of July Patriotic Streamer - This Fourth of July, you and your child can make your very own patriotic decorations to display in your home. These streamers are fun and festive and they couldn't be simpler to make. This activity even has a "green" twist, so that you and your family can celebrate the holiday in an eco-friendly way!

Fun 3D Flowers - When it comes to making someone smile, creating your own gifts always works! Make this fun flower for a grandmother, teacher, child care provider, friend, or for your Mom for Mother's Day!

Ghost Windsock - It's easy to make your own Halloween decoration right at home starting with this gost windsock which will surely give Halloween revelers a scare!

Gift Containers for Homemade Christmas Cookies Homemade Christmas cookies are one of the many joys of the holiday season. Most families love receiving them, and many people enjoy baking them! Instead of spending money purchasing metal containers or decorative containers at the store, you can make them yourself from recycled items. With a bit of planning and creativity, you can make attractive canisters and containers suitable to give as gifts when filled with your homemade goodies. This project is also great for kids and makes a fun school project.

Here I Come Drum - March and dance all day with this easy-to-make oatmeal box drum. Young children love this simple music-making craft!

Holiday Gratitude Can – This is an all-purpose bin made out of recycled oatmeal container. Easy to make and eco-friendly too, design and use it in every way you can think of.

Ice Candle - In this classic kitchen craft, kids (with a parent's help) can combine ice and hot wax to form a cool, lacy-looking candle. Set it in the center of your holiday table or give it as special gift that'll melt Grandma's heart.

Jumbo Elephant Costume - What do you get when you take an old gray sweat suit and add a few snips and tucks? A costume that will let your little one make a big impression trekking for treats as a floppy-eared elephant.

Kid's Halloween Costume - Short on cash, or is your kid just bored with dressing up in the same costume that every 3rd kid is wearing? Here are a few fairly easy and cheap costume ideas.

Kids' Room Container Crafts : Oatmeal Container Crafts Ideas for Kids - Even ordinary items, such as rubber bands and spools, look great when they're turned into patterned labels for desktop containers.

Kitchen Utensil Holder – Now you don't have to buy one of those expensive kitchen utensil holders as a gift for Mom on her birthday or on Mother's Day. This easy to make handicraft will go a long way for all you need is just a little bit of creativity and some recycled oatmeal containers.

Ladybug House – This might be one of the more recognizable insect for kids. Who doesn't love a ladybug anyway? This craft is all about just that.

Liberty Bells - Decorate your backyard with this chime that looks and sounds patriotic.

Little Bugs Hotel - Give your child a place to let his critter friends rest, yet keep your house safe from spiders, bugs and worms. This is a simple craft. Most of the supplies will come right from your craft closet or bucket. Put your little bug collector to work making and decorating a bug hotel for all of his favorite creepy, crawly friends.

Mac Donald's Farm - Sing and play with your very own barnyard! "Old MacDonald's Farm" comes alive with this barn, farmer, and animals.

Mini Golf - Create a mini golf course for your father out of cast-aside home items. Using your imagination, you'll create a challenging backyard courses that will make you the envy of the neighborhood on Father's Day.

Monkey Pod Drum with Polynesian Petroglyphs – Bring a slice of Polynesian aura to your playroom with these monkey pod inspired drum set made out of oatmeal containers. Bring music to your home with a personal and creative touch.

Mr. Snowman - This craft project aims to teach families how to make crafts out of everyday household items such as discarded oatmeal containers and some unused educational materials. This craft item would even make for a great Christmas decorative idea.

Nature Can - Now kids can carry their own nature collection box, fill it with whatever they choose and keep it or dump it as they like. These are our new Nature Cans.

Neighborhood - Save empty boxes, cartons and other "throwaways," and your child can find many different ways to use them as playthings. In this activity your child can use lots of "throwaways" to make a whole community.

Oatmeal Box Cradle Craft - A simple-to-make cradle made from an oatmeal box and either paper or fabric scraps. You can use this cradle for a favorite doll or teddy bear.

Oatmeal Box Drum - As part of a home school adventure every child should at least attempt some form of musical instrument. Beginning when they were quite young, allow them to experiment with different homemade instruments to see what they might be interested in doing later. Here is a project for making a drum out of an oatmeal container...

Oatmeal Canister Cookie Tin - The last example of an oatmeal container craft that is great for the whole family is to make cookies and to use the oatmeal container as a festive gift box to store the goodies in.

Oatmeal Container Easter Bunny - This cute Easter bunny is made from and oatmeal container. It would look good as a table centerpiece or sitting on the mantle.

Oatmeal Containers Palm Tree - Paper Mache/Oatmeal Containers Palm Tree is a fun craft for the kids to make and is a great companion to the Paper Mache Coconuts! This is good for a study on Robinson Crusoe, tropical islands, Hawaii, monkeys, etc.

Oatmeal Container Yarn Holder - Turn an ordinary oatmeal container (or similar sized container) into a pretty yarn holder. This makes a quick and thrifty Mother's Day gift for a mom who crochets or knits.

Oatmeal Container Maracas - At the end of a bowl of oatmeal, there's always the lingering question: what to do with those industrious cardboard containers? The simple answer: reuse them! Little did you know that they can make great maracas and can turn a boring afternoon into recycled crafts bonanza.

Oatmeal Drum - Learn how to make a drum for a child out of a leftover oatmeal container.

Oatmeal Witch – This is just a little something for the kids to create for the Halloween celebration.

Paper Mache Drums - This colorful drum kit will keep the kids entertained on any boring day. Give it a try and use some creativity in the making process.

Paper Wind Streamer - With little more than an empty oatmeal container and colored paper, you can create a festive decoration that's perfect for Memorial Day, the Fourth of July, or any patriotic occasion. For younger children, it also provides a science lesson, illustrating the wind's direction and how quickly it can change.

Patriotic Streamers - This Fourth of July, you and your child can make your very own patriotic decorations to display in your home. These streamers are fun and festive and they couldn't be simpler to make. This activity even has a "green" twist, so that you and your family can celebrate the holiday in an eco-friendly way!

Patriotic Windsock - Great for any patriotic holiday! This windsock is presented in red, white and blue, but can be adapted to the colors of the flag of any country.

Pencil Pot - Put a lid on desktop clutter with this handy holder for school supplies.

Personalized Pen & Marker Container – Organizing your cluttered desk space has never been this fun with a home-made craft project. Create your own personal pen and marker container using some discarded oatmeal containers which makes for a perfect fit to your materials.

Piggy Craft - If you feed this little piggy, you'll have money in the bank.

Pinhole Camera - Recycle those oatmeal boxes and used cookie tins by making wacky-looking cameras that will amaze your friends.

Plastic & Oatmeal container Ghost - These are fun for a whole class to make. You can hang the ghosts from the ceiling, or just let the preschoolers run around with the ghosts "flying" behind them. At home, hang them around your porch.

Pop-Up Puppet – Puppets make a fun toy and these are quite easy to make. Find some used and empty oatmeal containers so we can get started!

Prayer Box Craft - This is a good craft to use with lessons on faith and trust. After making the boxes, students can write their prayers and worries on paper and put them in the box to reinforce that we should let go and let God take care of what we have trusted to Him.

Rainbow Fishing Game - Put up a "Gone Fishing" sign! Play this fun fishing game-you create it with Crayola® Twistables™.

Recycled Gift Canister - Save an empty oatmeal canister and recycle the beautiful wrapping paper from another gift to make a reusable wrapped package of your own.

Recycled Oatmeal Container Piggy Bank Craft - This homemade Piggy Bank craft is a simple craft that your kids can do with you. Old oatmeal containers (the 42 ounce cylinder cardboard containers) make perfect piggy banks, are easy to obtain, and most importantly, are free.

Recycled Snowman Craft – Recycling is the best way to make use of discarded materials lying around in your basement. Collect everything you can find and get started with this snowman art craft using some old oatmeal containers and a bit of creative genius.

Reindeer Canister Craft - Decorate a small oval canister into a cute reindeer. Keep your Rudolph on the counter in the kitchen with Kool-Aid packets OR on the bathroom counter with hair bow and accessories.

Rocket Ship Craft - Learn to make a rocket ship so you can fly to outer space.

Silly Faced Container - This craft project is to teach families how to make crafts out of everyday household items.

Silo Craft - This is a simple project that makes a great toy silo that you can play with afterwards. You can make this silo from an oatmeal box, a piece of cardstock, scissors, and paint.

Stamped Recycled Container Lamp - Be good to the environment and to your home's decor with this uniquely fashioned recycled container lamp.

Teddy Bear Assassin Costume - For those who enjoy costumes of ironic humor for Halloween, the Teddy Bear Assassin costume is quick and easy, and would probably come out really great looking for anyone who has more than 1 week to pull a costume together.

The Space Shuttle - Houston, we are ready for lift- off! Create your own space shuttle at a fraction of the cost from the real thing and get to enjoy this cool piece of art craft project.

Toad House - A toad is a night-time animal that can often be a noisy neighbor! Learn how to make your own Toad House for your very special nocturnal animal neighbor!

Toddler Castle Craft - This craft has lots of ways that you can customize it, depending on the supplies that you can get or have will affect what you decide to do.

Uncle Sam Star Toss - Use recycled oatmeal containers and bathroom tissue tubes to create patriotic decorations AND a fun game for kids on the 4th of July. Kids toss felt red, white and blue stars through the mouth hole of the Uncle Sam.

Valentine's Day Container - This Valentine's Day container is ready to eat up lots of Valentine's Day cards.

Valentine Mailbox Craft - If you are looking for a larger valentine holder, try making our valentine mailbox craft! This is a great Valentine's Day craft for children of all ages and abilities. Wrapping an empty oatmeal container with construction paper creates a blank canvas for kids to be creative and decorate!

Which Witch? - Everyone will have fun making a witch at your next Trick-or-Treat party. They're great for Hallow-wonderful games!
Also Visit Crafts with Cardboard Boxes Page ... Valentine's Day Boxes Craft Page ... Box Making Crafts Page ... Crafts with Cereal Boxes ... Crafts with Soap Boxes ... Crafts with Tissue Boxes ... Crafts with Chocolate Candy Boxes