Home > Arts and Crafts Projects for Kids > How to Make Bracelets Instructions
HOW TO MAKE BRACELETS CRAFTS INSTRUCTIONS FOR KIDS : Find out how to make beautiful handmade bracelets with the following arts and crafts decorations, instructions, patterns, and activities for children, teens, and preschoolers
Bracelets are so beautiful and can really improve your overall appearance. You don't have any extra money to buy a new bracelet...what is a girl to do? Well how about making some of your own bracelet designs?! You can make the most beautiful and creative bracelets if you really want to!!! You can design a bracelet that nobody else in the entire world has...a unique piece of art that you can also call your very own bracelet!!! Learn how to make cool bracelets with the following friendship bracelet patterns, instructions, and directions. Find out how to make beautiful handmade bracelets with the following arts and crafts decorations, instructions, patterns, and activities for children
How to Make Tongue Depressor Bracelets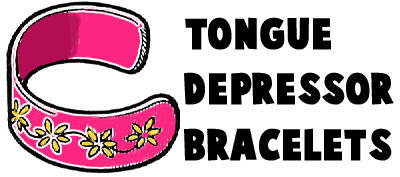 You will need a Tongue depressor, ready-mixed moist gesso, paint, brushes,and a can 2 1/2" in diameter with both ends removed. Soak tongue depressor in water overnight. Coat depressor with gesso. Bend carefully and fit inside can. Let dry about 24 hours. Remove bracelet from can; paint any color. Add beautiful designs. You might want to add a coat of glue and water (3 parts glue and one part water) on top of the dried paint to make it glossy (and it helps protect the paint).
Make Cardboard Tube Bracelets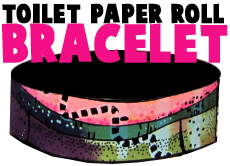 This is an extremely easy bracelet to make. Cut down a toilet paper roll to the width that you want. Then cut out some magazine art or pictures that you like and wrap them around the bracelet. You might want to cut out individual letters, words, cartoons, etc...and put them on top of the first layer. Then make a mixture of 3 parts white glue and 1 part water. Brush a layer on the bracelet and let dry. Then repeat this about 2 times. You will now have a completely sturdy and beautiful bracelet.
Making Plastic Bottle Bracelets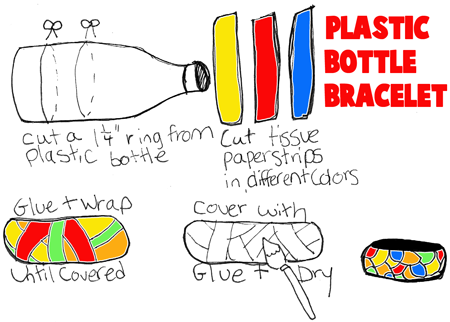 I bet that you didn't know that you could make bracelets from recycled plastic water bottles....or other type of plastic bottles for that mater. Well you can. First cut a 1 1/4" plastic ring from teh bottle, as pictured above. Then cut tissue paper strips out, of any size you please. Make sure that you cut out different colors to make the bracelet even more beautiful. Then glue and wrap the tissue strips all over the bracelet, as picture above. Then cover with clear drying glue and let dry. When dry cover with even more clear glue....do this several times until you have a very glossy and beautiful bracelet.
Even More Bracelet Crafts to Make

How to Make Friendship Bracelets Easy Step by Step Tutorial for Kids - Friendship bracelets are very popular again and all you need to make them is yarn or string, scissors, and tape. Give one to your best friends and they are supposed to return the favor. It is fun to see how many bracelets you can get back from your friends.

How to Make V Shaped Arrows Friendship Bracelets Illustrated Instructions - I will show you how to make this amazing friendship bracelet that has a letter 'v' pattern within it. This bracelet pattern is a bit more difficult than normal friendship bracelet instructions, so you will need a free afternoon to make this one. If you are still interested, find the illustrated instructions on the following page.

Making Paper Bead Bracelets - Learn how to make these beautiful paper bead bracelets.

Woven Paper Friendship Bracelets - Learn how to weave paper strips into these cool striped bracelets. These make beautiful friendshipo bracelets that can be tied together with ribbons.

Make Paper Folded Bouncy Bracelets - These are more easily woven bracelets than the other woven paper bracelets. These are woven with 2 paper strands, instead of 4...find out how to make these bouncy bracelets with the illustrated step by step instructions.

How to Make Charm Bracelets - Learn how to make these charm bracelets for yourself or for a special friend or loved one.

Hearts Friendship Bracelets - Learn how to make these difficult friendship bracelets - with a heart pattern.

Paper Strips Woven Belts or Bracelets - Learn how to wave little paper strips together to make woven belts and bracelets.

How to Make Clay Beads Bracelets - Learn how to make your very own unique beads to make bracelets and necklaces out of.

Seashell Bracelets & Earrings - Learn how to make seashell jewelry that turns out beautifully.

Tissue Paper Flower Bracelets - Find out how to make these beautiful tissue paper flower bracelets with tissue paper and pipe cleaners.

Coin Necklaces & Bracelets - A lesson on making coin bracelets and necklaces out of coins from different countries.

Safety Pin Bracelets - Dip the safety pins into softened wax and then string them on elastic, yarn, or string and tie closed.

Button Bracelets - String buttons on some string to make a beautiful bracelet.
YOU MIGHT ALSO BE INTERESTED IN THESE CATEGORIES