Home > Arts and Crafts Projects for Kids > How to Make Necklaces Instructions
HOW TO MAKE NECKLACES CRAFTS INSTRUCTIONS FOR KIDS : Ideas for Jewelry Arts & Crafts Activities & to make beautiful handmade necklaces for girls, children, teens, and preschoolers
Learn how to make cool necklaces with the following necklace patterns, instructions, and directions. Find out how to make beautiful handmade necklaces with the following arts and crafts jewelry decorations, instructions, patterns, and activities for children
Make Hinge Lockets in No Time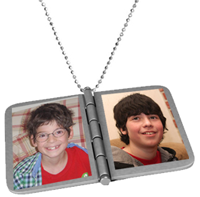 These are so easy to make as long as you have the materials. Find a hinge at your local hardware store ... there are many colors and shapes to choose from. Then just have a parent hot glue pictures to the inside of the hinge...if you choose to...you can add them to the outside of the hinge as well. Loop a ball chain with latch (also purchased at hardware store) or other type of necklace chain to the the top of the hinge and you have a beautiful locket to wear or give as a present.
Make Colored Macaroni Necklaces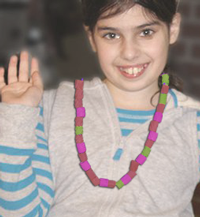 This is a great jewelry making craft for young kids, such as preschoolers, toddlers, and Kindergarteners. This is als good for large groups of campers. The adult just needs to prepare the noodles before hand by dying them. Just mix each dye color with a few tablespoons of alcohol in a plastic bag and some dry pasta. Close the bag and mix together each color separately. Place each set of colored noodles on a separate paper plate to dry out. When all is dry, you can then string the noodles on string or plastic cord. Tie closed.
Spool Necklaces Craft for Preschoolers and Younger Children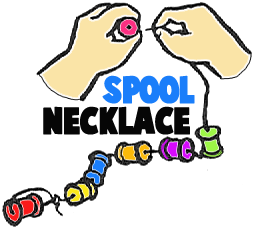 This is a great necklace craft for younger kids to make because they are easy to thread or lace ...such as toddlers, preschoolers, Kindergarteners, and children in earlier grades. It is very easy to make these...just paint a bunch of smaller thread spools (that are empty). Let these dry completely. Now just use string or cord and thread them all on there. Now just help the child tie the strin or cord closed.
Making Beautiful Paper Bead Necklaces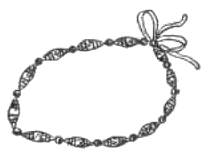 This is an old pastime and lots of fun. Use colored paper, such as the colored pages from an old magazine, decorative paper, construction paper, or brightly colored wallpaper, if there are any wallpaper scraps tucked away somewhere. First of all, get a pen to roll the paper around. Roll the paper around and around the pin ... make sure that it is tight around the pen. Put glue at the edge and press down tightly. You will now have a paper roll. . When through wrapping, pull out the pen and lay the finished bead roll aside to dry thoroughly.

Make several and make them in different colors if you want to. Thread a tapestry needle or darning needle with yarn or heavy cord and string the beads into a necklace. When the necklace is the desired length, leave about 5 inches of yarn at each end. Tie a knot to hold the beads in place, and tie a bow at the back of the neck. Vary the necklace by stringing it with small wooden beads between the paper ones or with half-inch lengths of colored cellophane drinking straws.
How to Make Cork Necklaces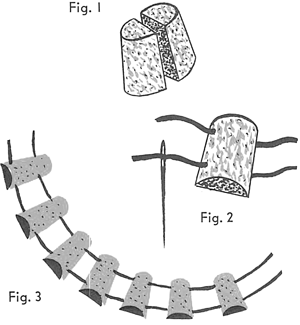 To make a really neat necklace, start out by collecting a bunch of corks that are basically the same size. Mom or Dad needs to help you with this craft. Have them cut corks in half. Paint them different colors of the rainbow. Let them thoroughly dry. Then get a Needle and thread the needle through the corks on the top and the bottom of teh corks. It makes an amazing design when you do it this way. To close the necklace up, just tie a beautiful knot in the back of the necklace.
Make Window Treatment Loop Lockets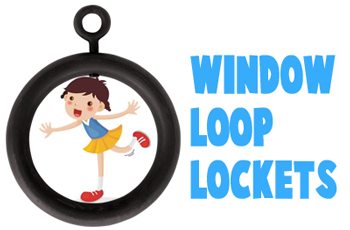 Go to your hardware store and find window treatment loops or pulls or showing rings. Trace a circle on a piece of sturdy cardboard. Cut it a bit smaller than that circle. Paint that circle in a nice color. Trace a circle around the picture that you want in the locket. Cut it out and glue it to the cardboard. Then glue the window treatment loop on top of the picture-cardboard piece. If your Mom or Dad is around, ask them to help you hot glue it as it will stick better than normal Elmer's Glue.
Even More Necklace Crafts Below

How to Make a Halloween Skeleton Bones Necklace Craft for Kids - Have you decided what you're gonna wear for Halloween? Here's an interesting scary jewelry accessory you can add to your costume. Learn to make this easy-to-make skeleton bone necklace with just tissue and colored paper.

Paper Bead Necklaces - Learn how to make these beautifu lpaper beads and turn them into necklaces.

Pendant Booklet That Opens Up Into Daisy - This is an awesome pendant necklace craft. There is a booklet at the end of the pendant...if you open up this booklet, it becomes a daisy.

Making Ribbon Flower Necklace - Make this necklace from flowers cut from felt or velvet threaded along a ribbon.

Make a Necklace Gift for Mom or Grandma on Mother's Day - All Moms love jewelry made by hand from their babies (no matter how old you get, you will always be your Mother's baby). Here is a necklace arts and crafts project for kids. This jewelry is made from colorful cardboard, stiff paper, or construction paper. This makes a great, colorful, and thoughtful gift to make for your Grandmother or Mother.

Make Mom Jewelry Gift : Necklaces and Bracelets for Mother's Day - This is a cute idea for kids to make jewelry, such as bracelets and necklaces for Mom, Grandma or an Aunt on Mother's Day or a birthday. Girls especially seem to love this arts and crafts project because many girls love to sew with needle and thread and they love making and wearing jewelry. Either way, this is a lot of fun

Mini Book Pendant or Necklace - Make this little book on a cord as a stylish necklace.

Stone Wrapped Necklaces - Using medium copper wire, you can wrap a beautiful stone and lace it onto a necklace

Make Fruit Pendants to Wear on a Chain - These Little fruit pendants would be great for a charm bracelet or necklace.

Back to School Pencil Pendants - Make these cool necklaces for back to school time - use a pencil as the pendant and stick it on a cord or a chain.

Make Mom a Plastic Straw Necklace - It is time to start thinking about making your Mom a gift. How about trying to make this pretty necklace for mother that can be made out of simple plastic straws. All you need is some yarn and some straws and some love for your Mom. The simple instructions follow.

Magazine Pendants for Necklaces - These pendants might be made from recycled magazines, but you can't tell...they turn out beautifully.

100th Day of School Fruit Loops Necklace Idea - Each child will get 100 Fruit Loops and put them on string or yarn and then wear them and eat them. This will signify the 100th day of school and a great way to celebrate with yummy food.

How to Make Clay Beads Necklaces - Learn how to make your very own unique beads to make bracelets and necklaces out of.

Corded Pendant -This is a pendant made for Martin Luther King Jr Day, but can be made to fit any sort of pendant that you want to make...this pendant is sewn on the sides with cord.

Make Mom Jewelry Gift : Necklaces and Bracelets by Making Paper or Fabric Beads - Did you know that you can make beads out of paper and / or fabric material? Well, you can.

Making a Paper Clips Necklace - Use Both Paper and Paper Clips to Make a Pretty Cool Necklace.

Button Necklaces - String buttons on some string to make a beautiful necklace.

Dried Flower Pendant Necklaces - Learn how to make a dried flower necklaces to wear around your neck.

Lace Chocker Necklace -Learn how to make this llace choker necklace for a present or for yourself.

Coin Necklaces & Bracelets - A lesson on making coin bracelets and necklaces out of coins from different countries.

Drinking Straw and Paper Reinforcement Necklaces - These make for pretty necklaces, and they are very inexpensive to make.
VISIT FRIENDSHIP BRACELET CRAFTS