Home > Arts and Crafts Projects for Kids > String Art Crafts for Children
String Art Crafts for Kids : Arts & Crafts, Activities, & Fun Projects for Children
String can be describe as a flexible piece if rope is so versatile in the craft world. You can use different color strings to decorate bottles or make string art. String can be used for jewelry such as necklaces, rings and friendship bracelets. You can not make a kite or a toy parachute without using some form of string. String is also very popular in making musical instructions such as violin, guitars and even pianos.
Below you will find dozens of crafts activities that use string as one of the used materials. String is so versatile and you can literally do almost anything with it. You can use it for string art, for covering up an old jar to make it pretty, or even can use it to make beautiful jewelry. You can use string for other activities too, such as macrame, friendship bracelets, or for creating beautiful paintings. Find out some more ideas for string below...
Make String Covered Jar Pencil Holders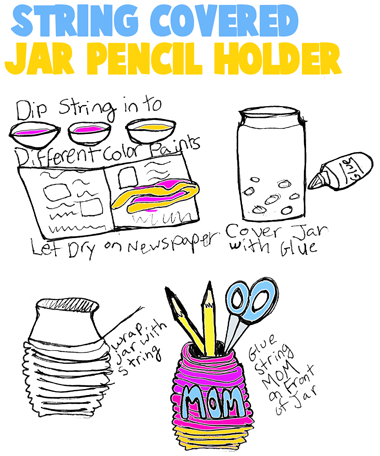 This is a lot of fun. Ask Mom or Dad to save you a large jar. Was the label off with warm soapy water and let dry completely. Next....place some old newspapers out to protect your table. Get a few containers of paint to dip string in. Dip the first part of the string in the first color...then put the next part of the string in the next color..etc...etc. until you have a large string that is multi-colored. Let the string completely dry. Cover the bottom of the jar with clear drying glue. Wrap the bottom of the jar with the colorful string and then add more glue as you go along....until the entire jar is covered with the string and then glue the last part of the string inside the jar. If you have any string left, glue a name or something with string on the jar. You can use this as a desk pen, pencil, scissors holder...or for whatever else you nee to be held.
String Wrapped Plastic or Glass Bottles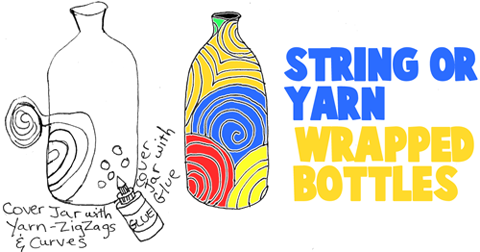 Find an empty plastic or glass bottle and some colorful string. If you don't have different colored string...you can follow the process in the above craft (string wrapped jars craft) to see how you paint string. Add glue to the portion of the bottle that you are going to start with. Wrap in cool looking designs, such as curves, spirals, zig-zags, maze-like designs, etc. Add more glue as you continue wrapping the jar. These would make beautiful vases to add flowers too but they are a piece of art work without adding anything at all to them .
String Painting Cards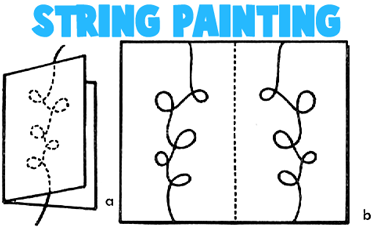 The materials needed for this string painting are 1 piece of paper 12" x 18", scissors, one 7-foot piece of string, one or two colors of poster paint, and a pencil. Fold a piece of paper in half and open out flat again. Dip piece of string in poster paint. Remove string from paint and lay it twisted up on half of the paper. Fold paper over string and press down to transfer design to other side of paper (sketch a). Open piece of paper again, remove string and allow paint to dry. Another color may be added later.
Making Drink Coasters with Twine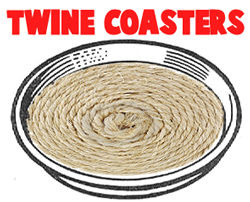 These make professional looking coasters. Find lids such as butter lids, cottage cheese lids, cream cheese lids, or icing lids. Squeeze glue onto the inside of the lid and then wrap twine all around the inside of the lid until it is completely looped and swirly as seen above. Then glue an extra piece around the outside of the lid to hide the lid from being seen...if it is a tall lid like the one above...one piece of string will be needed for the inside rim as well. When the glue dries you will be able to hold a nice cold drink on your coaster.
Fun String Ideas

String doesn't seem like much fun at all ... well here are a few ideas for fun string play ... (1.) Make letters and numbers with strips of string. Make the numbers I, 2 and 3. Make the letters A, B and C. See if you can spell your name with strips of string. (2.) Make a clothes-line by hanging string between two tall, toys. Hang things on it. (3.) Make a circle of string on the floor. See if you can roll marbles so that they land in the circle. Make a lane of two strings. See if you can roll, the marbles in the lane.
Making Toy Telephones with String and Flat Cups

This is a classic do-it-yourself toy / game that you can easily make. Just find 2 flat-bottomed cups and some string. Make a small home on the bottom of both of your cups that you found. Now get 6 feet of string. Pul the string through each hole and knot it on the inside. Make sure that the cups won't come loose. Now you can talk to your friends from a different room.
String and Straw Artwork Pieces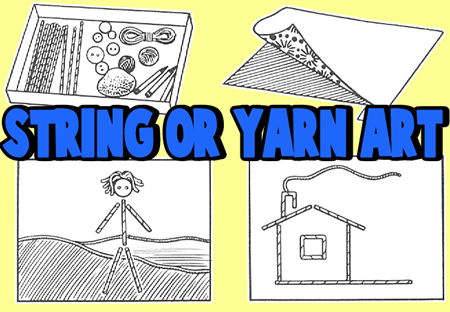 You will need the following : drinking straws in assorted colors, assorted colored pieces of yarn or string, assorted colors and sizes of buttons, cardboard of assorted sizes 8 1/2"x11" and larger, pieces of decorative paper or wallpaper at least 2" larger than cardboard pieces, Scotch tape, scissors, small sponge, and glue. Prepare "frames" by taping the pieces of decorative paper or wallpaper, to cardboard, decorative side down on cardboard (see sketch). Gather a box of "art supplies" for making pictures: buttons, cut straws, lengths of colored yarn, etc. Put paste or glue down where you are going to put materials down. Then arrange pieces of yarn and straws as desired. Animals, people, outdoor scenes, etc., may be "drawn" with "art supplies." Use buttons for eyes, mouth, heads, etc.
String Covered Spice Containers for Salt and Paper Shakers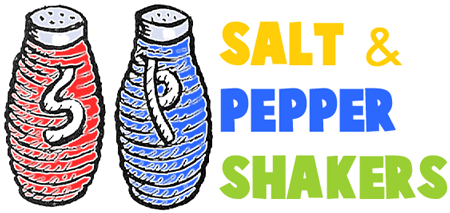 To make this, gather 2 small medicine bottles or spice containers or other small jar, two nails - one larger than the other, hammer, heavy cord or twine or string, glue, and scissors. Ask Mom or Dad if you are allowed to use a nail to punch holes in the top of lids before continuing. Then punch three or four holes in bottle caps; use large nail for salt shaker and small one for pepper shaker. Firmly glue end of cord or string near bottom of bottle. Wind cord around from bottom to top over a thin layer of glue on bottle. When the top is reached, tuck end of cord under several strands and bring out and down side of bottle. Form letter "S" on one bottle and "P" on other with a contrasting color screen. Glue these down firmly. Shellac bottles by covering them with a mixture of glue and water (3 parts Elmer's Glue and 1 part water). Cover the shakers 3 or 4 times...each time letting the glue completely dry before adding the next coat.
More Fun String Crafts and Activities

Make Pull-Along Toy Snakes with Corks and String - Learn how to make your very own pull-along toy snake with the following instructions. It really turns out to be a really cool toy when finished. This is a great toy for boys…who tend to love to scare girls with these cork snakes. Find the directions below.

String Painting Techniques and Methods - There are several ways to paint with string...find out the methods and techniques that will produce the beautiful art you are looking for.

How to Make Friendship Bracelets Easy Step by Step Tutorial for Kids - Friendship bracelets are very popular again and all you need to make them is yarn or string, scissors, and tape. Give one to your best friends and they are supposed to return the favor. It is fun to see how many bracelets you can get back from your friends.

Make a Working Bucket and Well with a Bobby Pin - Learn how to make this mechanical well with a cup, spool, string, and a bobby pin.

How to Make Twist Tie Doll Figures with Moving Arms and Legs Crafts Idea for Kids - If you want to make your very own play dolls out of recycled twist ties, then find out how to. They come out really cool, with hug-gable & twist-able arms and legs … especially cool for Mom dolls that hug baby dolls. Find out how to make these from unused items around your house. Have fun.

How to Make a Flying Butterfly Toy that Flies up to 15 Feet When Pulling the String- This is an arts and crafts project to make a butterfly toy that will really fly up to 15 feet up in the air. This is for older kids as it is too difficult for younger kids to master…although they can with some supervised guidance from an adult.

How to Make Wind-Up Cardboard Carousels - Make a real working carouse/merry-go-round with cardboard boxes, spools, string, and a pencil.

How to Make Color Wheel Spinning Toys Craft Idea - This is a good arts and crafts activity to teach kids about colors (and it is a lot of fun to play with). Kids will be so surprised when they find out that when they spin the toys, the colorful rainbow of colors turns into a charcoal gray. You can teach kids a little bit of science and lit bit of art with the use of this crafts project. Have fun.

How to Make Toy Parachute Crafts Instructions for Boys and Girls - All kids that I know love playing with toy parachutes. You can make a parachute that will float down from the sky with its passenger. You can tie on toy soldiers or other toy figures, or even a little doll of some sort for girls who would prefer that. Throwing the toy parachutes into the air after they are made is really fun, as you will see.

Make a Pioneer's Well from a Spool and Milk Carton - Learn how to make a working water well with a recycled milk carton, spool, string, and a tac.

Make No-Sew Water Bottle Holder with Socks, Strings, and Beads- Learn how to make this cool water bottle holder with a pair of socks, string, and some beads. No sewing involved and you are upcycling.

Make Beautiful Artwork with Thread Paintings - This greeting card is perfect for anytime of year and for any family or friend. They are sure to love it. So, let's get started on this thread painting craft. Not only will you enjoy doing it…. the result of this craft is always a surprise.

Macaroni Button Looms - Find out how to make these Looms with macaroni noodles, buttons, and string.

Create Your Own Mini Water Well with Branch, String, and Tin Can - Learn how to make a miniature, working, water well to play with.

Use Fallen Branches to Make a Toy Raft - Now you can find out how to make miniature rafts for your figurines...it really floats. You can use branches that have fallen off of the tree as well as string to tie the twigs together. Pretty cool.

Make a Toy Kite - Make a toy kite using sticks, string, paper, and ribbons.

Stringed Puppets - Here are instructions for making a string-controlled puppet, like a marionette you see at a real puppet show.

Spin the Button on the String - This is a fun thing to do when you are bored. String a button on a string, spin it and pull.

Eskimo Sun Glasses Tied with String Craft - Make these Eskimo sun glasses with corrugated cardboard layered one on top of the other. There is only a bit of sun that can get thru - just like the eskimos used to make (with different materials of course). Keep these on your head with string.

Making Milk Container Candles - Recycle old candles to make a very colorful candle that is molded in a milk container and the paper clip is used to hold string taut while you're molding it.

Tom Tom Drums & Drumsticks- Learn how to make these tom tom drums & matching drumsticks with a can, innertube, and some string.

Paper Bag Headed Hobby Horses - Find out how to make this hobby horse made with a large paper bag, yarn mane, string reins, and a broomstick as the stick to place the head on.

Button Necklaces & Bracelets - String buttons on some string to make a beautiful jewelry.

Cardboard Tube Tie Racks - Use paper towel rolls, tissue paper, and string or ribbon to make these tie racks for dad.

Button Rings - Learn how to make rings out of button and string.
You Might Also Like... Friendship Bracelets Crafts ... Macrame Crafts & Instructions... Crafts with String ... Crafts with Wires ... Crafts with Cords ... Crafts with Elastic ... Crafts with Pipe Cleaners ... Crafts with Shoe Laces ... Crafts with Yarn