HOW TO MAKE INDIAN COSTUMES HALLOWEEN COSTUMES CRAFTS IDEAS FOR KIDS : Find out about Arts and Crafts Projects Ideas for Making Native American Indian Costumes for Children who love Indians with the following crafts instructions, directions, and activities for children to make for Trick-or-Treating
Home > Arts and Crafts Projects for Kids > Halloween Crafts > Halloween Costumes Making Crafts > Make Indian Costumes : Halloween Costumes Arts & Crafts for Kids
Here are many Indian Costumes Making Crafts projects, activities, and ideas for you and your kids. Find out about Arts and Crafts Projects Ideas for Making Native American Indian Costumes for Children who love Indians with the following crafts instructions, directions, and activities for children to make for Trick-or-Treating
You Might Also Like Our American Indian Crafts Page
Making a Native American Indian Headdress Hat Instructions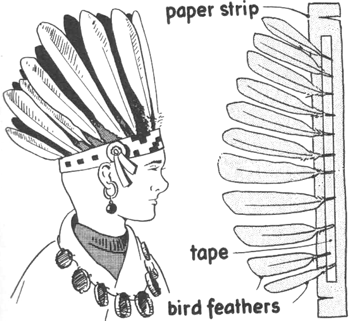 Here is an Indian's costume headdress hat that you can make yourself. Buy some craft feathers or cut them from colored paper. Then cut a stiff paper strip, long enough to fit around your head. Cut notches at each end that fit into each other. Line up the feathers in a row on the inside and tape them down.
Make an American Indian Costume Fringed Shirt, Pants, and Feather Hat
Lets turn an old pair of tan khaki pantsinto real Indian pants. Have your Mom or Dad help you pin the pants down the sides to fit the legs more closely—make them just wide enough to get them on and off. Then seam (sew) the sides and cut away the extra material. For the fringe, use canvas or felt if you have it—otherwise any sturdy fabric will do. Cut two strips about 1 1/2 inches wide, and make them the length needed from the waist to the bottom of the pants on the outside. With a sharp scissors, cut the fringe about 1 inch in depth. This leaves a strip about 1/2 inch wide to attach to the outside edge of the trousers. See Figure a above. Improvise an indian shirt by using an old shirt or pajama top and cutting fringe along the bottom and around the arm holes the way that you did above. See Figure b. Finally, with a narrow band around the forehead and a feather tucked in back of it, the costume is complete. See Figure c.
More Crafts Below

How to Make a Native American / Indian Headdress Headband Costume from Corrugated Cardboard - This is a really cute idea to make a Native American Indian Headdress for a Costume or to just play dress up. This is easy enough for kids 8 years and older to make themselves.

DIY How to Make Your Own Indian or Native American Halloween Costume for Your Kids - Learn how to make a simple homemade Indian costume for your kids.
How to Make a Native American Costume - Make a fascinating Native American costume from a t-shirt, potato stamp, scissors, fabric paint, and a few other materials.

Make a Native American Cheif Hat (War Bonnet) - Find out how you can make a simple Native American Chief War Bonnet.

Make Your Own American Indian Costumes - This website has everything you need to know about Native American costumes.
MORE HALLOWEEN HOMEMADE COSTUMES CRAFTS
....Halloween Costume Crafts Home Page
....How to Make Angel Costumes
....How to Make Astronaut Costumes
....How to Make Bear Costumes
....How to Make Costume Wings
....How to Make Dragon Costumes
....How to Make Elf Costumes
....How to Make Fairy Costumes
....How to Make Fish Costumes
....How to Make Halo Costumes
....How to Make Indian Costumes (Native Americans)
....How to Make Joker Costumes (Batman The Dark Knight)
....How to Make Lego Costumes
....How to Make Lion Costumes
....How to Make Knight Costumes
....How to Make Mermaid Costumes
....How to Make Naruto Costumes
....Home to Make Ninja Costumes
....How to Make Pirate Costumes
....How to Make Princess Costumes
....How to Make Spider Costumes
....How to Make Star Wars Jedi Costumes
....How to Make Star Wars Stormtrooper Costumes
....How to Make Superhero Costumes
....How to Make Tinkerbell Costumes
....How to Make Transformers Costumes
....How to Make Zombie Costumes
RELATED HALLOWEEN CRAFTS PAGES
Autumn / Fall Crafts
Bats & Vampires Crafts
Black Cats Crafts
Candy Corn Crafts
Ghost Decorations Crafts
Gravestones & Tombstones Crafts
Halloween Decorations Crafts
Halloween Candy & Treats Crafts
Halloween Coloring Pages & Printables
Halloween Decorative Pin Crafts
Halloween Haunted House Crafts
Halloween Trick-or-Treat Bags Crafts
Halloween Window Decorations Crafts
Pumpkins & Jack O' Lanterns Crafts
Scarecrow Crafts
Skeleton Crafts
Spider Web Crafts
Spooky Halloween Crafts
Halloween Costume Crafts