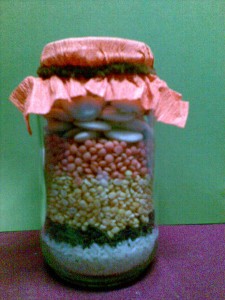 Thanksgiving Harvest Celebration Glass Jars Craft Idea for Kids
Celebrate harvest by displaying a colorful display of ingredients from your kitchen. It will be a great way to decorate your table this thanksgiving. You can be as creative as you'd like. Below you will find instructions for this Thanksgiving table decoration
Materials required:
Crepe paper
Glass jar
Pipe cleaner – Even ribbon or twine will do
A variety of ingredients from your kitchen- of different colors. I used beans, rice, tea and different lentils.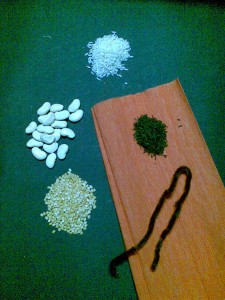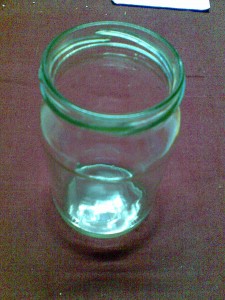 Step 1
Fill your glass jar layer by layer. Just make sure that you don't shake it too much and mix up all the layers. Leave the less dense layers for the top.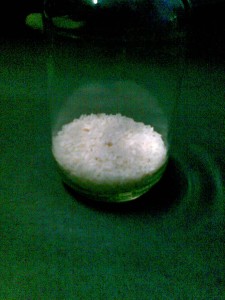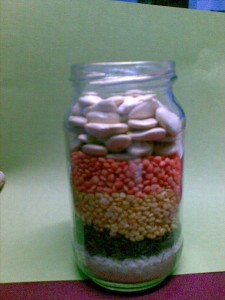 Step 2
Cut a square of crepe paper and place it on top of the jar.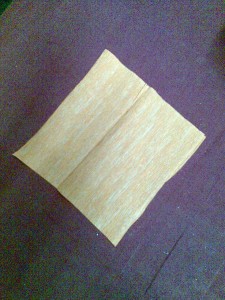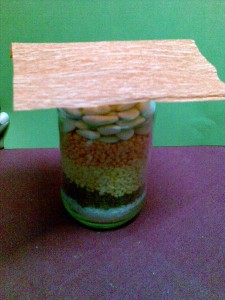 Step 3
Use a pipe cleaner/ ribbon/ twine to hold it in place as shown.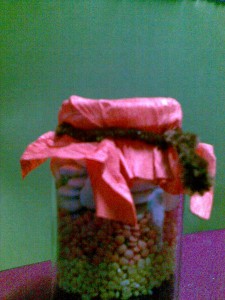 Step 4
Adjust the folds of the paper .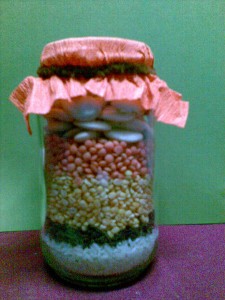 MORE THANKSGIVING ARTS AND CRAFTS IDEAS BELOW
It is almost Thanksgiving time so check out our Thanksgiving Coloring Pages & Thanksgiving Crafts for Kids Page to find some great turkey and thanks-giving crafts project ideas for kids to celebrate Thanksgiving such as
Autumn / Fall Crafts ..
Cornucopia Crafts..
Indian Corn Crafts ..
Pilgrim Crafts ..
Preschoolers & Toddlers Thanksgiving Crafts ..
Scarecrow Crafts ..
Thanksgiving Coloring Pages & Printouts ..
Thanksgiving Decorations Crafts ..
Thanksgiving Table Decorations Crafts ..
Thanksgiving Turkey Crafts ..
Thanksgiving Worksheets & Printouts
Technorati Tags: harvest crafts, harvest arts and crafts, thanksgiving harvest crafts, harvest jars, thanksgiving crafts, thanksgiving table crafts, thanksgiving, thanksgiving crafts for kids, thanksgiving activities for kids, thanksgiving decoration crafts, thanksgiving table decorations, thanksgiving centerpiece crafts, thanksgiving place setting crafts, crafts, arts and crafts, arts & crafts, arts and crafts for kids