Thanksgiving is a time to think and talk about all the great things that have happened throughout the year. Here is a memory scrapbook that you can make to remember this year's Thanksgiving forever. Use it to start a conversation about the great times you had as a family through the year. You can use printed out photos, pictures from magazines, stickers, or draw your own pictures to decorate your book. Find easy directions below.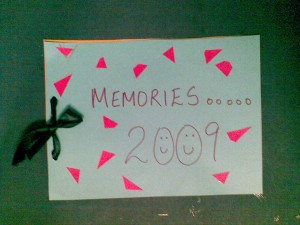 Thanksgiving Memories Scrapbook Craft Activities for Kids for Kids, Teens, Preschoolers
Craft materials required
Gold paper
colored paper
scissors
markers
crayons
pictures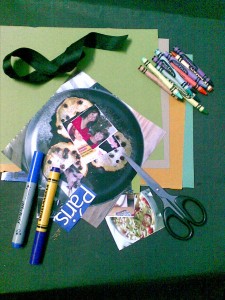 Step 1
Write Memories 2009 on your first page and decorate it
Step 2
Decide what your different pages are going to be on. For example, one of my pages is about our family holiday to Paris and another one is about a rainy day we spent together, and my aunt's wedding. You can make as many pages as you like.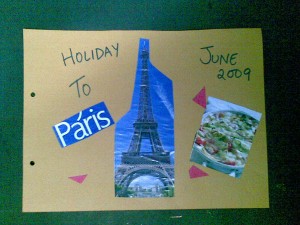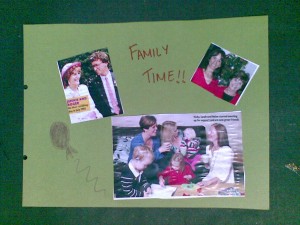 Step 3
Punch holes on the sides, and tie together with a ribbon as shown.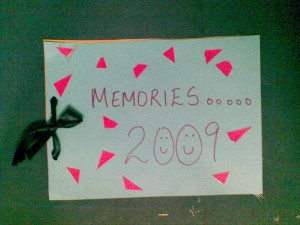 Step 4:
Sit down together as a family on thanksgiving day and spend some time talking about each page and all those treasured memories.
MORE THANKSGIVING COLORING PAGES AND THANKSGIVING ACTIVITIES & ARTS AND CRAFTS IDEAS BELOW
It is almost Thanksgiving time so check out our Thanksgiving Coloring Pages & Thanksgiving Crafts for Kids Page to find some great turkey and thanks-giving crafts project ideas for kids to celebrate Thanksgiving such as
Autumn / Fall Crafts ..
Cornucopia Crafts..
Indian Corn Crafts ..
Pilgrim Crafts ..
Preschoolers & Toddlers Thanksgiving Crafts ..
Scarecrow Crafts ..
Thanksgiving Coloring Pages & Printouts ..
Thanksgiving Decorations Crafts ..
Thanksgiving Table Decorations Crafts ..
Thanksgiving Turkey Crafts ..
Thanksgiving Worksheets & Printouts
Technorati Tags: thanksgiving scrapbook crafts, thanksgiving scrapbooks, thanksgiving books, thanksgiving book crafts, thanksgiving keepsakes, thanksgiving keepsake crafts, thanksgiving memory crafts, thanksgiving memories crafts,   Thanksgiving activities, thanksgiving activity, thanksgiving crafts, thanksgiving, thanksgiving crafts for kids, thanksgiving activities for kids, activities, activities for kids, crafts, arts and crafts, arts & crafts, arts and crafts for kids, scrapbook crafts, scrapbook crafts for kids, book making crafts