Here is a beautiful angel that you and your kids will love to be on your Christmas tree. The following crafts project includes simple instructions to make the Christmas angel ornaments arts and crafts project that  follows.
Easy to Make Christmas Tree Angel Ornaments Arts and Crafts Activities for Kids for Kids, Teens, Preschoolers
Craft materials required:
Wax paper
Gold wide ribbon
Gold Twine
Tape
Cotton
Step 1
Cut out a square of wax paper
Step 2
Put a ball of cotton in the center of the paper
Step 3
Fold around the cotton ball as shown
Step 4
Tie the ribbon as shown, with the knot at the back
Step 5
Fold the wings backward and stick as shown
Step 6
Cut a piece of twine as shown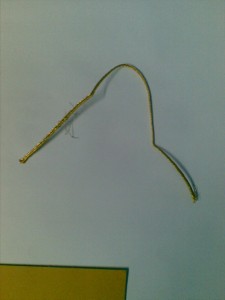 Step 7
Tape the ends together as shown.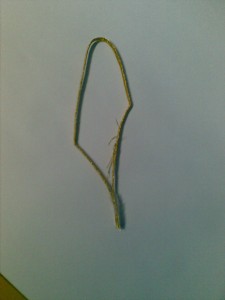 Step 8
Tape this to the back of the head.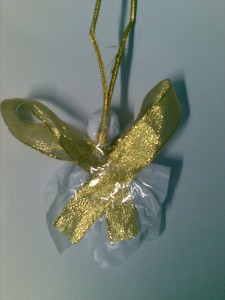 Your pretty angel is ready to hang on your tree
CHRISTMAS CRAFTS ACTIVITIES & IDEAS FOR KIDS
It is almost Christmas time so check out our Christmas Coloring Pages & Christmas Crafts for Kids Page to find some great Christmas crafts project ideas for kids to celebrate Xmas such as .. Advent Calendar Crafts ..Candy Cane Crafts ..Christmas Angel Crafts ..Christmas Cards Crafts ..Christmas Bells Crafts ..Christmas Coloring Pages .. Santa Coloring Pages .. Christmas Elf Crafts .. Christmas Gift Bags Crafts ..Christmas Gift Tags Crafts .. Christmas Games & Activities .. Christmas Nativity Scenes .. Christmas Soda Can Crafts .. Christmas Placemat Crafts ..Christmas Poinsettias Crafts .. Christmas Sewing Patterns .. Christmas Tree Crafts ..Christmas Tree Ornament Crafts ..Christmas Wreath Crafts ..Gingerbread House Crafts ..Gingerbread Man Crafts .. Mittens and Gloves Crafts ..Recycle Christmas Cards to Make Other Crafts ..Reindeer Crafts .. Winter Penguin Crafts .. Winter Snow Crafts .. Winter Solstice / Yule Crafts ..Santa Clause Crafts .. Santa Hats Crafts .. Santa's Sleigh Crafts ..Snowflake Crafts ..Snowman Crafts .. Stocking Crafts .. Wrapping Paper Craft
Technorati Tags: christmas ornament crafts, ornament crafts, make christmas ornaments, making christmas ornaments, christmas ornament crafts, ornament crafts for kids, christmas crafts for kids, christmas activities for kids, easy ornament crafts, angel crafts, angel crafts for kids, christmas angels, christmas angel crafts for kids, angel ornaments, angel ornament crafts, crafts, crafts for kids, crafts ideas, christmas crafts, christmas arts and crafts, christmas, christmas activities, christmas crafts projects, christmas projects