Make this cute craft which shows the groundhog peeping out of his burrow as you celebrate ground hog day. The groundhog pops out of his burrow when you slide the Popsicle stick upwards, and it goes into hiding when you pull the stick down. The simple steps to make this craft follow.
Here are More Groundhogs Day Crafts
Craft Materials Required:
Thick white paper
Thick brown paper
green paper
scissors
glue
one Popsicle stick
markers and crayons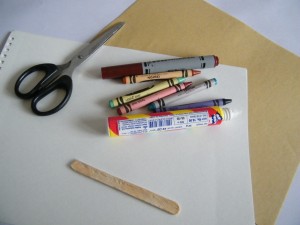 Step 1
Take a piece of white paper, of the size you want. Make sure it is longer than your Popsicle stick.
Step 2
Take another piece of paper, about 1/3 of its length, but of the same width , as shown.
Step 3
On the brown paper, draw out the face of a ground hog as shown.
Step 4
Glue the face on to the top of the Popsicle stick.
Step 5
Glue a strip of brown paper below the groundhog as shown.
Step 6
Glue the second paper on top of the first paper as shown. leave space in the center for the groundhog on the Popsicle stick. The groundhog should be able to easily slide up and down.
Step 7
Cut out grass shapes in green and glue them on the picture.
Step 8
Decorate the rest of the picture with crayons
Here are More Groundhogs Day Crafts
[tags]groundhog day, groundhogs day, crafts for groundhogs day, groundhog day crafts, groundhog day activities, crafts for kids, activities for kids, arts and crafts, groundhogs, woodchucks, crafts for preschoolers[tags]