Everyone wants their very own pot of gold decorative pins for St. Patrick's Day and kids will love having their own to wear. Learn how to make this pot of gold and shamrock out of crafts foam.
You Might Like Our Other St. Patrick's Day Crafts Ideas
How To Make Pot Of Gold Pins for Saint Patrick's Day Arts and Crafts Project
Pot Of Gold Pin Supplies
*Black craft foam
*Yellow or gold craft foam
*(optionol)Green craft foam
*Glue
*Latch pin, usually comes in bags from the craft stores
*Scissors
Pot Of Gold Instructions
Step 1
Cut the black c​raft foam into the shape of a pot by first cutting out a circle.
And then an oval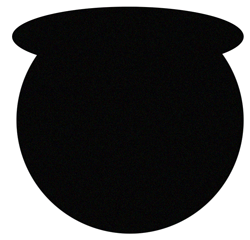 And then gluing them together to form a pot.
Step 2
Cut a smaller oval, in gold / yellow this time and glue it to the black oval…in the center.
Step 3
Cut the yellow or gold craft foam into small circles for the coins. Glue them on the pot.
Step 4
We are going to cut out 4 small hearts to make a 4 leaf clover. To do this fold a green scap piece of paper in half length-wise…and draw half of a heart on the fold…then cut it out.
Step 5
Glue the 4 hearts on to the pot as pictured above.
Step 6
Cut out a letter 'J' to make the green stem.
Step 7
Take a pin and glue the pot and the gold onto the pin.
And you are done…now you have something festive and green to wear on St. Patrick's Day.
You Might Like Our Other St. Patrick's Day Crafts Ideas
Technorati Tags: st. patricks day, saint patricks day, st. patrick's day, saint patrick's day, pot of gold, pot of gold pin, decorative pins, saint patricks day pins, jewelry, kids crafts