A cornucopia is a "horn of "plenty".  Another words, it is a horn filled with flowers, nuts, produce and other food that represents the wealth of food that we have this Thanksgiving Holiday.  The Cornucopia dates back hundreds of years and it makes for the perfect Thanksgiving decoration.  Today I'm going to show you how to make a Cornucopia Decoration for Thanksgiving.  Make a few of these Cornucopias and you will have the perfect place card to put around the Thanksgiving Table.  So, let's get started.
Check out our other Thanksgiving Crafts.
Laura from  Dacian Moon Handmade will show you how to make this Cornucopia, step by step.
MATERIALS NEEDED:
– pattern cardboard
– white and green thick thread and needle
– scissors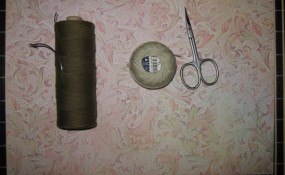 Step 1
Cut a square from the cardboard, with the side about 10 cm.
Bring one corner over the opposite side…
Then the other one over it, to form a cornet.
Step 2
Take the needle with white thread …
… and sew the edge of the opening…
… like this.
Step 3
Using the green thread make another stitch, smaller than the first.
Cover all the opening edge .
Now you can place acorns and pine cones or candies inside, add a name tag and it's ready.
And, that's it.  You have just made a Cornucopia Decoration.  Make a few more to make into Thanksgiving Place Cards.  Your guests will love them and they will have a keepsake of this wonderful Thanksgiving they shared with you.
Technorati Tags: fall crafts, autumn crafts, Thanksgiving activities, thanksgiving activity, thanksgiving crafts, thanksgiving, thanksgiving crafts for kids, thanksgiving activities for kids, place cards, placecards, Thanksgiving place cards, place card crafts, keepsake crafts