Thanksgiving is just around the corner, but it's not too late to make a decoration for the Thanksgiving Holiday.  Today I will show you how to make a Hay Decoration for Thanksgiving.  Made out of yellow paper and thick thread this Hay decoration is sure to be a huge hit for Thanksgiving.  And, the best part…. you can say you made this decoration yourself.  So, let's get started.
Check out our other Thanksgiving Crafts.
Laura from Dacian Moon Handmade will show you how to make it in 4 easy steps.
MATERIALS NEEDED:
– yellow paper
– thick thread
– scissors
– red pen
– a piece of white thick paper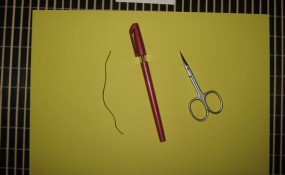 Step 1
Cut a rectangle of the yellow paper, about 7 cm wide.
Mark the middle of it by two lines along the rectangle.
Step 2
Using the scissors, cut narrow bands from the edge to the first line…
… like this.
Repeat on the other side.
Step 3
Start rolling the paper…
… until it looks like this.
Bind it using the thread.
It doesn't look really like a sheaf of hay…
To correct that, spread a little of the upper part and the lower part. Now it looks right.
Step 4
Write on the piece of white paper "In Everything give Thanks"…
… and fix it on top of the sheaf of hay.
Isn't that a cute Thanksgiving decoration?  Display your Hay decoration proudly with the rest of your Thanksgiving decorations.  You are sure to get lots of compliments on this Thanksgiving craft…. and you get to say you made this decoration yourself.  Good for you!!
Technorati Tags: fall crafts, autumn crafts, Thanksgiving activities, thanksgiving activity, thanksgiving crafts, thanksgiving, thanksgiving crafts for kids, thanksgiving activities for kids, hay, hay crafts, Thanksgiving decorations, Thanksgiving decoration crafts, Fall decorations, Fall decoration crafts