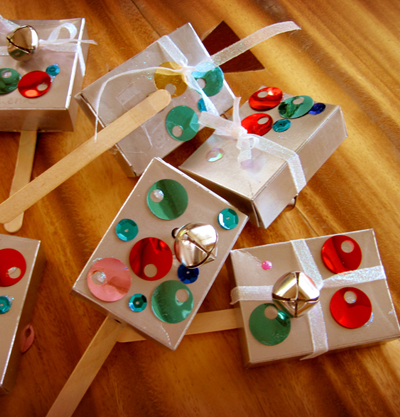 New Years is just days away.  And, with New Years comes the celebrating when the ball drops and it is officially the next year.  What is the one thing that it seems everyone does when the ball drops?…. Makes noise and screams, "Happy New Year!!!"   So, today is all about the noise making.  I'm going to show you 10 crafty ways to make New Years noisemakers.  Each of the items have step-by-step tutorials on how to make the noisemakers.  With 10 choices you are sure to find the noisemaker perfect for you.  So, without further ado….
Crafty Ways to Make New Years Noisemakers
(1) Sparkly Firecracker Noisemaker
Made from a toilet paper tube and some glitter glue this beautiful noisemaker is quite easy to make…. but sure to be a lot of fun.  Kaboose shows you how to make this firecracker noisemaker for yourself.
(2) Noisemaker Shakers
Believe it or not….. these adorable noisemakers are made from empty ribbon spools.  Simply fill the ribbon spools with dried beans or something noisy and you are good to go.  Get the specifics of this noisemaker craft over at Family Fun.
(3) Paper Bowl Noisemaker
Here is a noisemaker craft that promises to be a lot of fun.  Made from paper bowls, beads and some other fun stuff…. it will surely be a fun noisemaker.  You can find the step-by-step tutorial over at Education.com.
(4) Vintage Noisemaker
This noisemaker craft is for the older children and the adults.  The step-by-step tutorial is a little more complicated than the other noisemaker crafts, but this one is sure to turn out beautifully…. and make lots of noise.  You can get the how-to over at Vintage Image Craft.
(5) Paper Plate Noisemaker
Here is an awesome looking Noisemaker…. and it is sure to be a lot of fun to make.  I love the jewels on top of the paper plate.  I think the decorating will be almost as much fun as the actual noise making will be.  Find out how to make this noisemaker at Kaboose.
(6) Paper Roll Noisemaker
Here is a noisemaker craft for the youngest of crafters.  You simply need some paper towel rolls, wax paper and items to decorate.  What's nice is you probably have all the materials you need for this craft at home.  Find out exactly how to make these at MakeAndTakes.
(7) Paper Plate Tambourine
Look how beautiful this noisemaker is when finished.  I love the little jingle bells.  You can decorate your paper plates any way you want to.  I imagine a lot of glitter glue on mine.  You can find the tutorial over at First Palette.
(8) Water Bottle Noisemakers
Here is a great way to reuse those water bottles you used.  Fill them with beans, rice or something noisy…. decorate the bottles and you are all ready for New Years Eve.  Find out the exact how-to over at Lucky Me.
(9) Raisin Box Noisemakers
Look how festive these New Years Noisemakers are!!  I love the colorful stickers along with the jingle bell.  You simply fill the raisin boxes with something noisy, cover the boxes, add a stick and decorate.  Do you know how you would decorate yours?  Check out Alpha Mom for the full directions.
(10) Paper Towel Roll Noisemaker
Here is a simple craft, but promises to be a lot of fun.  Made simply from a paper towel roll and cardstock.  You are probably wondering where the noise comes from since you don't fill it with any noisy items….. the noise comes from shaking the paper towel roll back and forth.  The paper makes noise by banging into one another.  Get the full directions over at Love To Know Crafts.
And, there you have it…. 10 different crafty ways to make New Years Noisemakers.  Do you know which one you are going to make?  Or, do you have a noisemaker craft of your own?  Let me know in the comments below.
Technorati Tags: New Years, New Years Eve, New Years Crafts, New Years Eve Crafts, Noisemakers, Noisemaker crafts, New Years Noisemakers, New Years Eve Noisemakers, New Years Noisemakers crafts, New Years Eve Noisemakers Crafts