If you are going to a New Years Party I have the perfect craft for you today.  I am going to show you how to make a beautiful and elegant New Years Mask.  Made from cardboard, crystals and glitter glue this mask turns out beautifully.  You are sure to get many compliments on this mask from all who see it.  And, the cool part….. you get to tell them that you made it yourself.  So, let's get started.
Check out our other New Years Crafts.
Laura from Dacian Moon Handmade  will show you how to make this mask step-by-step.
MATERIALS NEEDED:
– white cardboard
– blue paper
– colored pen (I used blue)
– scissors
– needle and thick thread
– pencil
– glue
– blue glitter glue
– auto-adhesive crystals (blue)
Step 1
Place the cardboard in front of you.  Use a piece of thread to measure how big the mask should be…
… and make the markings on the cardboard, according to your measurements.
Measure again and make the markings for the eyes.
Step 2
Draw the lower part of the mask.
Make an arch in the middle, where the nose will be, like this.
Step 3
Continue with the upper part of the mask – you can make any shape you like. Make an inverted arch in the middle.
Cut out the mask.
Step 4
Draw the eyes…
… and cut them out.
It will look like this.
Step 5
Take the needle with thread and put it through one corner, like this.
On the end of the thread make a knot, then pull the thread.
The knot will stay in the front of the mask. Do the same for the other corner, and now you can use the threads to tie the mask.
Step 6
Right now we have a blank mask. Let's decorate it!  Use glitter glue to highlight all the edges of the mask…
… like this.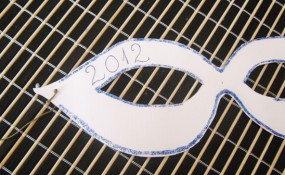 Draw two stars on the blue paper…
… and cut them out.
Add glue on the back of one…
… and place it on one side, over the eye.
Like this.
Add the second one beside it.
On the other side of the mask write 2012 using your colored pen.
Like this.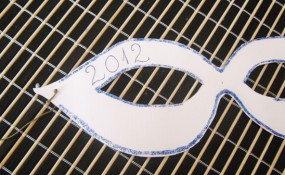 Now, take two auto-adhesive crystals and place them over the stars.
You can make a more complicated design, if you want. I am adding just some more points with glitter glue.
Now the mask is ready!  Wear it proudly for all to see on New Years Eve.  How did your mask turn out?  Let me know in the comments below.  Don't forget to take a picture of the mask… you can add it to your comment so I can check it out.  Now, you are ready to celebrate the New Year.
Technorati Tags: new years crafts, new years day crafts, new years eve crafts, kids crafts, kids new year crafts, kids new years crafts, mask crafts, dress-up crafts, new years masks, new years mask crafts