Do you have pictures you would love to remember?  For example, do you have pictures of Summer Camp, or School Trips, or perhaps a Vacation with your parents?  Aren't these memories just wonderful and you would love to remember them for always?  Well, I have the craft for you today.  I'm going to show you how to make a "Beautiful Places" Key Chain…. perfect for holding your fondest memories close to your heart.  Or perhaps you would like to make this "Beautiful Places" Key Chain for your friend or family member who would too love to keep these memories close to them.  Either way… this key chain is sure to be loved.  So, let's get started.
Check out our other Keepsake Crafts.
Laura from Dacian Moon Handmade will show you this craft step-by-step.
Materials Needed
– metal caps (as many as the places you want to remember)
– small pictures of those places (cut them round to enter in the cap – 2.5 cm)
– key chain accessory
– yarn
– duct tape
– glue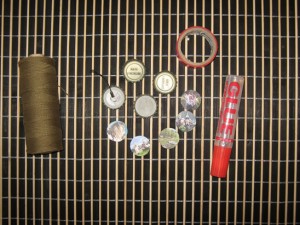 Step 1
Take the image…
… apply a layer of glue on it…
… and place it on the cap …
… like this.
Step 2
Repeat that for all the places you want to remember. I want to remember two castles and two ancient vestiges from Romania.
Step 3
Cut four pieces of yarn (as many as the places you have)…
… of different sizes.
Step 4
Cut a piece of duct tape…
… place a piece of yarn on it, like this…
… then place it on the exterior side of the cap.
Now we have a finished cap.
Step 5
Repeat step 4 for the other caps.
Step 6
Cut a bigger piece of yarn…
… put it through the loop …
… and knot it.
Step 7
Do that for the other caps too, taking care to let enough space between them.
That is it! Now you have a key chain with all the beautiful places you visited.
Doesn't this "Beautiful Places" Key Chain turn out awesome?!  Imagine carrying your keys on this key chain…. it will be wonderful.  How did your key chain turn out?  Let me know in the comments below.  And, don't forget…. take a picture of it and post it in the comment as well.  I'd love to see it.
Technorati Tags: picture crafts, photograph crafts, key chains, key chain crafts, memories crafts, keepsake crafts, keepsake memory crafts, bottle cap crafts