Welcome birds into your neighborhood this spring…. Make your own bird feeder with recycled materials and place it on your windowsill, porch or garden. The birds can perch on the pencils and pull out seeds from the holes on the sides of the water bottle. Plus, it is super easy to refill your Bird Feeder by the cap of the top of the water bottle.  Imagine watching the birds feed off of the Bird Feeder you made yourself…. wouldn't that be so wonderful?!  So, grab the materials needed and let's get started with the craft.
Check out our other Plastic Bottle Crafts.
Materials Needed
plastic bottle
pencils
bird seed
knife/ blade (use with an adult's help)
twine
Step 1
Make 2 holes (adult help) opposite to each other near the bottom of the bottle to allow the pencil to go through it as shown.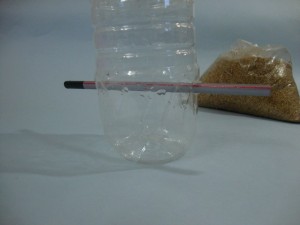 Step 2
Pierce another two holes (adult help) to put another pencil through it at 90 degree angles.
Step 3
Pierce holes (adult help) above the perches a little larger than the size of the seeds.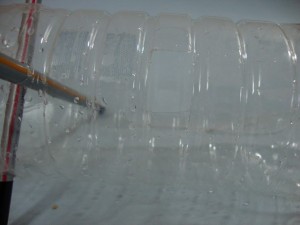 Step 4
Tie some twine on top of the bottle to hang it.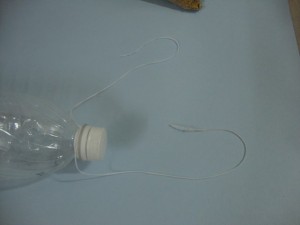 Step 5
Fill the bottle with bird seed.
Step 6
Hang your bird feeder on a branch, or outside your window and enjoy the chirping of the birds.
And, there you have it….. your very own Plastic Bottle Bird Feeder.  Now go hang it up outside and enjoy watching the birds feed off of the bird feeder you made yourself.  Enjoy!!
Technorati Tags: plastic bottle crafts, recycle plastic bottles, crafts with plastic bottles, crafts for kids, water bottles, water bottle crafts, bird feeders, bird feeder crafts, bird feeder crafts for kids, recycled water bottles, recycled water bottle crafts