Everybody knows that leprechauns are very fond of money and parties, so let's make a trap for him that will look like a pub, with the entrance marked by coins.  The craft is not only a lot of fun, but it will totally get you in the St. Patrick's Day spirit.  After all, St. Patrick's Day is in a little over a week.  The time is now to start decorating for the Holiday…. and this Leprechaun Trap makes for an adorable St. Patrick's Day decoration.  So, let's get started.
Check out our other St. Patrick's Day Crafts.
Laura from Dacian Moon Handmade will show you, step by step, how to make a leprechaun trap.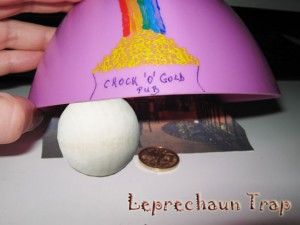 Materials Needed
– any picture of a pub interior
– bowl
– scissors
– needle
– paints
– paintbrush
– coin
– a nut or a wooden ball
– a very thin wire (about 10 cm)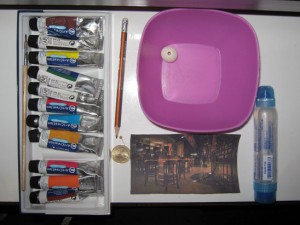 Step 1
Take the bowl and with the paintbrush and paints make some coins and a rainbow on one corner of the bowl (mine is rectangular… if yours is round, just paint on one side)…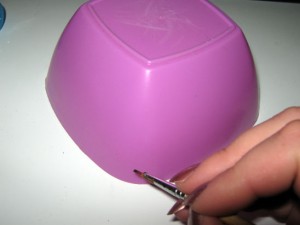 … then write "Crock 'O' Gold Pub", like in the picture.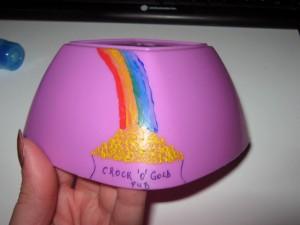 Step 2
Wriggle one side of the wire around the needle…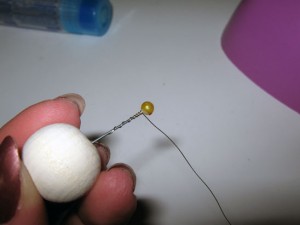 … then the other side around the coin: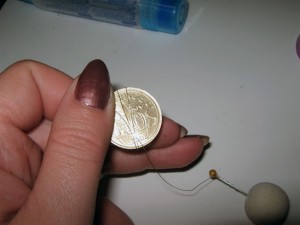 Step 3
Take the picture and fold the upper corners, then place it on the bowl. It should stay like this: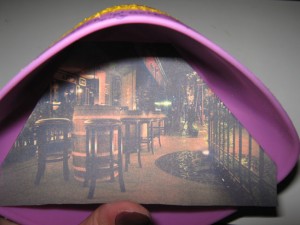 Step 4
Place the bowl (with the picture inside) over the wooden ball (or nut), like this…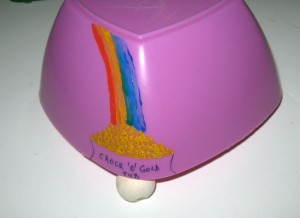 … and the trap is ready ! When the leprechaun will try to pass by the wooden ball (because the entrance is smaller than he) the nut will roll and the bowl will fall catching him beneath. The assurance is that even if the ball will not move (and the bowl falls) when he will try to take the coin, the ball will roll and the bowl will fall over him.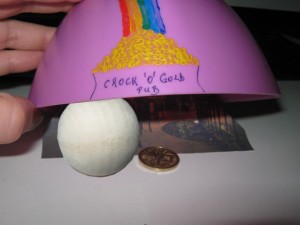 Now you have a Leprechaun Trap.  You will be able to catch a Leprechaun for sure this St. Patrick's Day.
Technorati Tags: st patricks day, saint patricks day crafts, st patricks day crafts, saint patricks day, saint patricks day crafts, st patrick's day crafts, st patrick's day crafts for kids, leprechaun, leprechaun crafts, leprechaun crafts for kids