Spring and summer is coming up.  And, one of the best parts of Spring and Summer is that the weather is usually beautiful enough to get outside and have adventures.  Why not record your adventures so you are able to look back at them and relive your adventures for years to come.  How do you do that?  With a Journal, of course.  A journal is like a diary…. it is a place to record your daily doings so that you can read them later and remember those times.  Today I'm going to show you how to make a Personalized Journal.  So, grab the materials needed and let's get started.
Check out our other Keepsake Craft Ideas.
Laura from Dacian Moon Handmade will show you how to make this journal step-by-step.
Materials Needed
– blank journal / notebook
– dried plants (you can gather yourself or buy a potpourri – I used orange, brown and yellow plants)
– 1 polymer flower (or plastic, glass…)
– one auto-adhesive crystal
– colored pens
– one pencil
– glue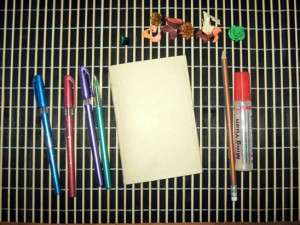 Step 1
Using the pencil make a sketch of how you want the journal to look like.
Step 2
Use the appropriate colors to give life to the sketch. I used red for the contour…
… and for the lace style drawing.
Step 3
Use green to make twigs and leaves.
Step 4
In the middle you may want to write "Summer Journal" like I did…. or whatever title you would like.
Step 5
Let's place the auto-adhesive crystal under the title.
Step 6
Add a layer of glue on the polymer / plastic / glass flower…
… and place it on one exterior corner.
I added glue on two orange dried leaves…
… and placed them beside the flower.
Step 7
Take the brown dried plants,  glue them…
… and place them on the next corners.
Step 8
In the opposite corner glue another orange leaf.
You can add the yellow one beside the crystal.
Or you can make a completely different design as long as you have fun.  How did your Personalized Journal turn out?  Did you make it like my design or do something different?  Let me know in the comments below.  Make sure to take a picture of the journal too and add it to the comment….. I'd love to see it.
Technorati Tags: journals, journal crafts, diaries, diary crafts, journal crafts for kids, diary crafts for kids, keepsake crafts, keepsake crafts for kids, memory crafts, memory crafts for kids, crafts for kids