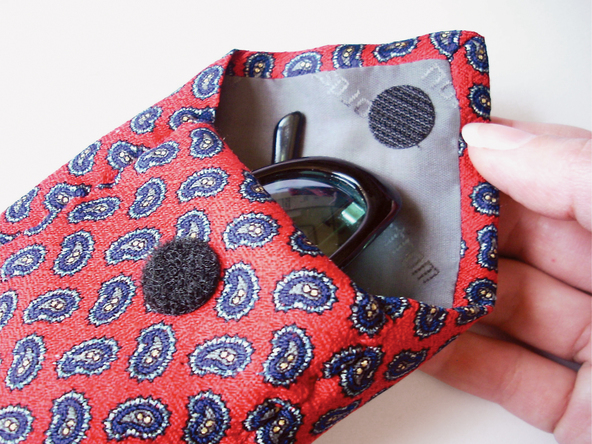 The styles of Neckties comes and goes pretty quickly.   Many men have a ton of extra ties in their closet that they don't even wear.  Why not put the extra ties to good use?  I am going to show you 13 Cool Crafts made with Neckties.  All of the necktie crafts shown here will have tutorials so that you too can make these crafts.  I will not show you something that you can't make for yourself.  Whether you want a necktie purse or a necktie coffee cozy…. you will find your necktie crafts here.   So, let's get started.
13 Cool Crafts Made with Neckties
(1)  Necktie Purse
Here is a creative way to make a purse.  Imagine the compliments you will get while you carry this bag.  This purse is made from 8 neckties….. check out Sonya Style for all the crafting details.
(2)  Necktie Daisy Pins

I found this craft over at Crafters and it is a great Necktie craft.  She will show you how you too can make these Daisies out of Neckties.  Imagine how gorgeous you will look wearing these Necktie Daisy Pins.  Check out the site for the details.
(3)  Tie Angel
How gorgeous is this Angel?  So pretty.  And, she is made from a man's necktie.  This Angel would be great for Christmas time decorating.  Make sure to check out Blue Bonnet Village for the instructions on how to make this craft.
(4)  Necktie TV Remote Holder
I found this necktie craft over at Yahoo Voices.  Here she made this craft for father's day…. and it is such a great idea.  Ironically people give ties for father's day…. here she upcycles a necktie into a TV Remote Holder.  What a clever idea!!
(5)  Cellphone or iPod Bag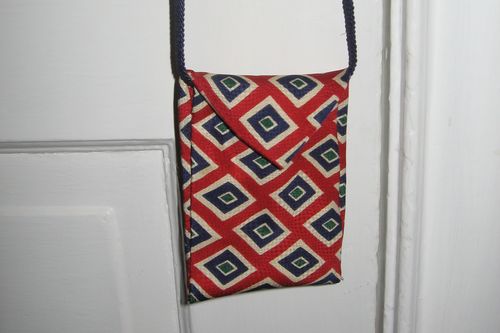 Here is a clever way to hold a cellphone or iPod….. carry it in this awesome Cellphone or iPod bag made from Neckties.  How cute is that?!  So cute.  I found this necktie craft over at Mindful Momma and I love it.  Make sure to check it out for yourself.
(6)  Coffee Cozy
What a great way to drink hot coffee and save your hands….. use this necktie coffee cozy.  I love this idea!!   I found this necktie craft over at Lime and Aqua Studio.  Check out their website for the full craft details.
(7)  Necktie Necklace
Look how beautiful these necklaces are…. and they are made from a necktie.  Made from an old necktie and some Mardi Gras beads this necklace turns out really cute.  You can get the full craft "how-to" by going to artstar by aletha.
(8)  Necktie Pumpkins
Now, these pumpkin are no ordinary fall pumpkins…. these are some of the most creative pumpkins I seen.  I found these necktie pumpkins over at Lisnaweary Quilts and the idea is super creative.  Your house will look awesome with these Necktie Pumpkins as decorations this Fall.
(9)  Necktie Headband
This necktie headband is so super cute…. I love the idea.   I found this necktie craft over at Craft Envy and she simply just picked up a necktie from a Thrift Store.  But, feel free to recycle any type of tie that is no longer being used.  Check out the website for all the details.
(10)  Necktie Glasses Case
What an awesome idea….. use a necktie to make a glasses case.   What is so cool about using a necktie as a glasses case… it not only looks good, but it also has its own padding for protecting your glasses.  Check out Make Projects for the step-by-step how-to.
(11)  Flower Pin
Who would have thought that a masculine necktie can be made into such a lovely flower?  But, if you check out My Heart is Yours Blog you will learn that it can.  Here she shows you how to take just a necktie and a hot glue gun to make this flower.  Make sure to check out her site.
(12)  Bow Tie
Wow, what a super creative idea…. take a Necktie and make it into a Bow Tie.  Clever!!  I found this necktie craft over at Make It and Love It .  And, I must admit it…. I do love it.  She takes a necktie and simple Velcro closure for this craft… make sure to check it out.
(13)  Necktie Skirt
Who would have thought that a few neckties can look so beautiful on a lady, but Rick Rack Ruby shows you that it can.  Check out her site to find out how she takes about 14 ties and makes them into a beautiful skirt.  So creative!!
Technorati Tags: neckties, necktie crafts, necktie crafts for kids, tie crafts, tie crafts for kids, neck tie crafts, neck tie crafts for kids, recycle neckties, recycle neck ties, recycle necktie crafts, upcycle neckties, upcycle necktie crafts, necktie activities, necktie activities for kids