This makes a great back to school craft as this can be used to decorate your backpack! My daughter and I made a few of these to give to her special friends at school. We landed up having to make more than 20 of them to give out to everyone who was asking for them. She couldn't make enough of them because they were so popular. I think you will love these too. They are very easy to make and you can use different materials each time. Any bead size or thread color will work. Just have fun and be creative with it!
How to Make Mini People or Dolls as Zipper Pulls as Back to School Craft for Kids
Crafts Materials Needed:
– beads
– embroidery thread, yarn, string, or thread
– pipe cleaners
– scissors
– (Optional) metal snap spring hooks
Step 1
I started off with a round bead that already had a face drawn on it. You can use paint or a Sharpie to draw 2 eyes and a mouth on a round bead if you don't have face beads already.
Then put a pipe cleaner thru the bead. The  beaded head should be in the center of the pipe cleaner, as seen above.
Step 2

– Now put the pipe cleaner that is thru the top of the head back down into the top of the head again until there is a loop….as seen above. The legs (bottom 2 pieces of the pipe cleaner) should match up too.
Step 3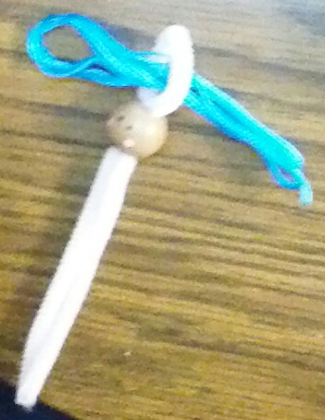 Take some embroidery thread (or whatever you have available) and fold it in half a few times (as you see that I did above). Then stick it in the loop hole, as seen above.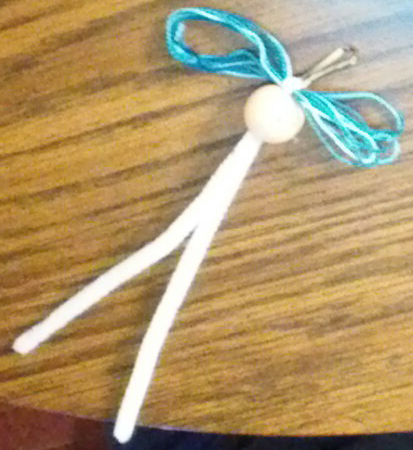 If you want to make this a zipper pull, put a metal hook on it (optional…only for zipper pulls). Then Pull the pipe cleaner legs downwards so that the pipe cleaner on top of the head closes down on the hair and hook.
Step 4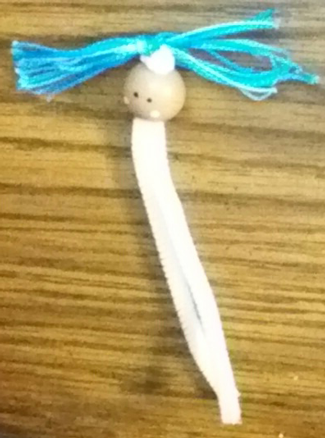 Cut the loops that are in the embroidery thread so that it resembles hair.
 Step 5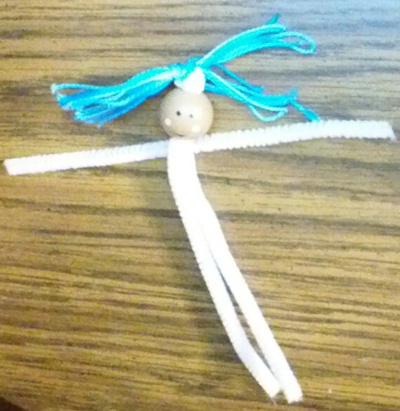 Cut a pipe cleaner in half. Wrap it around the top of the body, so you will have arms.
 Step 5 b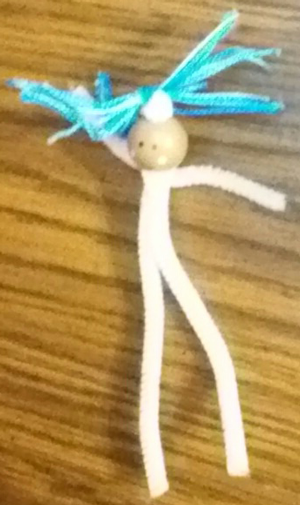 Like in the above picture.
Step 6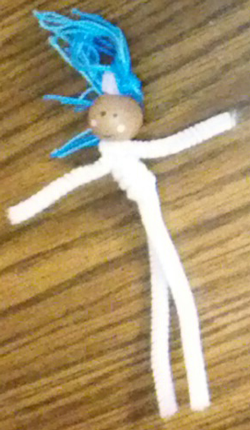 Take the other half of the pipe cleaner and wrap it around the chest area as I did above.
Step 7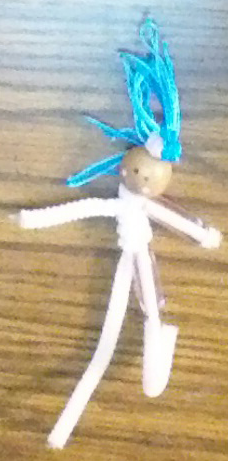 – Now we can place beads on the arms and legs. I have long beads, but you can also use multiple small round or oval beads. Then just push the pipe cleaner back into the bead to make it so the beads can't fall off.
 Step 7 b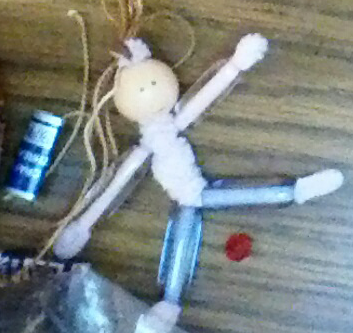 – This is what it looks like when all the beads are on there.
Finished Bead People
– My daughter originally only made a few of these for her to give to her closest friends. It lands up everyone in the class were BEGGING her to give them one. We landed up making enough for the entire class. Kids do Love these! Even boys! I hope that you had fun!
Technorati Tags: bead people, mini figures, zipper pulls, mini people, mini figs, pipe cleaner people, back to school crafts