The Christmas season is upon us.  And, with the Christmas season comes the time for decorating the Christmas tree.  In this post I will show you how to make a simple Christmas ornament that is made out of paper.  But, don't let the idea of this ornament made out of paper fool you…. the ornament turns out quite elegant.  Make a few of these paper Christmas ornaments with your kids and spread them around the Christmas tree.  It will be a lot of fun.  So, let's get started.
Check out our other Christmas Crafts.
Tutorial offered by Laura from Dacian Moon Handmade.
Materials Needed
– red paper
– pattern cardboard
– pencil
– glue
– scissors
– a small piece of ribbon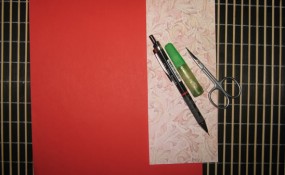 Step 1
Cut a rectangle from the red paper…
…and fold it accordion style…
… like this.
We will make a fan from it.
Step 2
Repeat step 1 to make another fan.
Step 3
Glue the margins of the two fans…
… it will look like that. Let it dry.
Step 4
Using your pencil…
… draw a star on the cardboard.
Cut it out.
Apply a layer of glue on the back of the star…
… and place it on the middle of the fans…
… like this.
Now your decoration is ready.
Step 5

Next you must glue a piece of ribbon on the back of it…
… like this.
Wow, what an amazing Christmas ornament!!  It will look fantastic on your Christmas tree.  Make a few more to spread the paper ornaments around your tree.  How festive!!
Technorati Tags: Christmas crafts, xmas crafts, Christmas activities, xmas activities, December crafts, Holiday crafts, Holiday activities, ornaments, ornament crafts, Christmas Ornaments crafts, Christmas tree ornaments, paper ornaments, paper ornament crafts