Home > Arts and Crafts Projects for Kids > Greeting Card Crafts for Kids
CARD MAKING CRAFTS FOR KIDS : Ideas for Arts & Crafts Activities & Projects to Make Popup Cards / Holiday Greeting Cards Instructions for Children, Teens, and Preschoolers
Sending a card to a special somebody has always been a big part of life. It is always just really nice to send someone a quick note to let them know that you have them in your heart, mind, and soul. Just dropping a line isn't always ideal, sometimes you want to get fancy and crafty to send something a little unique to them. If you are in the mood to make some of your own greeting cards, then you are in the right place. We have listed some ideas for diy greeting cards that your friends & family will love. Have fun!
Crafts from Recycled Greeting Cards
The Basics to Making Your Own Greeting Cards
Children can easily learn to make their own greeting cards. In fact they should be encouraged to do so. From kindergarten through the grades some of our young friends have made their own cards for every holiday. One of the simplest cards to make is a French fold of paper—fold it in half crosswise and then in half again. Use fairly heavy white paper and draw a picture on the front appropriate to the occasion. Then on the inside put the message—"Happy Birthday to Daddy" or "Happy Easter" or whatever the occasion calls for. This is fun for the child who likes to draw and color. See Figure a below.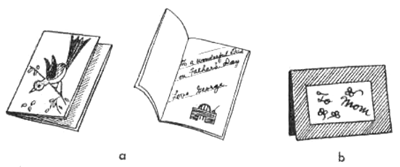 Another way to make a card is to use colored construction paper. Cut a sheet in half crosswise and then fold it over, making a single fold. Cut a piece of white paper about 1/2 inch smaller all around. Draw a design on this white paper and paste it on the colored fold with a frame all around. Write the message inside. This makes an attractive individual card. See Figure b above.
How to Make Pressed Flower Cards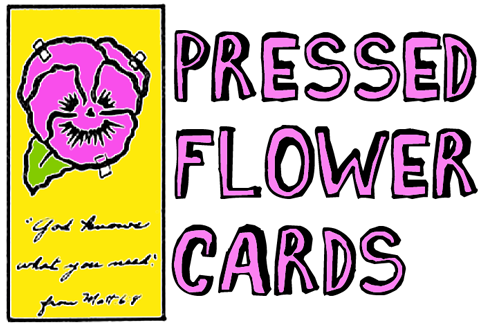 You will need several bright-colored flowers, enough waxed paper to cover the flowers, 1 large book, 1 sheet bright-colored construction paper, scissors, Scotch tape, pen, and a ruler. A week ahead of time, choose bright-colored flowers and place between pieces of waxed paper in a large book. To make the card, cut sheet of paper into pieces 5" x 6". Write or type something nice at the bottom of each piece. Place a flower on card. Carefully fasten it in place with Scotch tape. You may want to add other strips of tape to hold the flower in place.
More Greeting Card Making Crafts Below

Make Mom a Mother's Day Flower Card Crafts Activity for Kids - Mother's Day is a special day for Moms and all Moms want to be treated special on that day (and all days actually). Make this beautiful card for mother's day with the following easy directions for the following arts and crafts activity for kids. Its something new, unique and different and I'm sure mom will love it!!

How to Make Valentines Day Pop Up Card of Girl Hugging Heart Crafts Idea for Kids - Today, we will show you how to make this really cool Valentine's Day Pop Up Card craft for kids. Learn how to fold and cut paper to make a pop-up card with a girl hugging a Valentine's Day heart. People will love receiving this card…so learn how to make it.

Make Embroidered Cards with Embroidery Thread Designs on Card Stock – Basics – Part 1 - Do you like to sew? Here's a new way you can use your sewing skills. Make beautiful designs on card and use it to make cards, bookmarks etc. Here is Part 2.

How to Make a Ghost Halloween Party Invitation or Greeting Card : Craft for Kids - This friendly ghost will say "Boo" to scare your friends this Halloween. This unique Halloween Party Invitation or Happy Halloween card is easy to make and your friends and family will remember it for a long time.

Making Winged Hearts Valentines Day Cards with Paper Folding and Cutting - I made this heart with wings accidentally today so I thought that I would share with you how I made it. You start out doing a bit of paper folding and origami and then you start cutting a bit….what you turn up with is a valentines day card heart with wings. You can give this to somebody that you love on Valentines day.

Thanksgiving Turkey Pop Up Card Making Craft : Turkeys Beak Opens and Closes - This is a unique Turkey pop up card in that this one has an open and closing beak. My kids said that it is the coolest pop up card that they have ever seen, so I decided to share it with all of you nice kids and parents.

Wax Painting Thanksgiving Cards Arts and Crafts Activity for Children - Make a special thanksgiving card for your friend with wax crayons and paint. You can even add a secret message that no one else can see!! Below you will find instructions for this Thanksgiving Greeting Card Craft.

Schoolhouse Invites & Programs - Make these schoolhouse invites for in-school plays, puppet shows, Meet the Teacher Nights, etc.

Make Your Own Easter Cards with Easter Eggs Craft Idea - It is time to start thinking about making Easter cards for your friends and loved ones. Here is an easy idea for all you kids out there who want to start making your Easter greeting cards. This is a really cool looking card with an Easter egg filled with glitter…and everyone will love the great results. This is a great activity for preschoolers, toddlers, and kids of all ages.

Making Cute US Mailbox with Heart Letter Valentines Day Cards - Learn how to make this adorable mailbox with inserted Valentine's Day heart and tag. Your friends and family members will think you are so sweet and creative to give this to them. The printable paper template can be found below, a well as directions. Have fun and send the love.

How to Make a Spooky Spidery Halloween Card With Easy Painting Technique - Here's an interesting card you can make for Halloween. And the best part is that its really fun to do. Lets learn a new technique called blow painting. This unique Halloween Party Invitation or Happy Halloween card is easy to make and your friends and family will remember it for a long time.

How to Make Magically Appearing Name Valentines Day Cards Craft - Today, we will show you how to make this really cool Valentine's Day Card craft for kids. This is a really cool card that will show the name of your friend's name or loved one's name when moving the heart's arrow. Learn how to make it on the following tutorial page.

Easter Bunny and Baby Chick See-Saw Paper Toy Card Craft - This is an adorable, working see-saw with the Easter bunny on one side and a baby Easter chick on the other. The see-saw goes up and down with the use of a simple fastening clip. All you have to do is print, cut out, and then fasten the 2 parts together.

How to Make a Stand Up Easter Bunny Card for Young Children & Preschoolers - This crafts project is to make a standing Easter Bunny card which even young kids will be able to draw for themselves. This is a fun, and attractive Easter Bunny craft for preschoolers, Kindergarteners, 1st graders, and other young children.

How to Make Pop Up Easter Bunny Rabbit Cards Crafts Idea - You have the choice of printing out the cards or you can follow the measurements and directions below without printing. Either way, this is a fun, and attractive Easter craft to work through. Good luck and Happy Easter.

Opening Church Cards - The card opens and the little person you made can go inside the church thru the opening doors.