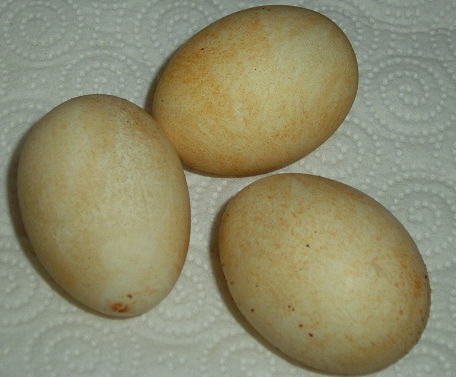 Homemade Easter Egg Dye: How to Make Easter Egg Dye from Things in your Cupboards
Obviously, I like to dye Easter Eggs, I mean, I go to the painstaking effort of blowing out each shell and I spend several hours decorating eggs to place around the house the night before Easter morning.  I'm not sure why I like the eggs, since I don't eat them but I do.  For this reason, I am always looking for new ways to do the eggs and new ways to create wonderful dyes for the eggs.  Usually, I will purchase a nice kit from the store and I have done them all; neon, pastels, glow in the dark, speckled, you name it, I have probably used the product.
One thing that I had never done, was make my own dyes so I finally decided that I would gather a few things together and create some homemade dyes.  It does take a little more effort but the effect can be some truly beautiful eggs that are unique and truly yours.
The best point about this craft is it brings your children's crafts into the kitchen, and as any chef or baker knows, you can create some true masterpieces on a stove.
Homemade Easter Egg Dye: How to Make Easter Egg Dye from Things in your Cupboards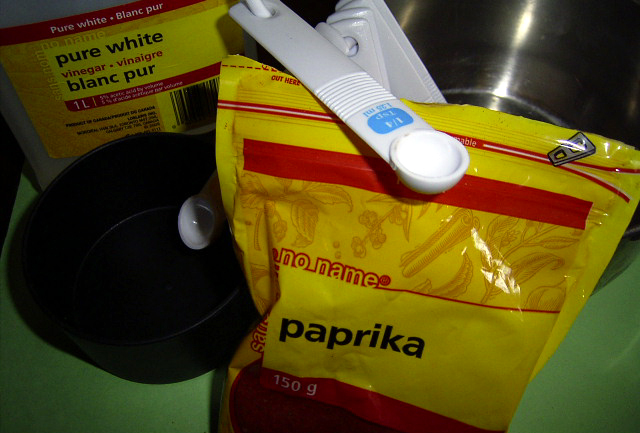 Crafts Materials That You Will Need:
Saucepan
1 cup of water
Measuring Cup
Measuring Spoons 1tsp and 1 tbsp
Item for Dye (see the list below)
Stove
Dye Colors:
Orange:  Paprika
Green: Spinach
Blue: Blueberries
Red: Red Onions
Pink: Raspberries
Yellow: Orange peels
1.   The first thing that you should do before you start making your own dyes is talk to your child about kitchen safety.  Depending on the age, your child may not be able to help with the stove portion of this craft but there are other things that your child can do, such as measure out ingredients.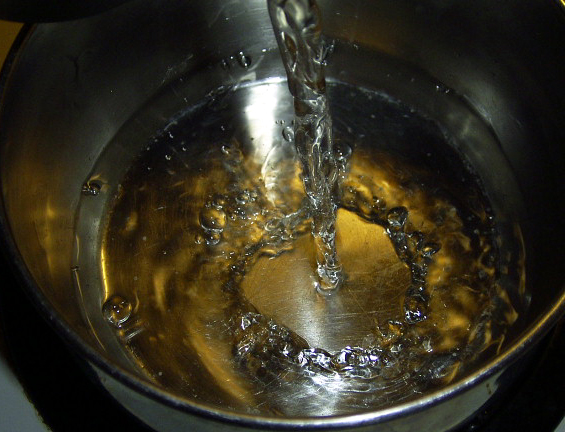 2.   Measure out 1 cup of water and have your child pour it into the saucepan.
3.   Place the saucepan on the stove and set the temperature to medium-high.
4.  While the water is beginning to heat, have your child measure out the ingredients.  Usually, you will want about 2 or 3 tablespoons of the ingredient.  Sometimes you may need more, especially if you are trying to leach the color from a fruit or vegetable.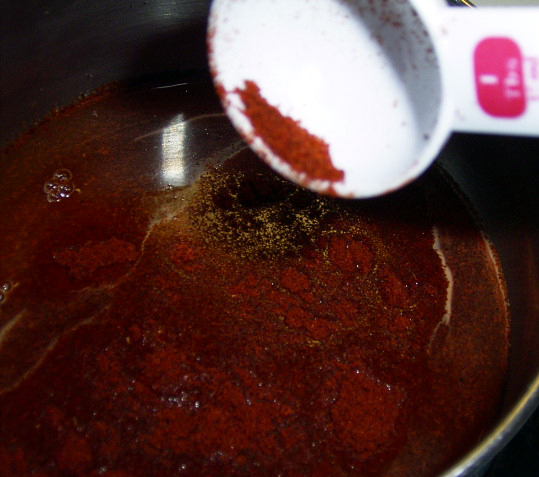 5.   Add the ingredients to the water.  In this case, I am using a paprika to create orange dye.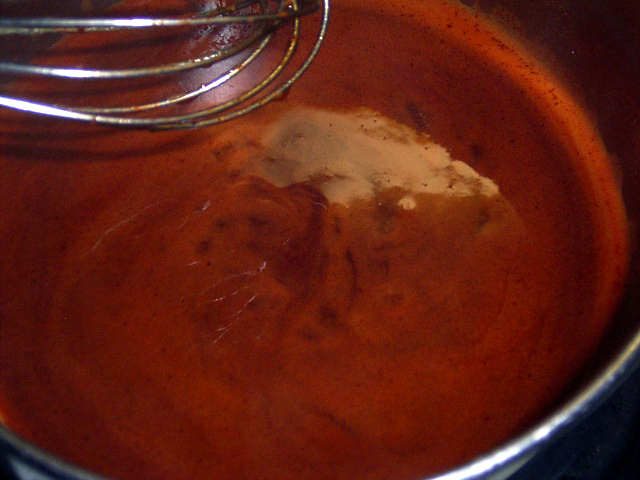 6.   Bring the water and ingredients to a slow boil.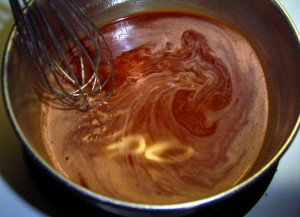 7.  Lower heat to a low-medium and simmer.  Usually it can take about 15 minutes but for vibrant colors, you will want to simmer for about an hour.  Lower the heat if your water is evaporating too quickly.  Make sure you occasionally stir the mixture.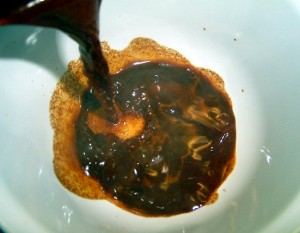 8.  Once the simmering time has passed, remove from the heat and pour into a small container or bowl for dying the eggs.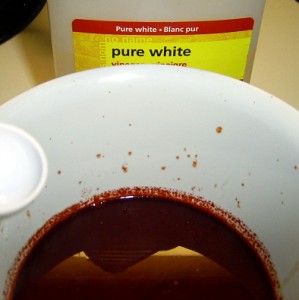 9.  Add two to three teaspoons of vinegar to the dye and stir until it is blended in.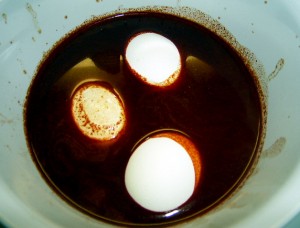 10.  Take out the eggs you will be dying out of the fridge, or blow them out if you want them hollow, and place them into the bowl.
11.  Allow the eggs to sit in the dye until you get the desired color.  If you want dark, full color, let the eggs sit in the dye overnight.  Make sure you put it in the fridge or close the container to prevent the dye from spilling.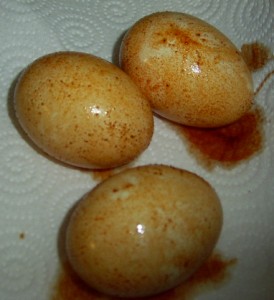 12.  Remove the eggs from the dye and wipe off the excess dye.
The eggs that are produced from these types of dyes are flat and do not produce a shiny finish.  If you want to have a shiny finish, coat the eggs with a spray sealer that you can pick up at most craft stores in the ceramics section.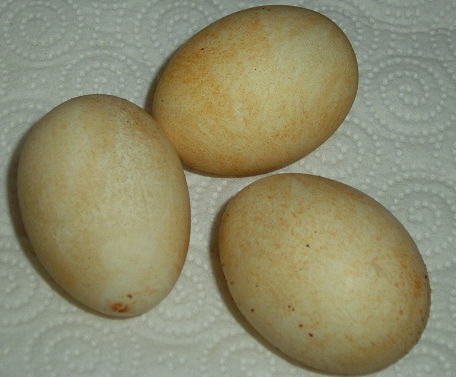 MORE EASTER CRAFTS ON THIS BLOG
MORE EASTER CRAFTS ON OUR CRAFTS FOR KIDS SITE
Easter Lambs Crafts Ideas for Kids
Easter Hats & Bonnets Crafts Activities for Kids
Easter Eggs & Egg Decoration Crafts Activities for Kids
MORE EASTER FLOWER CRAFTS & ACTIVITIES FOR KIDS FROM OTHER BLOGS
Dyeing Easter Eggs the Natural Way – With a lot of us here having our own chickens or access to fresh eggs this could be a great project for kids!  Let us know if you have any favorite recipes for natural dye for the eggs!
How To Naturally Dye Easter Eggs – With everyone 'going green', why not have a green Easter? Healthy, all-natural alternatives exist and make beautifully colored eggs (and are just as much fun to use).
5 Great Reasons to Dye your own Easter Eggs – Sans Boxed Kits – Until I get a mini-farm and raise Araucana Chickens (Easter Egg Chickens)I am dependant on dying my own Easter Eggs.  This year I wanted to dye them with found things from my kitchen.  I refused to be dependant on what was offered me from the mega-chains.
Easter Egg Fun! – Egg dyeing is a fun and educational Easter tradition to start with your little one. Follow these tips and instructions for making homemade and easy designs that your kids will love. PLUS: Learn how to make eco-friendly dye from vegetables!
Simple Ways to Dye Easter Eggs – While growing up the only method I knew for dying Easter eggs was to use PAAS dyes. Something about those slim boxes filled with little plastic cups and colored tablets excited me much more than they should have.
Improving on natural Easter egg dyeing – Seattle photographer Emily Weaver Brown has produced some spectacular dyed Easter eggs. She made a bright yellow using a paste made of turmeric and vinegar, and made other colors out of blackberries, beets, and pomogranate juice. Here's the kicker:
Fun This Week: Dyeing Easter Eggs – No matter what else you have going on, take some time this week to dye a few Easter Eggs.
The Easiest Easter Eggs of All – I'd never before heard of the "tie dye" egg method—but after spending an afternoon trying it out, I can vouch that not only is it completely mess- and hassle-free, the results look amazing. In fact, this weekend, I'm planning on hitting the flea market to pick up a few silk neckties for my own eggs. Want to give this technique a try? Here's how.
Naturally Dyed Easter Eggs – The canned food selection in Germany is nothing like it is in The United States.  Back home, I could find anything from spinach to sweet potatoes in a can.  In German, we've got cans of peas and cans of corn.  And at the risk of getting really wild, the grocery store where I shop also has peas and corn in the same can.
Coloring Easter Eggs Naturally – The gorgeous copper color came from onion skins and the blue from red cabbage leaves. I used about 3 tablespoons of  turmeric and 1 Tbs. vinegar to acheive  this sunny golden color and red beets produced a light mauve.
Technorati Tags: dye easter eggs, dying easter eggs, coloring easter eggs, natural easter egg dye, natural egg coloring dye, dyed easter eggs, naturally dyed easter eggs, dye easter eggs, how to dye easter eggs