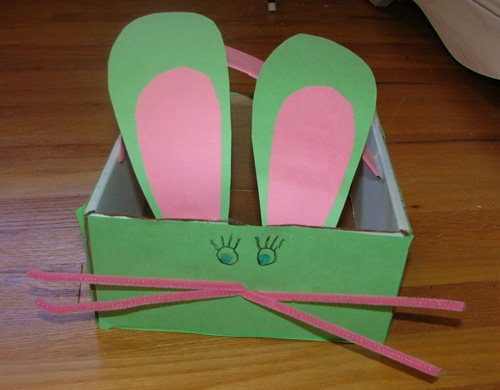 If you've had a new addition to the family, are having an unexpected guest, or just don't have enough Easter baskets around the house, here is a simple an inexpensive way to create your own Easter basket to fill with goodies and put on display.
Easy Easter Basket Craft for Young Kids, Preschoolers, Kindergarteners, and Moms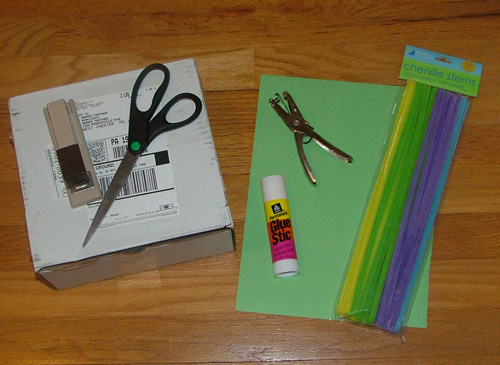 CRAFTS MATERIALS THAT YOU WILL NEED:
A box – a shoebox or milk or orange juice carton would work nicely
Pipe cleaners
Construction paper
Scissors
Hole Punch
Glue
Stapler
Crayons or googly eyes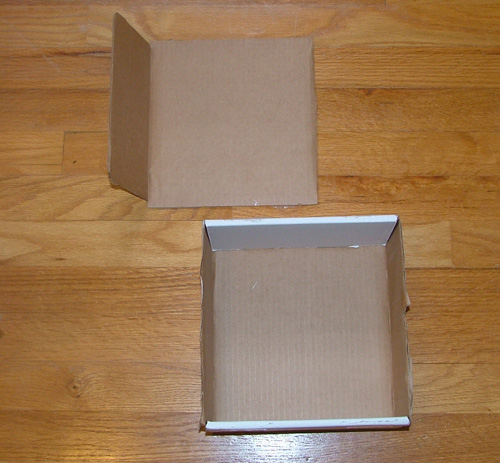 1. First,  cut off or remove the top of your box or one side of your carton. If using a carton, staple the open end closed. Save this discarded piece for your basket handle if desired.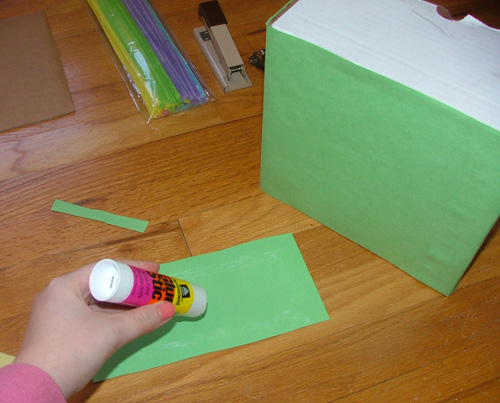 2. Choose one color of construction paper and make sure you have enough for all sides of your box. Cut the construction paper to fit the box and glue to all sides of the outside.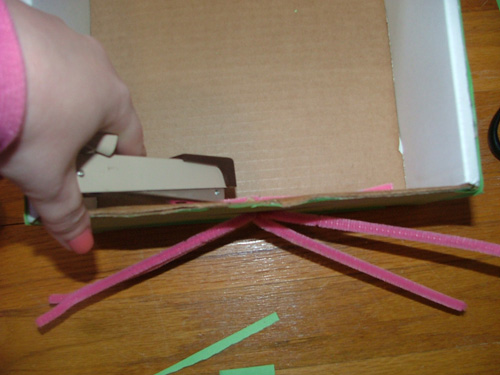 3. Punch a hole in the front of your box. Bend four pipe cleaners in half and stick through the hole, half on the inside of the box, half on the outside. Position the pipe cleaners so they are in place on the outside, and then staple the pipe cleaners into place on the inside. Trim pipe cleaners inside if needed.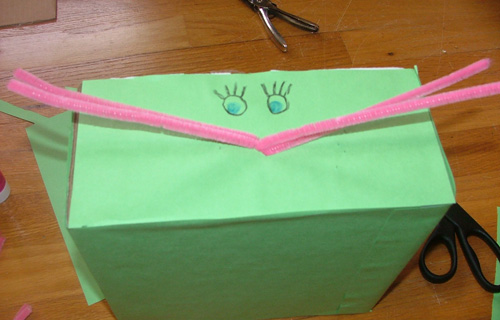 4. Draw on eyes, or glue on googly eyes if you have them on hand.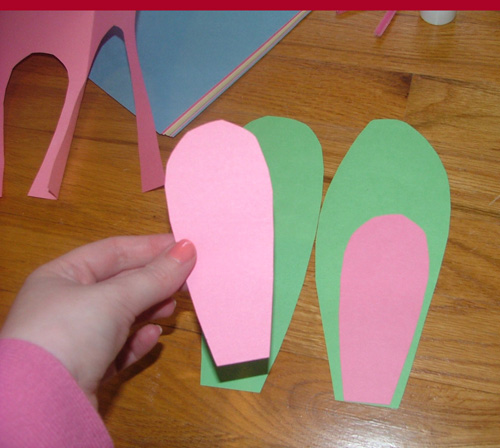 5. For ears, cut out ear shapes from the original color construction paper you used to cover the box. Then cut smaller ear shapes out of pink contruction paper and glue them to the center of the larger ear shapes. Staple ears to the box so they stand up. (Hint: staple pipe cleaner scraps vertically behind the ears to help keep them upright.)
6. If your discarded box top is large enough cut out a 1″ strip and cover it with construction paper to form a handle. Or, simply use construction paper for a decorative handle.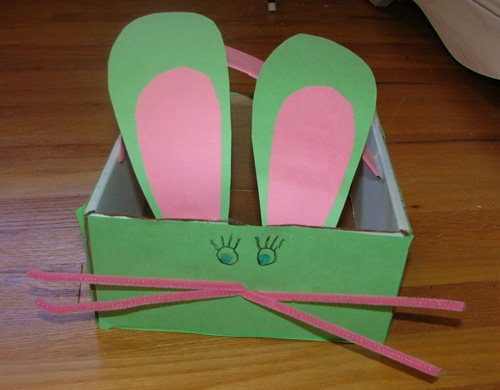 MORE EASTER CRAFTS ON THIS BLOG
MORE EASTER CRAFTS ON OUR CRAFTS FOR KIDS SITE
Easter Lambs Crafts Ideas for Kids
Easter Hats & Bonnets Crafts Activities for Kids
Easter Eggs & Egg Decoration Crafts Activities for Kids
MORE EASTER FLOWER CRAFTS & ACTIVITIES FOR KIDS FROM OTHER BLOGS
Personalized Easter Basket For Kids Will Make Then Smile – Making your Easter basket for kids in 2009 is going to be great fun for the whole family but there are a few things to keep in mind too. Things like safety and durability are the major concerns.
Egg Basket : Quick and Easy Daily Crafts for Kids – Have children cut strips of colored paper and weave them in and out of tomato
Quick And Easy Easter Decor – Daisies in a Vase – Today's craft is going to be a super simple decoration for spring.  I hesitate to even call it a "craft";  it's more like an assembly of items.  All you need for this little project is: 1) a clear glass vase, 2) small plastic Easter eggs (I used pastel shimmer eggs), 3) rice, and 4) three artificial Gerber daisies on long stems.
Easter Art & Creativity Kits From ELC – Increasing numbers of people are looking for alternatives to chocolate when buying Easter gifts. If you too have noticed chocolates eggs becoming seemingly less special then you may find Early Learning Centre's Easter Art & Creativity range a delightful way of marking this holiday.
Easter Bunny Egg/Flower Holder – Make this cute Easter bunny holding a flower in front of an Easter egg.
Felt and Button Easter Cards Craft for Kids & Adults – Flower-bouquet I created a whole bouquet of these felt button flowers for a craft magazine last year but knowing bouquets would be far too much cutting for 5 and 6 year olds I opted for a single flower for each mum.
Kids Crafts for Holidays & Easter – Easter is coming up which got me thinking about how I am going to keep my kids occupied this year.
Easter Craft For Kids (including a bouquet of flowers) – My absolute favorite book for Toddler Crafts is called The Toddler's Busy Book by Trish Kuffner. It has 365 Games and Activities in it that are easy and fun to do!  There are crafts for every holiday.  It breaks the crafts down into great categories like : Rainy Day Play, Kids in the Kitchen, Water Play, Outdoor Adventures, Arts & Crafts and much more.  I highly recommend getting this book!!  It is a great resource, one I have used over and over!!  Below is one of the craft ideas for Easter that is in the book.
Easter Craft Ideas for Kids – Get crafty and create a colorful Easter holiday for the kids.  Along with the Easter egg masterpieces you have planned using some of the ideas in our article about 20 ways to decorate an Easter egg, craft your own panoramic sugar eggs, chocolate Easter lollipops, feathered Easter baskets, and more to celebrate the holiday.
Keeping Easter Fun and Frugal –   Finding great activities for your kids to do for Easter can be easier than you think, here's a little craft making felt Easter decorations that you can use every year.
Easter Bouquet To Make At Home – This is a quick and easy way to make an Easter Bouquet that is cheap and fun to do – and it doesn't make much mess either – always a plus with any Easter activities and crafts!
Easter and Springtime Crafts for Kids – Easter and springtime traditionally signals the turn of the year into a time of rebirth and fresh beginnings. It's a season groaning with possibilities for so many crafts for kids to enjoy.
Technorati Tags: easter crafts, easter crafts for kids, easter bakset crafts, easter basket craft for kids, how to make an easter basket, bunny basket, bunny basket craft, bunny crafts,