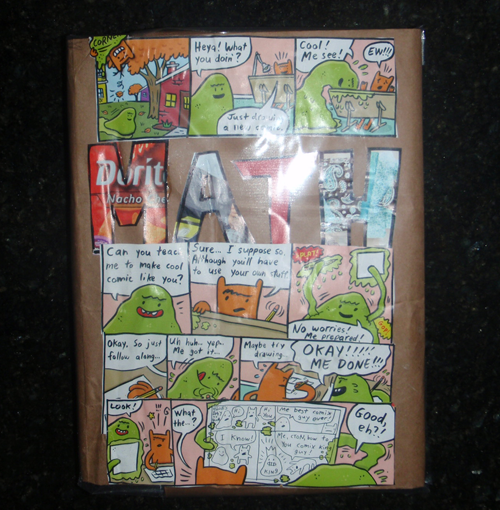 How to Make School Book Covers Out of a Brown Grocery Store Bag – Make it Fun with Comics Strips and Contact Paper
As my kids get older and older, there seems to be more and more books that we need to cover. I have become a pro at turning brown grocery store bags into neat little school book covers. I decided to turn my son's Math book cover into a fun comic book cover. I still remember my Charlie Brown metal lunch box from when I was a kid and I read the comic strips on that lunch box a zillion times when I was bored at school. Although I don't want my son to read the comic strips on his book during Math class, I figure that there will be times at school when he is bored and will enjoy looking at these comic strips. I covered the book cover with contact paper to protect the comics. I also put a word search on there, which can be done over and over again since the contact paper can be used as a wipe-able surface for washable markers. I hope you enjoy this comic strip grocery store bag school book cover project (wow – that would be hard to say in one breath). 🙂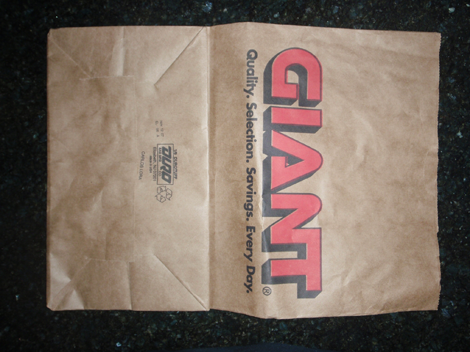 (1) First, get out a store brown grocery bag.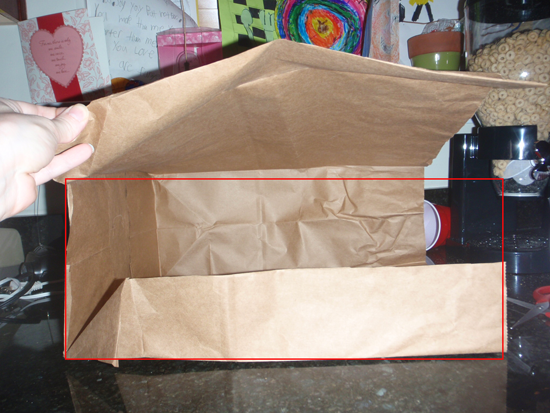 (2) Next, cut out the right side of the bag (the creases form a rectangle) … cut this side out.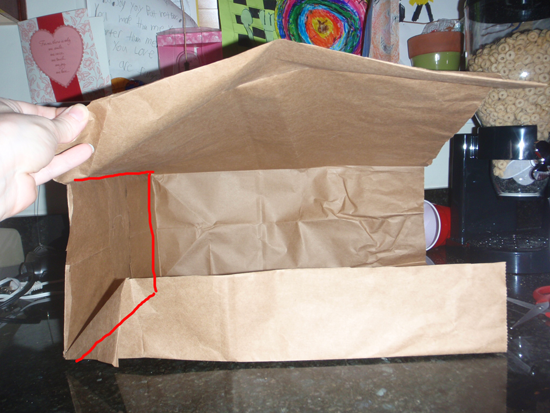 (3) Now cut out the bottom of the bag too.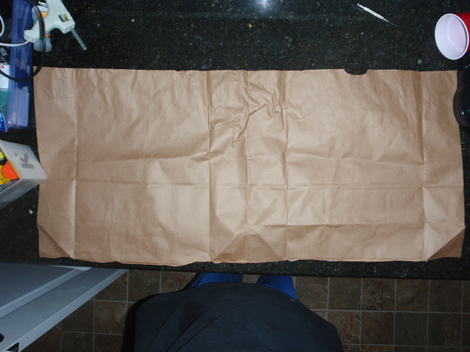 (4) After you have cut out the bottom and right side of the bag, you will have a rectangle shape. Lay this out as flat as you are able to.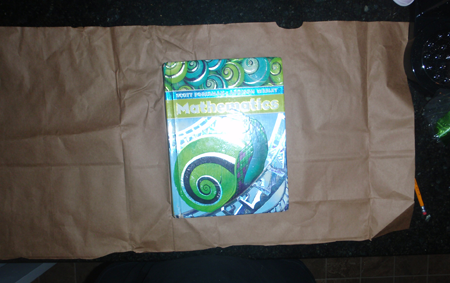 (5) Put your school textbook in the center of the brown bag.  Trace the bottom and top of the book onto the brown grocery store bag.

(6) Now fold the top of the bag down and the bottom of the bag up so that they meet the 2 lines that you drew in step 5.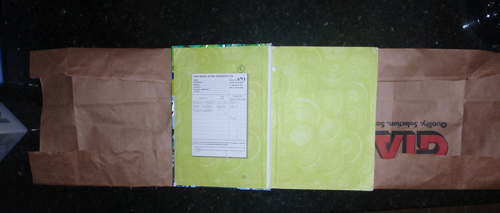 (7) Now place the book back onto the brown bag (on top of the newly created flaps).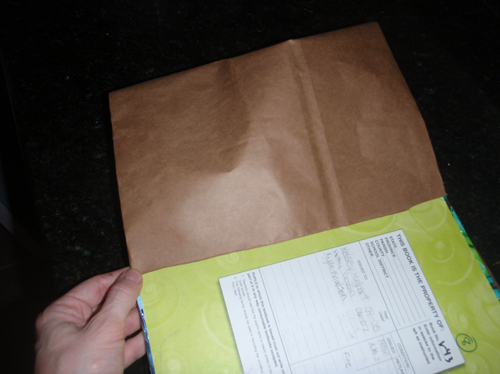 (8) Next, fold your brown paper bag flaps over your book book's cover. The book cover should slide into the book's flaps that you just created.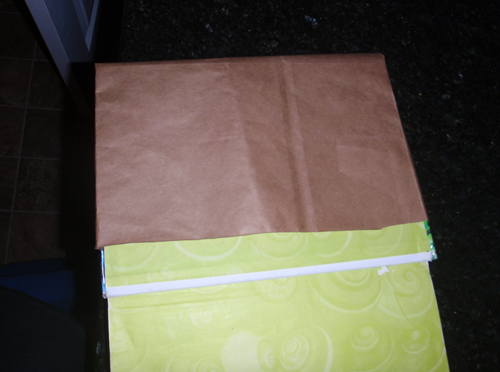 (9) This is what it should look like (above) when the one side of the book's covers is slid into the brown paper bag flaps.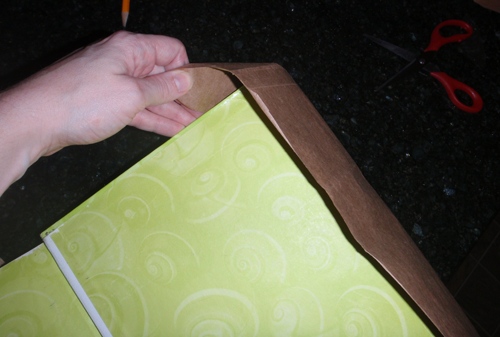 (10) The other side of the book's cover is harder to fit into the brown paper bag flaps, so you will probably have to slide the bag over the book cover (like shown above).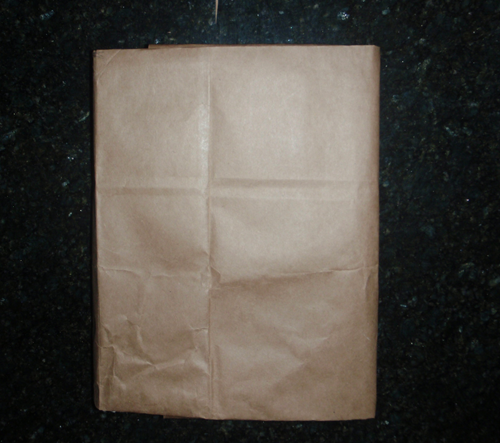 (11) If all works out well, your book cover should look like this. If you had problems, you might need to use tape. This is fine too. Ask your parents for help if you just can't do it. Don't feel bad, it is a bit tough the first few times you try to do your own book cover (for parents who are out of practice too). 🙂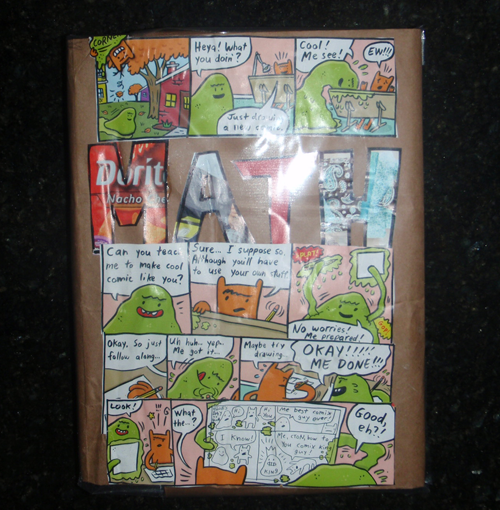 (12) If you want to make things a bit fun for your kids, then take out their comic magazines and paste them onto the brown paper book cover.
(13) It is also a lot of fun to paste on puzzles and quizzes to give them activities to do when they are bored or done with work at school.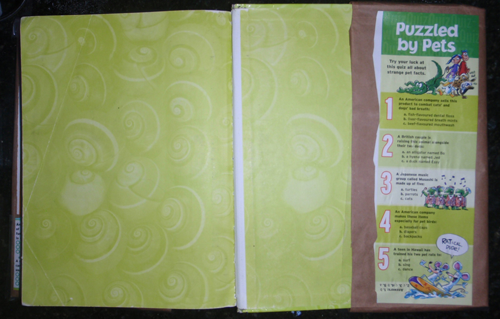 (14) Anything with fun illustrations or cartoons can be pasted onto the inside flap covers too. No need to waste good brown paper bag space.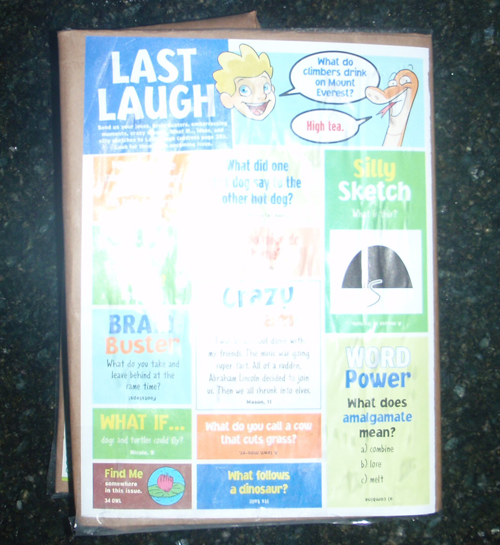 (15) Don't forget about the back of your child's book too. After I pasted on all of the cartoons, comics, puzzles, trivia quizzes, etc, I took out a sheet of contact paper and covered the entire book. Now the book cover is protected and my son can do the puzzles over and over again. Good luck.
Here is our Video on How to Make a Paper Book Cover with Comics and Puzzles

Here are even more school book cover making and decorating crafts.
Here are More Pages That You Might Be Interested In!
How to Paint Your School BookBag
How to Use Sharpies to Decorate Your School BookBag
Decorate Your Binders and Notebooks Crafts
Make or Decorate Bulletin Boards / Tack Boards / Cork Boards
School Work Organization and Homework Organizers Crafts
Even More Online
I Love to Create Recycled Denim Book Covers
Recycle Your Chip Bag Into a Book Cover
How-To: Sew a Simple Fabric Book Cover
Technorati Tags: back to school crafts, school crafts, back to school, back to school activities, school activities, book cover crafts, book covers, how to make a book cover, how to book covers, decorate book covers, fun book covers, making book covers, designing book covers, comic book covers, grocery bag book covers, brown bag book covers, school book covers