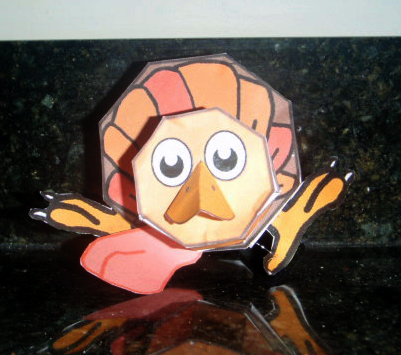 Free Thanksgiving Turkey Paper Toys Model : Make Printable Foldable Turkeys Paper Crafts for Kids
Have a free afternoon and want to make the coolest craft you have ever made? All you need are a printer, paper, scissors, glue, and patience and you will have a fun Thanksgiving arts and crafts activity to keep you busy. Find out more below.
Materials Required:
Printer
Paper
Scissors
Glue
Small Stick
Patience
Free Turkey Paper Models Diagrams Below:
Free Turkey Paper Models Instructions Below:
(1) Print out Template 1 & 2
(2) Cut out all the pieces along the dark outer lines.
(3) Score all inner lines. You can use a dull butter knife to score the folds.
(4) After you score all the inner lines & tabs, most shapes will take on a 3d-like shape..and you should be able to figure out how it folds up. If not, take a look at the finished image  to help you out.
(5) After you visualize how the shape should fold, glue tabs and push together. Use small sticks such as a chopstick, toothpick, end of a paint brush, etc to push together hard-to- reach areas.
(6) Let dry and then play with your toy turkey.
Also Learn How to Draw Cartoon Turkeys for Thanksgiving
Learn How to Draw Cartoon Turkeys – Step by Step Drawing Tutorials for Kids
Make all the papercraft Thanksgiving characters like the Turkey, Pilgrim girl, Pilgrim boy and the Indian boy, and Indian Girl Make sure to do them all.
MORE THANKSGIVING ARTS AND CRAFTS IDEAS BELOW
It is almost Thanksgiving time so check out our Thanksgiving Coloring Pages & Thanksgiving Crafts for Kids Page to find some great turkey and thanks-giving crafts project ideas for kids to celebrate Thanksgiving such as
Autumn / Fall Crafts ..
Cornucopia Crafts..
Indian Corn Crafts ..
Pilgrim Crafts ..
Preschoolers & Toddlers Thanksgiving Crafts ..
Scarecrow Crafts ..
Thanksgiving Coloring Pages & Printouts ..
Thanksgiving Decorations Crafts ..
Thanksgiving Table Decorations Crafts ..
Thanksgiving Turkey Crafts ..
Thanksgiving Worksheets & Printouts
Technorati Tags: turkey paper toys, turkeys paper toys, printable paper toys, print out paper toys, printable paper models, printable paper diagrams, free paper toys, free paper crafts, free printable paper toys,   thanksgiving turkey crafts, thanksgiving turkeys crafts, turkeys crafts, turkey crafts, crafts with turkeys, thanksgiving crafts, thanksgiving table crafts, thanksgiving, thanksgiving crafts for kids, thanksgiving activities for kids, thanksgiving decoration crafts, thanksgiving table decorations, thanksgiving centerpiece crafts, crafts, arts and crafts, arts & crafts, arts and crafts for kids