Help your mom get prepared for Thanksgiving dinner!! Here is a personalized Thanksgiving place card craft that your guests will love so much. Its easy to make and is going to make your friends and family feel very special this Thanksgiving.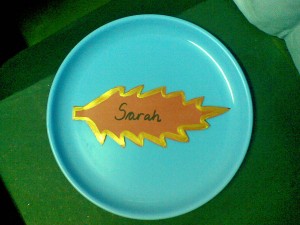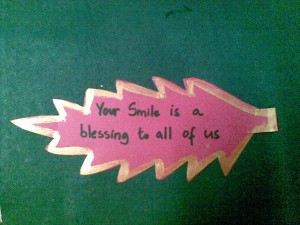 Thanksgiving Fall Leaf Placeholder Cards Decoration with Special Message Activity for Kids, Teens, Preschoolers
Craft materials required:
Thick colored paper
Acrylic Gold paint
Paintbrush
Markers
Scizzors
Pencil
Step 1
Draw out a leaf shape as shown.
Step 2
Cut it out
Step 3
On one side of the leaf, write the name of the friend or family member who's gonna be there for thanksgiving dinner
Step 4
On the other side of the leaf , write something nice about the person.
Step 5
Paint the edges of the leaf gold as shown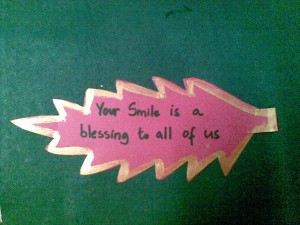 Step 6
Place the leaf in the center of the plate, and you're all set for thanksgiving dinner.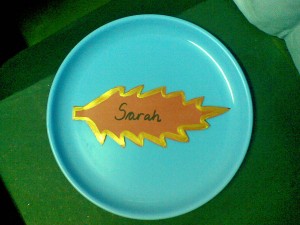 MORE THANKSGIVING COLORING PAGES AND THANKSGIVING ACTIVITIES & ARTS AND CRAFTS IDEAS BELOW
It is almost Thanksgiving time so check out our Thanksgiving Coloring Pages & Thanksgiving Crafts for Kids Page to find some great turkey and thanks-giving crafts project ideas for kids to celebrate Thanksgiving such as
Autumn / Fall Crafts ..
Cornucopia Crafts..
Indian Corn Crafts ..
Pilgrim Crafts ..
Preschoolers & Toddlers Thanksgiving Crafts ..
Scarecrow Crafts ..
Thanksgiving Coloring Pages & Printouts ..
Thanksgiving Decorations Crafts ..
Thanksgiving Table Decorations Crafts ..
Thanksgiving Turkey Crafts ..
Thanksgiving Worksheets & Printouts
Technorati Tags: thanksgiving placeholder, thanksgiving placeholders, thanksgiving cards, thanksgiving placecards, placeholder crafts, thanksgiving placeholder crafts, fall leaf crafts, leaf crafts, decoration crafts, table decoration crafts, thanksgiving table crafts, thanksgiving decoration crafts,   leaf activities, fall crafts, autumn crafts, Thanksgiving activities, thanksgiving activity, thanksgiving crafts, thanksgiving, thanksgiving crafts for kids, thanksgiving activities for kids, thanksgiving decoration crafts, table crafts, thanksgiving table crafts,   activities, activities for kids, crafts, arts and crafts, arts & crafts, arts and crafts for kids