Here's a beautiful Thanksgiving Fall leaves garland to decorate your home this Thanksgiving. What's even better is that its a very meaningful craft to do , and will help you remember all that you're thankful for. Its something your whole family can do together. So have fun doing it!!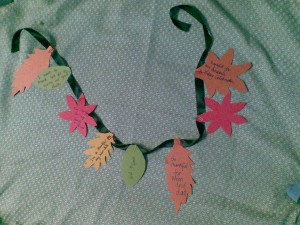 Thanksgiving Garlands Decorations Crafts for Kids
Craft materials required:
Thick colored paper
markers
Black ribbon
Paper clips
scizzors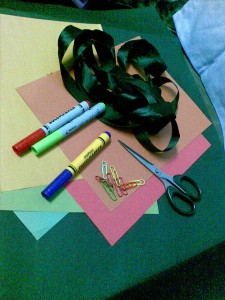 Step 1
Draw out different shaped leaved on different fall colored papers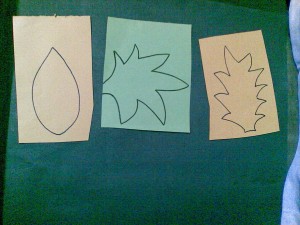 Step 2
Cut them out as shown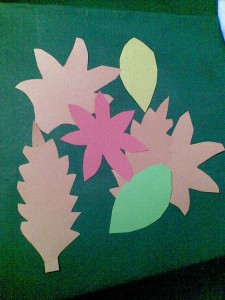 Step 3
Distribute the leaves among all the members of your family . get each person to write something they're thankful for.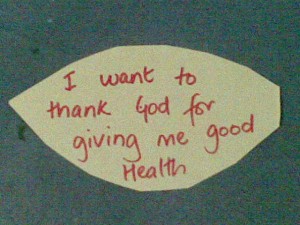 Step 4
collect everyone's leaves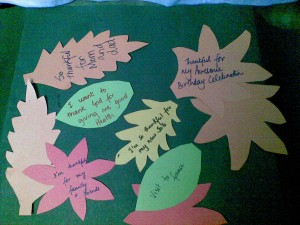 Step 5
Use a paper clip to attach each leaf to the ribbon as shown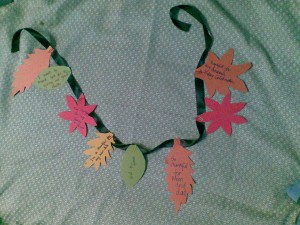 Step 6
Hang it somewhere where you can see it and be reminded of  all your blessings.
MORE THANKSGIVING COLORING PAGES AND THANKSGIVING ACTIVITIES & ARTS AND CRAFTS IDEAS BELOW
It is almost Thanksgiving time so check out our Thanksgiving Coloring Pages & Thanksgiving Crafts for Kids Page to find some great turkey and thanks-giving crafts project ideas for kids to celebrate Thanksgiving such as
Autumn / Fall Crafts ..
Cornucopia Crafts..
Indian Corn Crafts ..
Pilgrim Crafts ..
Preschoolers & Toddlers Thanksgiving Crafts ..
Scarecrow Crafts ..
Thanksgiving Coloring Pages & Printouts ..
Thanksgiving Decorations Crafts ..
Thanksgiving Table Decorations Crafts ..
Thanksgiving Turkey Crafts ..
Thanksgiving Worksheets & Printouts
Technorati Tags: thanksgiving garlands, garland crafts, fall leaf crafts, leaf crafts, leaf activities, fall crafts, autumn crafts, Thanksgiving activities, thanksgiving activity, thanksgiving crafts, thanksgiving, thanksgiving crafts for kids, thanksgiving activities for kids, thanksgiving decoration crafts, coloring pages, activities, activities for kids, crafts, arts and crafts, arts & crafts, arts and crafts for kids