I have a great way to use up that Halloween Candy that you still have stashed away…. use them to make a Christmas Advent Calendar.  That's right…. I'm going to show you how to make a Candy Advent Calendar to Count Down to Christmas.  This is a great way to get the kids excited about Christmas…. as if they weren't excited already.  This Advent Calendar is a magnet craft…. perfect for displaying on your fridge.  So, let's get started.
Check out our other Christmas Crafts.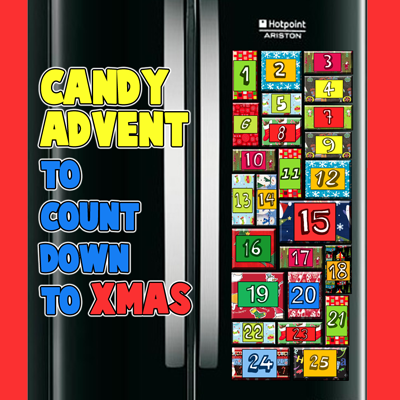 Materials Needed
25 Mini Boxes of Candy or Candy Miniatures
Wrapping Paper
25 Magnets
Colorful Pieces of Paper
Glue
Tape
Scissors
Step 1
Collect mini boxes of candy / or miniature chocolates from your Halloween candy stash.  You will need 25 of them.
Step 2
Place candy in center of wrapping paper (back).  The color side is down.
Step 3
Fold both sides in towards the center.
Step 4
Tape sides together.
Step 5
Fold the 4 corners inwards.
Step 6
Fold inwards to form 2 triangles in X shape.
Step 7
Tape shut.
Step 8
Now, turn the box around… you wrapped it.
Step 9
Glue magnets to the back of wrapped candy.
Step 10
Print out or write numbers on colorful pieces of paper or on wrapping paper.  Glue or tape on front of candy.
Step 11
Then mount the wrapped candy on your fridge.  Each day, eat the candy.  When no candy is left, then you know that it is Christmas.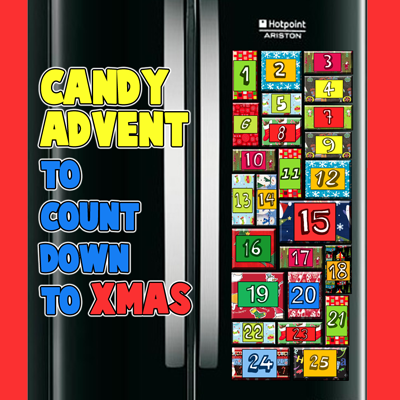 You have just finished your Candy Advent Calendar.  Now, you are all set to count down to Christmas.  How did your Advent Calendar turn out?  Let me know in the comments below.  You can also take a picture of your fridge and post it in the comments too…. that way I can see how it turned out.
Technorati Tags: Christmas crafts, xmas crafts, Christmas activities, xmas activities, advent calendars, advent calendar crafts, counting down christmas, magnets, magnet crafts, magnet activities, December crafts, Holiday crafts, Holiday activities, calendar crafts, candy crafts