Today I'm going to show you how to make a Dried Flower Pendant.  I know we are smack dab in the middle of Winter, but I thought this would be a great way to bring a bit of Spring back in our lives.  Using a few dried flowers, or whatever materials you would rather use, you can make this super beautiful Pendant.  Imagine all the comments you would get on this pendant when you wore it…. and your excitement telling them that you made it yourself.  You would be so proud.  So, grab the materials needed and let's get started.
Check out our other Jewelry Crafts.
Step by step tutorial offered by Laura from Dacian Moon Handmade
Materials Needed
– cardboard (4 cm x 4 cm)
– dried flower
– dried moss (or you can use decorative green scented sand from the store, like me)
– craft glue
– scissors
– pin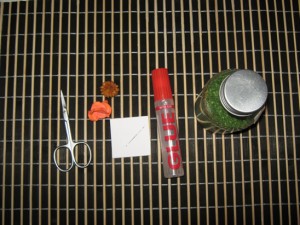 Step 1
Cut the cardboard in the shape you want your pendant to be.
I chose this shape because this way my pendant will be easier to match with my clothes.
Step 2
Make a hole on the upper part of the pendant, so you can put it on chain or cord when it is ready. For the moment keep the pin there, to prevent the glue from going there.
Step 3
Apply a generous layer of glue.
Step 4
Carefully place the moss on the glue, or pour decorative sand on it (plenty of it).
Step 5
Let it dry well.
Step 6
When is completely dried, turn it upside down so the extra decorative sand falls off.
*If you use dried moss you don't need to do that.
Step 7
Apply a layer of glue on the dried flower (on one part of it)…
… and place it where you want on the pendant. Press as hard as you can without destroying the flower.
Step 8
Let it dry well.
This is the finished pendant, ready to be worn.
Doesn't it turn out nice?  Did you make your pendant like mine or were you super creative and did it differently from mine?  Let me know in the comments below.  Don't forget you can take a picture of your Dried Flower Pendant and leave it in your comments as well.  I'd love to see it.
Technorati Tags: jewelry, jewelry crafts, pendants, pendant crafts, necklaces, necklace crafts, jewelry crafts for kids, dried flower crafts, dried flower jewelry crafts, flower crafts