I have a super fun craft for you that is perfect for the back to school season.  Today I am going to show you how to make Recycled Crayons.  If you are unsure what to do with all those tiny crayons left over this is the perfect craft for you.  Take those tiny crayons and shred them into little pieces…. as many colors as you would like…. we will melt them down into colorful recycled crayon cupcakes.  You will need help from an adult for this craft.  So, let's get started.
Check out our other Back to School Crafts.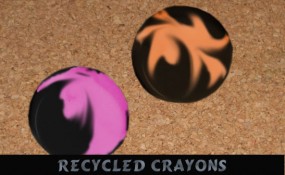 Laura from  Dacian Moon Handmade  will show you, step by step, how to make this craft.
Materials Needed
– recycled crayons (I have pink, black, orange, brown)
– cupcake liners
– grater
– oven
Step 1
Remove the paper cover from the pink crayon.
Step 2
Shred the crayon into little pieces using the grater.
… put them in a cupcake liner.
Add black little pieces from the black crayon.
Do the same for the orange and brown crayons.
Step 3
Ask an adult to help you preheat the oven to 275 degrees.
When the oven is ready, have the adult place the crayon cupcakes in the oven for 10 minutes (or until they look melted ).
When they are finished, take them out and let them cool for about 15-20 min.
After they have cooled they pop out very easily and are ready to be used.
So, what are you going to color first?  Share them with your friends at school…. they are sure to love them.
Here is our video on How to Make Recycled Crayons

Technorati Tags: back to school, back to school crafts, back to school crafts for kids, crayons, crayon crafts, recycled crayons, how to make recycled crayons, rainbow crayons