One thing I never can find when I need one is a bookmark.  And, you can always use a bookmark in school to mark your homework spot in your textbooks.  So because of that…. today I'm going to show you how to make a Clip Bookmark.  Not only is it super cute, but it is also super effective  in keeping your spot…. after all it is a clip that is sure to hold tight.  So, grab the materials needed for this craft and let's get started.
Check out our other Bookmark Crafts.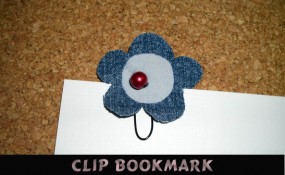 Laura from  Dacian Moon Handmade  will show you, step by step, how to do this craft.
Materials Needed
– paper clip
– one piece dark denim
– one piece light denim
– glass pearl
– pen
– needle and thread
Step 1
Draw a flower on the dark denim…
… and a circle on light denim.
Cut them out.
Step 2
Take the flower…
… and sew the circle on it.
On the back we will place the clip and sew it there.
Turn the bookmark over. The stitches are visible, but we will mask that by sewing the glass pearl over them.
Like this. The bookmark is ready to use.
Wasn't that easy?  And, so much fun!!  Now, you have an awesome Clip Bookmark perfect for bookmarking your homework spot in your textbooks.  Enjoy!!
Technorati Tags: Back to School Crafts, Bookmarks, Bookmark Crafts, Bookmark making crafts, bookmark crafts for kids, clip crafts, paper clip crafts, flower crafts, denim crafts, bookmark crafts for kids, pearl crafts