How you present your gifts this holiday season is so important.  The right gift wrap, the right bows and of course the right gift tags.  But, instead of buying store bought gift tags why not do something more original.  In this post I will show you how to make a simple gift tag for your gifts.  Whether you celebrate Christmas or Hanukkah you can make this gift tag craft work for you.  Simply alter the design on your gift tags to fit your needs.  So, let's get started.
Check out our other Christmas Crafts.
Today, Laura from  Dacian Moon Handmade will show you how to make a simple but beautiful gift tag.
Materials Needed
– transparent paper
– cardboard
– green pen
– glue
– scissors
– glitter glue
– card punch
– thick thread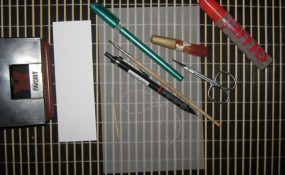 Step 1
Cut a rectangle from the cardboard (3 cm x 4.5 cm)
Cut another rectangle of the same dimensions from the transparent paper. You can measure or you can use the cardboard as a template.
… like this.
Try to cut a pattern out of the transparent paper – at about 1 cm of the lower side…
… like this.
Step 2
Apply a layer of glue on the cardboard…
… and place the transparent paper over it, like this. Let it dry.
Step 3
Using your green pen…
… draw two holly leaves on the transparent paper..
Add three red berries with glitter glue.
Let it dry.
 Step 4
Using the card punch make a hole on the upper part.
… like this.
Take the thread and fold it in half…
Put it through the hole, like in the picture…
…then bring the back through the loop, like this.
You can round the corners and your gift tag is ready.
And, there you have it….. simple gift tags that won't look simple at all on any gift.  How did your gift tags turn out?  Let me know in the comments below.
Technorati Tags: Christmas crafts, xmas crafts, Christmas activities, xmas activities, December crafts, Holiday crafts, Holiday activities, Hanukkah crafts, gift tags, gift tag crafts, how to make gift tags, gift wrap crafts, holiday gift wrap crafts