I have a fun Christmas craft for you today.  In this post I will show you how to make a Winter Angel Christmas Ornament.  This Angel Christmas Ornament turns out amazing looking.  It would look spectacular on your Christmas Tree.  You could also make this Winter Angel Christmas Ornament as a gift for your friends and family this Christmas.  They will surely love it.   This will surely be a Christmas Ornament that they will save for a long time….. proudly representing something you made yourself.  So, let's get started.
Check out our Christmas Crafts.
Laura from Dacian Moon Handmade   will show you how to make this, step by step.
Materials Needed
– 1 disc of white felt
– 1 smaller disc of yellow felt
– 1 acorn cap
– 1 wooden bead
– toothpick
– scissors
– needle and pin
– instant glue
– red and black paint
– silver glitter glue
– 2 red beads
Step 1
Take the wooden bead…
… and stick it on a toothpick.
Like this.
Step 2
Put the toothpick through the middle of the white felt.
Fold the felt in half, like this, and start sewing a dress for your angel.
Like this.
Step 3
Cut the extra felt.
It will look like this.
It is time to shorten the hands / wings.
Like this .
Step 4
Apply a layer of glue on the head…
… and put the yellow disc over it, like this. Note: you should do this quickly because the glue is fast drying.
This is the angel with hair.
Step 5
Apply a layer of glue inside the acorn cap…
… and fix it on the angel's head over the yellow felt.
Step 6
Put a red bead on a piece of thread…
… and make a knot, like this.
Sew this piece of thread as a belt.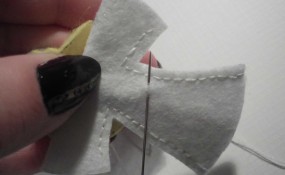 … like this. Then add another bead on the other end and tie the belt.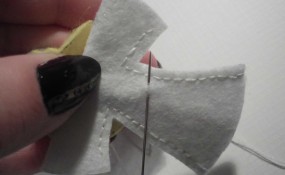 Step 7
Put the needle (with thread) through the yellow felt, and make a hanger.
Like this.
Decorate your angel with glitter glue, make eyes and mouth with black and red paint and your ornament is ready.
Isn't this Winter Angel Christmas Ornament simply adorable?  It will look beautiful hanging on your Christmas tree.  It would also make a wonderful gift to a friend or family member.
Technorati Tags: Christmas crafts, xmas crafts, Christmas activities, xmas activities, December crafts, Holiday crafts, Holiday activities, ornaments, ornament crafts, Christmas Ornaments crafts, Angel crafts, Christmas Angel crafts, angel ornaments, angel ornament crafts