Home > Arts and Crafts Projects for Kids > Popsicle Stick Crafts for Kids to Make Handmade Popsicle Stick Crafts and Creations
PAPER BAG CRAFTS FOR KIDS: Ideas for Arts & Crafts Projects & Activities with brown paper bags for children, teens, and preschoolers
There are paper bags everywhere....kids use them to bring their lunch to school. When your parents buy dinner from a take-out restaurant, the food comes in a paper bag. When you buy food from the grocery store, your food sometimes comes in a brown paper bag. So if you are interested in upcycling & repurposing some of these paper bags, you might be interested in some unique crafts ideas for them. Below you will find some inspiration for paper bag crafts. Have fun crafting!
How to Make Kites with Brown Paper Bags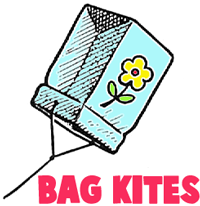 These are the easiest types of kites to make. This is a great way to get younger kids, such as toddlers, preschoolers, Kindergarteners, and other younger kids to build their own kites. Decorate a grocery store brown paper bag...you can do this with crayons, stickers, paint, markers, etc. Then just fold down the top of the brown bag twice to make an inch wide band along the bottom of the bag. Now you can just attach a string through this bottom band. Now you can just run around outside while holding the string and the wind will catch the bag and it will start flying sky high...Have fun.
Making Bunny Rabbit Bags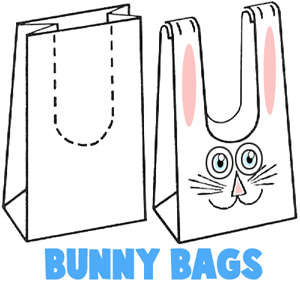 To make this bunny bag, you will need a large paper bag, scissors, paste, cotton, stapler, and crayons, markers, or paint. Firstly, cut center section from top part of folded paper bag, about halfway down bag (see sketch above).Draw a circle for eyes (or like I did 3 circles), triangle for nose, a sideways number 3 for mouth, and lines for whiskers to represent rabbit's face. Faces, may be drawn and photocopied or printed for the younger children.You may glue a piece of cotton on the back part of the bag for a tail. Overlap ears at top of bag and staple or glue together. Color pink ovals in the ears. Children may keep craft materials or treats or other items in this bag.
Brown Paper Bags Costume Masks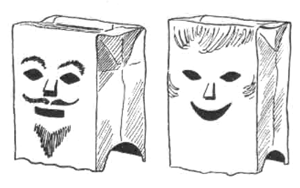 A really simple way to make a mask ... especially if you are just playing around the house is to use a brown paper grocery bag. Draw the face on the bag, and then cut out the eyes and mouth with a scissor. You can make it fancy, if you want, by using yarn for the hair, mustache, beard, etc. You can paint it or just color it in with markers. Don't wear These Near Streets because Always be safe by roads.
Make a Prince or Princess Crown with a Paper Bag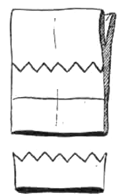 Take a brown grocery bag that you got from the store. You will want to smooth it out before working on it...and make sure that it is dry. Take a pencil and draw zig zags half way up the grocery bag. Then half way down in between the zig zags and the bottom of the bag....draw a line and then cut it off.
Paper Bag Totem Pole Craft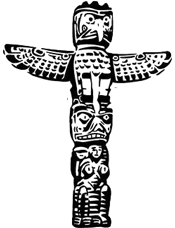 This is fun to do, easy to put together, and the finished product will add a decorative touch to your room. You will need an old broom or mop handle, five or six medium-sized paper bags, and crayons or paints. First of all, draw and color a mask on each paper bag. These faces should be of the kind found on totem poles carved by the Indians. Make them as weird and as colorful as possible, using decidedly bright colors. Do both sides of the paper bags. When you have done all the faces, cut a hole in the center of the bottom of each bag. Then stuff the bags with crumpled newspaper to fill it out, wrap a rubber band around the top, and when you have done this with each one, you are ready to put the totem pole together. Slide each stuffed bag on the pole you have ready, making sure that your faces are all in the same direction. Put on as many as you need to fill the pole, and your homemade totem pole is complete. This makes a good group project for Cub Scouting, when your monthly theme is Indian study.
Make Sailor Caps from White Paper Bakery Bags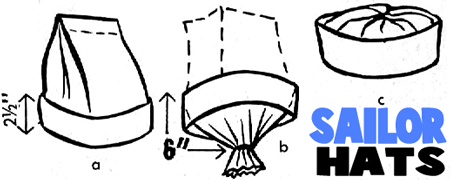 To make this sailor hat, you will need 1 rubberband, 1 white bakery bag that is 6" wide when folded, scissors, and a pen or pencil. Fold open edge of bag back 2 1/2", then fold it again to make a brim 2 1/2" wide (sketch a). Cut off bottom of bag. Gather cut end together and pull down through folded brim (sketch b). Put a rubber band tightly around gathered end about 6" from last fold. Cut off excess paper below rubber band. Push gathered ends back through folded brim to form top of hat (sketch c). Now you can pretend like you are a Navy or Marine sailor.
Make a Mailman's Carrying Pouch to Play With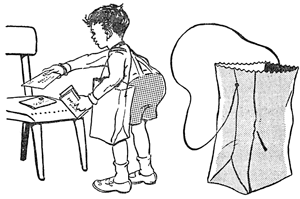 To play mailman, you will need a mailman's pouch for carrying letters. The pouch can easily be made. (1) First, poke a hole on either side of a grocery bag. Take a rather long piece of string and tie one of the ends in each hole. You can loop this string over your head so that the bag hangs at your side. You are now ready to deliver the mail! (2) Mother or Dad can probably give you some old letters. As a mailman, you will deliver these letters. You can walk about the room or yard. Pretend that a chair is Mrs. Miller's house and that the garage door is Mr. Carter's house. You can leave letters at many houses. Some houses will get only one letter while others will get two or three. (3) Now, you can go back and pick up all the letters. You can play that they are letters that people want picked up by the mailman.
How to Make a Brown Paper Bag Royal Crown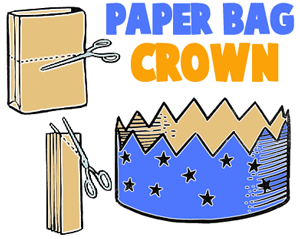 To make this paper bag crown, you will need the following: 1 paper bag large enough to fit around child's head, scissors, paint, markers, or crayons, and optionally other decorative items. To make this, cut off closed end of bag, leaving a 6" band. Fold band in half three times and cut points as illustrated. You can color the crown with crayons, markers, or paint. You could also use stickers, etc.
How to Make Flashlight Faces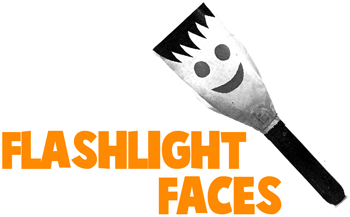 Obtain an unused brown paper lunch bag (a used paper bag is likely to be wrinkled and therefore difficult to use). Bulb end of flashlight is inserted two inches in open end of bag. Draw open end of bag together around flashlight and tape with masking tape or tie with string. Bag may be decorated by using tempera paints and/or construction paper. If tempera paints are used the design is drawn and painted directly on at least one of the faces of the bag (if desired, designs can be placed on all four sides of the paper bag). If construction paper is used, the desired portions of the designs are cut out of this paper and pasted to one or more faces of the bag. While the picture on the paper bag is being designed the flashlight can be lighted in a darkened area to obtain the desired effect. Combinations of two or more faces can be used for dramatic skits. These are perfect for Halloween, you can make the flashlight a character that is a smaller version of you.
More Crafts Below

Paper Bag Clowns Craft - Learn how to turn a paper bag into a clown doll.

Easter Bunny Bag of Candy and Treats - Transform a simple brown bag into an Easter treat bag that looks like a bunny rabbit...find out how.

Paper Bag Volleyball Game - Learn how to play this game with 2 chairs, a rope and a brown paper bag ball.

Make Grocery Store and Cotton Balls Wigs - This is an adorable George Washington Wig made from cotton balls, ribbon, and a brown paper bag. Really cute.

How to Make a Brown Bag Scarecrow Decoration - Here I will show you how to make a brown bag Scarecrow decoration perfect to display this Halloween season…. and why not even the entire fall season!!

How to Make a Frankenstein Paper Bag Flashlight Cover - Learn how to make this very easy Frankenstein, flashlight cover with a simple paper bag.

Brown Paper Bag Bunny Rabbit Puppets - Make these adorable bunny puppets with the following simple items : Paper Bag, Newspaper, String or Yarn, Paper, Scissors, Glue, and a Pencil.

Making Skull Flashlight Covers - Learn how to make this very easy skull, flashlight cover with a simple paper bag.

Paper Bag Puppets - Learn how to make adorable paper bag puppets with the following crafts tutorial.

Making Scarecrow Flashlight Covers - You can make this awesome flashlight cover that looks like a scarecrow with just a simple paper bag.

Brown Paper Bag Frog Puppet - Use a lunch bag to make this frog puppet with a fly on his tongue.


Make a Jack-o-Lantern Paper Bag Flashlight Cover - You can make this awesome flashlight cover that looks like a Pumpkin Jack-O-Lantern with just a simple paper bag.

Brown Paper Bag Foxes - Make this grocery bag fox with the following instructions. These stand up all on their own.

Paper Bag Leprechauns - Learn how to make these paper bag leprechauns

How to Make a Scary Ghost Paper Bag Flashlight Cover - You can make this awesome flashlight cover that looks like a Goo Ghost with just a simple paper bag.

Brown Paper Grocery Bag Tigers - Learn how to make these large Bengal tigers that really stand out of a large grocery bag.

Paper Bag Hand Puppets - These paper bags are dressed up real nice to look just like a princess....how will you decorate your paper bag...will it be a cowboy or a bear....make anything that you want to.

Paper Bag Animals for Preschoolers - This is a perfect crafts project for younger children and preschoolers. These are easy to make and even easier to play with. Have fun.

Paper Bag Hippos - Learn how to make this large standing-up hippo with a recycled brown paper bag.

Make a Paper Bag Hobby Horse - Make this ride-on toy horse with a broomstick, some crepe paper, and some paper bags.

Make Sailor Caps - Make these sailor caps with paper bags.

Paper Bag Headed Hobby Horses - Find out how to make this hobby horse made with a large paper bag, yarn mane, string reins, and a broomstick as the stick to place the head on.

Paper Bag Clown Masks - Learn how to make paper bag clown masks with the following tutorial.

Bunny Rabbit Treat Bags - Make these bunnies with paper bags...great for Easter.

How to Make Paper Bag Masks - Here are some simple instructions for making masks out of brown paper bags.