Home > Arts and Crafts Projects for Kids >Crafts Using Ribbons
RIBBON CRAFTS FOR KIDS : Arts and Crafts Ideas with Ribbons for Fun Activities with your children, teens, and preschoolers
Ribbons...we see them every day, whether we are wearing them in our hair, using one as a belt for our dress, or hanging a picture frame with one, we use them on a daily basis. On this page, we will give you some cool uses for ribbons within your arts and crafts projects. We hope you enjoy crafting with ribbons.
Make a Picture Frame with Cardboard and Ribbons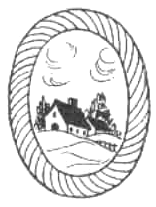 There are lots of interesting ways to frame pictures, and an older girl can make a very attractive one with ribbon and cardboard. You will need a rectangle of cardboard about 7 inches long and 5 inches wide. Cut an oval from this piece of cardboard. To do this, lay a saucer at the top edge and then at the bottom edge, and run a pencil half way around at both top and bottom. This will give you an even curve for your frame. After you have drawn the lines cut it out. Now draw another oval outline about 1 inch in from all sides. Cut along this line, making a window for your picture. Now wind ribbon around the frame. In winding, try to overlap the ribbon evenly, so the bands will be approximately the same width. After you have gone completely around the cardboard, fasten the ribbon securely at the back with strong tape. To make a back for your frame, cut another oval of cardboard just slightly smaller than the first one but do not cut any window in it. Also, cut the cardboard off about 2 inches from the top. This will allow space to slide in your picture. Run paste around the edges of this backing (except along the top) and paste it to the back of the ribbon frame you have made. See the picture above. You will be able to slide the picture in easily and change it as often as you wish. Attach a paper picture hanger to the back of your frame so that it may be hung on the wall. Here is another ribbon frame craft.
Make Knotted Ribbons Belts

Here's the way to make a belt by tying knots in ribbon, raffia, or cord. Obtain a belt buckle and lengths of ribbon, each 10 ft. long. Double each length to make 2 strands. Fasten each doubled ribbon to the buckle cross bar with a girth hitch. Tie a knot in each pair of ribbons as near to the buckle bar as possible. Do this with each of the 4 pairs of ribbons. This will make 4 knots in a row underneath the buckle bar. Now proceed to tie knots in the strands of ribbons as shown here. Note how the rows of knots alternate between 4 and 3. Continue tying knots in this way until the belt is long enough for its wearer. Then tie the 8 strands together in one large knot to slip through the buckle. This would make an awesome fashion accessory or gift for Mom, Dad, Sister, or a Brother.
Make a Ribbon Laced Potpourri Sachet

Buy enough mesh or netting to make two 4" squares. You will also need about 1 yard colored ribbon and potpourri to fill the sachet with. Now cut mesh netting to a heart or any other shape that you want. Now take ribbon and lace the netting together along 3 sides. Now you can put the potpourri into the netting bag that you created and then finish lacing to close the sachet pouch up;. Tie lacing in bow and loop over hanger.
Wall Hanging Crests

You will need 1 plain china plate, 1 yd. of ruching or ribbon 1" wide, 1 paper plate size of china plate, 10" ribbon, needle and thread, household cement, and enamel paint. Paint crest or coat of arms on china plate and allow to dry. Gather or pleat ribbon in circle slightly smaller than circumference of plate. Glue to inside edge of paper plate. Glue china plate into paper plate with household cement. Allow to dry thoroughly. Attach ribbon on back for hanging crest.
More Ribbon Crafts Below

How to Make a Chinese Fire Dragon Ribbons Bookmark - Because Chinese dragons are magnificent creatures and the Chinese New Year is approaching, let's make a simple bookmark with dragon head. This beautiful bookmark that you will make in this arts and crafts project, will astound your friends and family members. And it is a LOT of fun to make.

Make Valentine's Day Suitcase Mailbox with Ribbons and Cereal Box - Today we will show you how to make a cool Valentine's day Mailbox Suitcase to hold your classmate's Valentines Day Cards. There is a slot to place your friend's cards…and when you want to retrieve your cards, all you have to do is unbutton the suitcase straps and get them out. You can then use this suitcase as a treasure chest or storage container.

Making Fairy Crowns - This is a perfect fairy crown and it will look beautiful on your little fairy. You make this crown with wire and ribbon. Beautiful.

How to Craft a Chinese Dragon Fridge Magnet with Ribbons - Dragons are an important part of many Chinese festivals, including Chinese New Year. Let's celebrate it by crafting this fridge magnet with the mini version of the dragon used during holiday parades and festivities.

Christmas Paper Wreaths Craft for Kids - Here's an easy Christmas wreath you can make with just some crepe paper, colored paper, a cereal box, and ribbons. This paper Christmas wreath is easy to make and great to hang on your doors at Christmas time. This easy step by step instructions are given on this page.

Ribbon Frames - Make a photo frame covered with ribbon.

How to Make Wrist Bells with Ribbon - Learn how to make these wrist bells with ribbon and bells. A little bit of sewing is involved.

Doily Baskets - Make a beautiful basket out of a doily, ribbon, and pipe cleaner.

Plastic Bottle Organizers - Learn how to make these plastic bottle organizers with fabric, ribbon, and recycled plastic bottles.

Make Doily Valentine's Day Baskets - Make a Doily Flower Basket...the flowers are hearts. The basket is made from a doily and a ribbon.

Baby Doll Earrings with Ribbon and Beads- Learn how to make a pair of baby doll earrings with ribbon, beads, etc.

How to Make Valentines Day Mailbox Backpack with a Cereal Box and Ribbons- This is a unique Valentine's Day Mailbox crafts idea, but I think all of your friends will ooh and aah over it. It is made from a cereal box and ribbons, amongst other crafts materials. AND you can really use it as a backpack, it really works. Have fun.

Make a Toy Kite - Make a toy kite using sticks, string, paper, and ribbons.

Thumb Wrestling Puppets - Make fabric thumb wrestling puppets to play with ... the ribbon is used as clothing for the finger puppet.

Make Handbags with Felt, Pipe Cleaners,a nd Ribbon - If your little girl wants to be just like Mommy and the big girls with her own purse, this is a creative way to give in without actually spending money on expensive accessories for a pint-sized clothes horse. It could easily be made as a pouch or satchel for a boy as well.

Christmas Tree Angels Ornaments with Ribbon & Wax Paper - Here is a beautiful angel that you and your kids will love to be on your Christmas tree. The following crafts project includes simple instructions to make the Christmas angel ornaments arts and crafts project that follows.

Easy to Make Advent Calenders Christmas Crafts for Kids – Part 1 - Advent calenders are always lots of fun. But most of them take ages to make. Here's a simple version of the advent calender that will take you a couple of hours to make- at the most. So sit down one afternoon with your kids and make this simple advent calender. Part ! of the instructions are given below. In this page you can learn to make the gifts. Easy to Make Advent Calendars Christmas Crafts for Kids - Part 2.

Making a New Years Memory Accordion Pocket Book to Hold Precious Memories - You can use this special fold-up, accordion pocketed book to hold all the memories of this year or next year … and then you can put it away as if it were a time capsule. Then you can try not to look at it for 10 years. You will be surprised at how much you have changed in that amount of time. Have fun.

Make Easy Hanukkah Ornaments Making with Push Pins - Celebrate Hanukkah by hanging these easy-to-make Hanukkah ornaments in your home…the best part is that they only take five minutes to make. Yay! You don't have to have a Christmas tree to have fun, you and your children can decorate your home for Hanukkah and have just as much fun.

Handkerchief Cup Bunny with Ribbon Bow- All you need are a handkerchief and a cup...and optionally a bow for around his neck. Then for an Easter Party put a bunny at everyone's place setting.

Cardboard and Ribbon Decorative Candy Boxes - If you have ribbon and cardboard / card stock lying around the house, how about making handy dandy, beautiful, candy boxes.

Making a Greeting Card Display Wall Hanger Craft with Ribbons - Valentine's Day is coming up soon, how about learning how to make this Greeting Cards Display Craft. You can hang it on a picture hook, or hang it from other high places. Then you can look at the love that people sent to you in Valentine's Day cards, Christmas cards, Birthday cards, or whatever.

Making Popsicle Stick Cotton Ribbon Santa Clause Christmas Tree Ornaments - Make your own Santa Clause Ornaments decoration for your Christmas trees. This is just a sample Christmas Tree Ornament, you can use your creativity to make kings, angels and other Christmas characters using the same technique. Have fun.

Patriotic Red White and Blue Pin - Learn how to make these patriotic decorative pins for the Fourth of July.

Thanksgiving Garlands Decorations with Paper Clips and Ribbons-Here's a beautiful Thanksgiving Fall leaves garland to decorate your home this Thanksgiving. What's even better is that its a very meaningful craft to do , and will help you remember all that you're thankful for. Its something your whole family can do together.

Thanksgiving Fall Leaf Ribbon Hanging Decoration Craft for Kids - Here is a beautiful fall leaf decoration that you can hang on your wall or your door to celebrate Thanksgiving. Its very simple and easy to make. All you need is some paper, ribbon, scissors and glitter glue. The simple step by step instructions for this Thanksgiving crafts activity follow.

Make Recipe Books for Recipes for Mom on Mother's Day - What Mom or Grandmother doesn't love getting a personalized recipe book? This one is so special too….It is completely filled with envelopes so your Mom or Grandma can put recipes that they find in magazines or books, and keep them all in one categorized place. Make this for Mother's Day, for a gift on a birthday, or any other reason you have to show love to your family and friends.

Thanksgiving Memories Scrapbook Tied Together with a Ribbon- Thanksgiving is a time to think and talk about all the great things that have happened throughout the year. Here is a memory scrapbook that you can make to remember this year's Thanksgiving forever. Use it to start a conversation about the great times you had as a family through the year. You can use printed out photos, pictures from magazines, stickers, or draw your own pictures to decorate your book. Find easy directions below.
#1 Cereal Box Badge Ribbons - Make a #1 badge ribbon that is made with cereal box, paint, and ribbons.

How to Make Halloween Napkin Rings for Spooky Table Decorations with Toilet Paper Rolls and Ribbons- Are you looking forward to a special dinner at Halloween? Make some Spooky Spider Napkin rings to " dress up" your table.

Make Cotton Ball and Ribbons Washington Style Wigs - This is an adorable George Washington Wig made from cotton balls, ribbon, and a brown paper bag. Really cute.


Tom Tom Drums & Drumsticks- Learn how to make these tom tom drums & matching drumsticks. The drumsticks are made with velvet or fabric tops tied shut with ribbon.

Making a Clothespin Doll - You can make a beautiful mini figure doll with a clothespin, muffin tin, and a ribbon.

Easter Bunny Bag of Candy and Treats - Transform a simple brown bag into an Easter treat bag that looks like a bunny rabbit...you just need a brown paper bag, pom poms, ribbons, and a few other things.

Decorative Handled Baskets with Berry Containers - Use a berry container as the base of a decorative basket...using ribbons weaved in and out of the slots to pretty it up.

Cardboard Tube Tie Racks - Use paper towel rolls, tissue paper, and string or ribbon to make these tie racks for dad.

Egg Shell Flower Baskets - Hang flower planters from your tree's branches...the planters are just hollowed out egg shells and hung with ribbons. These are great for Easter.

Make a Rose Flower Pendant - Use ribbons and a few other items to make this rose pendant pin.

Popsicle Stick Christmas Ornaments - Learn how to turn a popsicle stick into a beautiful Christmas Ornament with some paint and ribbon.

Yogurt Lid Photo Frame with Ribbon - make this cute photo frame all tied up with a ribbon.

Rainbow Ribbon Books - Make a book with rainbow colored pages and tie it all together with a pretty ribbon bow.

Bobby Pin Roll-Ups - Roll up this bobby pin holder and clasp it closed with a beautiful ribbon.

Ribbon-Tied Christmas Wreaths - Here is an easy craft that uses a clothing hanger, some tissue paper, and a beautiful ribbon to fit on the top.

Christmas Joy Decoration - Learn how to make this Joy Decoration made with paper and ribbons.

Antler Headband Ribbons & Craft Foam - Here you will learn how to make reindeer antlers from an ordinary headband, ribbon and craft foam. Kids will love to wear them all Christmas season.

Brown Paper Bag & Ribbons Card Crafts – Kids can easily make a beautiful card for Dad on Father's Day using just a brown paper bag, some ribbon and a bit of creative flair.

Bulletin Board Hanging with Ribbons Craft - Most "make your own" bulletin board directions I've read called for purchasing wood or cork of some sort. As you know, I'm not that big on purchasing things for my children's crafts (we make so many of them we'd be broke in no time *laugh*) so I've done one that uses

Craft Stick Easter Chick with Ribbons Tie Crafts - Another cute and easy Easter project for kids using craft sticks. Chicks are adorable Easter motifs and this idea will be fun for children to create. When the children have completed their chicks, your help as a parent or provider is necessary to complete the chick because the usage of a glue gun and a drill is necessary.

Curly Ribbon Craft Foam Santa Pin Christmas Crafts - Kids will enjoy making this fun foam Santa pin with curling ribbon hair and beard.

Christmas Ribbon Picture Card Crafts Instructions - This is a good card if you need something that the children can turn out quickly - even "assembly line" style! There are lots of pretty Christmas ribbons available in the shops with pictures on them. Alternatively, you could of course use pictures cut from last year's Christmas cards, or you could buy a piece of Christmas quilting fabric - the kind with lots of small individual pictures.

Comets Ribbons Crafts Activity for Kids - Space fans will love making these. Your children can create their own comets by using different types of ribbon, gluing stars to the tinfoil, or anything else your would-be astronomers can think up to design their own space traveling comet.

Dancing Knots Ribbons Craft - Hold hands with friends, dance in and out, and get all tangled up into a big knot! Draw colorful swirls and curls on a dancing fan.

Easter Napkin Ribbons Ties Arts and Crafts Directions for Children - This easy craft is an adorable way to get younger kids involved with family and Easter crafts. The napkin ties are simple to make, look cute, and children are free to make just one or an entire set! Four chenille stem petals make the flower, while the colorful egg creates the center.

Easter Bunny Paper Chain - Give a bit of color to bare windows or patio glass doors in your house in the spring. An easy children's craft for ages 6 and up, this project is easily made within an hour.

Felt Purse and Ribbons Crafts- If your little girl wants to be just like Mommy and the big girls with her own purse, this is a creative way to give in without actually spending money on expensive accessories for a pint-sized clothes horse. It could easily be made as a pouch or satchel for a boy as well.

Girl's Diary, Notebook or Journal - This craft project is sure to make a young girl's diary cheerful and is quite easy to make.

Heart Bouquet Tied with Ribbons Crafts Idea - Children can easily make this beautiful heart bouquet for their Mom which makes a great gift idea for Valentine's Day, Mother's Day, or for any occasion.

Layered Bath Salts - Colored bath salts are so easy and cheap to make that even small children can join the fun. This is an ideal classroom project, for teaching primary colors and color mixing, or as an attractive homemade gift for mom.

Letters and Things Organizer - Tuck stamps, scissors, a pen, and address labels in one section; sort mail into "outgoing" and "incoming" sections to keep things organized.

Moss Ball Christmas Ornament - With just a Styrofoam ball, some ribbon, some potpourri pieces and many items that can be found outdoors in our garden, you can make this decorative ornament. Natural yet elegant, each ornament will not only look unique and charming but smell fresh as well.

Magnet Ribbon Butterfly - Let the kids use up your ribbon scraps and make this pretty butterfly shaped ribbon and magnet craft.

Magic Wands Ribbons Craft Instructions - These easy to make wands are made from a child's imagination. Their creativity will manifest through the products of their craft. These wands can be used as accessories during Halloween activities in school or in the neighborhood.

Paper Ribbon Lantern Crafts Activity – Although adult supervision is required in making sure that kids don't light up this paper lantern craft with a candle when it is done, it is quite safe to say that you can let them be creative in choosing the colors they want to create their own "masterpiece".

Pompom Fluff Bunny – Help your child make a fluffy Easter bunny from pompoms.

Potpourri Ball Christmas Ornament - Here's a budget stretcher ornament to make for the tree - use one potpourri ball to make two potpourri ball decorations!

Pretty Ribbon Mobile (Wind Sock) - This project was inspired by an article from the now-defunct Martha Stewart Kids magazine. It's a refreshing take on the old "wind sock" art project.

Paper Plate Wreath This is one of the most familiar Christmas wreaths for those with toddlers and preschoolers. It's great all the way up to early grade school where you can focus on patterning along with the craft. Add a photo of the child to the center to make a great keepsake for mom or grandma.

Rain Sticks - Kids will love to listen to the sound of these sticks. They will surely be amazed when they discover that paper and rice really does sound like rain.

Recycled Juice Lid Christmas Ornaments Recycle juice can lids and old Christmas cards into three dimensional Christmas tree ornaments. Great for trimming the tree or for kids to make and give as gifts - and good for our environment too!

Recycled Christmas Wreath - Simple, fun and inexpensive, this wreath is made from recycled packing popcorn and recycled cardboard along with a few other items. It makes a great holiday decoration! Easy kids craft.

Ribbon Covered Hanger - These pretty coat hangers are very easy to make and you can substitute the ribbon for fabric scraps if you like. Whichever you choose, this no-sew craft project turns a wire coat hanger into a homemade gift or a useful addition to your own clothes closet.

Reindeer Candy Cane Craft - This is a cute reindeer craft that you can hang on the tree as an ornament or attach to a gift as a special decoration.

Ribbon Pens - Younger children love these pens too, but it requires hot glue to make them. They're nice gifts for babysitters or older siblings to give to younger ones.

Ribbon Easter Eggs - Sometimes simple is best - and here we illustrate how you can easily decorate your Easter eggs by the simple addition of some ribbons.

Ribbon and Foam Bee Door Hanger - Carefree summer days filled with flowers and bees buzzing - that's what is brought to mind with this easy fun foam bee door hanger. The supplies you need to make it are inexpensive and readily available - making this a great group project or weekend craft. This door hanger craft project can be completed in under an hour.

Ribbon and Lace Message Organizer - Use leftover ribbon and lace, or buy end-of-roll trims on sale to make this economical ribbon and lace message center. Slide phone messages, appointment cards or personal love notes under the ribbons to keep family members organized and "on the same page."

Rainbow Necklace - Make a rainbow to wear round your neck for St. Patrick's Day, spring, or any time you need something bright and pretty to cheer you up!

Ribbon Window Stars – Add some fun and creative flair to your children's bedroom with this easy to make craft idea composed of ribbons and star shaped felt or other sturdy material. This is one great way to add color and beauty to any child's window sill!

Santa Claus Doorknob Hanger - Young children can make it (it's easier for them to do the paper version), but even pre-teens through adults will enjoy creating this cute doorknob hanger. Use fun foam to make the project more challenging.

Show Your School Spirit Banner Boost your classroom or team's confidence with this colorful banner—made by a small group. Decorate it with your school colors!

Spooky Fun Foam Bracelets - Have some friends over and make spooky bracelets for each other this Halloween.

Terra Cotta Pot Apple Container - Use this pot to hold candies, erasers or any other goodies you like. Makes a great gift for teachers!

Victorian Ribbon Angel - Turn a cone form, and a porcelain doll head and hands, into a beautiful Victorian angel, dressed in sumptuous wire-edged ribbon.

Votive Candle Holder Craft - A pretty and inexpensive gift to give mom this Valentine's Day or Mother's day.

Washcloth Wrapped Soap This little Mother's Day craft is easy to do, using inexpensive supplies. It would also make a great homemade bazaar craft or hostess gift.