Home > Arts and Crafts Projects for Kids > Sleepover & Slumber Party Crafts to Make Activities & Arts and Crafts
SLUMBER PARTY & SLEEPOVER PARTY CRAFTS FOR KIDS & GIRLS : Ideas for Arts & Crafts Projects, Activities, & Instructions to make cool stuff for sleep-over parties for children and teens
Sleep, sleep, we don't need no stinking sleep. This is a slumber party and we are going to part and play until breakfast or at least until our eyelids can't stand it anymore. So after the snacks and the pillow fights and the scary stories and then some more snacks we want to do some great sleepover party crafts so we have something other than dreariness and a belly ache tomorrow to remember the wonderful time we had together. No hand me some chips and some string so I have munchies to crunch on while I make a friendship bracelet.
Below you will find slumber party Making Crafts Arts and Crafts Projects Ideas for your Kids. Find out cool Ideas for Arts & Crafts Projects, Activities, & Instructions to make cool stuff for sleep-over parties for children and teens

Mini Book Pendant or Necklace - This would be a great sleepover craft...you can all doodle in eachother's books to remember that sleepover forever.

Easter Egg Head Dolls - Turn an Egg into the head of a doll - perfect for guests for Easter Breakfast or Dinner. Also great for sleepovers where kids can make an Egg Headed Doll and then eat them later.

Assorted Beaded Earrings - - This project is really fun for teen girls. Especially if you have a group of them at your home for a sleepover or other occasion, this will keep them busy and it does not cost a fortune. Supply them with the necessary materials and let them sit together and enjoy making lots of lovely earrings.

Basic Friendship Bracelets - - This is a fun craft to do at your next sleep over!

Bling Bling Plastic Bangle - - This plastic bangle craft project is a fun way to bling bling a inexpensive store bought bangle and is a fun project for young girls.

Cool Pillows - Decorate your dream pillow! Add a splash of color to your room, make them at a sleepover or as a gift!

Decorated Canvas Shoes - - Allow children to design their own shoes. You can provide suggestions as to how they should decorate their shoes, but try to let them exercise their own creativity as much as possible (they'll love to wear their shoes if they are the artists!)

Floss Friendship Bracelet - Weave a friendship bracelet using embroidery floss. Learn the basic knot first and try your hands at the diagonal stripe.

Fun Foam Purse - - The girls had fun making these in preparation for school.

Funky Flip Flops - - Super fun and easy for birthday parties, slumber parties or just for summer fun. Girls of all ages love them … kids, tweens or teens! They are easy and inexpensive to make. The perfect summer craft and party favor rolled into one.

How to Make Lip Gloss - - Girls can make their own lip gloss and it tastes great!

Mexican Bean Bracelets - - Mexican jewelry is often made of silver with turquoise, amber and other stone-like decorations.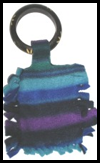 No Sew Mobile Bangle Tote - - This bag is so quick to make and great for crafters who can not sew. And uses a bangle to hook it onto your wrist which makes it a great party bag.

Party Pillows - - Send sleepover guests home with pillowcase favors that the kids can make themselves.

Perler Bead Bracelets - - We made one with 6 flowers and one with 4 flowers and pony beads in between each flower.

Pipecleaner and Bead Bagtags - - Decorate your bags and satchels with these super easy pipecleaner and bead bagtags - perfect for kids to make for school, or as.pngts for friends and family.

Ribbon Bracelet - - This pretty ribbon bracelet is a perfect little.pngt for girls to make for their friends, or perhaps for Mother's Day or as a teacher's .pngt.
You Might Also Like Our Resource Crafts Page for Making Special Journals ...Bracelet Crafts ... Friendship Bracelet Crafts ... Necklace Crafts ... Ring Crafts ... Decorative Pins Crafts ... Jewelry Boxes Crafts ... Lanyard Crafts ... Macrame Crafts ... Pony Beads Crafts .... String Art Crafts