Home > Arts and Crafts Projects for Kids > Sleepover & Slumber Party Crafts to Make Activities & Arts and Crafts
SLUMBER PARTY & SLEEPOVER PARTY CRAFTS FOR KIDS & GIRLS : Ideas for Arts & Crafts Projects, Activities, & Instructions to make cool stuff for sleep-over parties for children and teens
Sleep, sleep, we don't need no stinking sleep. This is a slumber party and we are going to part and play until breakfast or at least until our eyelids can't stand it anymore. So after the snacks and the pillow fights and the scary stories and then some more snacks we want to do some great sleepover party crafts so we have something other than dreariness and a belly ache tomorrow to remember the wonderful time we had together. No hand me some chips and some string so I have munchies to crunch on while I make a friendship bracelet.
Below you will find slumber party Making Crafts Arts and Crafts Projects Ideas for your Kids. Find out cool Ideas for Arts & Crafts Projects, Activities, & Instructions to make cool stuff for sleep-over parties for children and teens

Mini Book Pendant or Necklace - This would be a great sleepover craft...you can all doodle in eachother's books to remember that sleepover forever.

Easter Egg Head Dolls - Turn an Egg into the head of a doll - perfect for guests for Easter Breakfast or Dinner. Also great for sleepovers where kids can make an Egg Headed Doll and then eat them later.

Assorted Beaded Earrings - - This project is really fun for teen girls. Especially if you have a group of them at your home for a sleepover or other occasion, this will keep them busy and it does not cost a fortune. Supply them with the necessary materials and let them sit together and enjoy making lots of lovely earrings.

Basic Friendship Bracelets - - This is a fun craft to do at your next sleep over!

Bead Babies - - Get your ducks (and caterpillars and bunnies too) in a row with this easy critter craft. Reports our test mom, "This project really sparked my kids' imaginations!"

Beaded Kerchief - - Jazz up a simple kerchief and make it a very special fashion accessory. We beaded our kerchief with seed beads. You can also use e-beads or even pony beads to make the job easier and faster.

Best Friend Puzzle Necklace - - Make one for your best friend to wear and one for yourself!

Bling Bling Plastic Bangle - - This plastic bangle craft project is a fun way to bling bling a inexpensive store bought bangle and is a fun project for young girls.

Body Glitter - - Here's something girls will really love to make and use.

Braided Friendship Bracelets - Here is another bracelet you can make for your friends. What do you admire most about your friend? Is he/she generous? ... loyal ....kind?

Braided Suede Friendship Bracelet - What do you admire most about your friend? Is he/she generous? ... loyal ....kind?

Butterfly Pencil Craft - - This sweet little butterfly pencil craft is really easy. Party craft ideas should be simple, yet fun.

Button Beaded Bracelet - - This adorable little bracelet is fun for all ages. Using miscellaneous buttons and bead to form a pretty pattern, you can create spring-time fun to wear with lots of outfits. If you sew, you can use the same buttons from a new outfit to put in the bracelet!

Caribbean Foot Jewelry - - Be cool on hot days at the beach! This pretty foot jewelry is all the rage. Pair it with our Caribbean hand jewelry for a really cool look.

Cereal Box Sandals - - Froot Loops flip-flops, Cheerios slippers, Kix sandals. Really now, who can resist this footwear of champions? Have your child cut or rip open an empty cereal box, stand on it, and draw around each shoe.

Cheerleader Mini Pom Pom Swap - - Proudly display the colors of your school or your country with these mineature pom pom pins. Make lots of them and be prepared to swap with people you meet from other schools or countries.

Chenille Decorated Flip Flops - Decorate a pair of flip flops with wireless chenille for cool hippy chique footwear.

Coffee Filter Flowers - - This craft is an old favorite and we've given it a colorful twist. By using pretty water colors, you can make a large variety of beautiful blooms to decorate your home.

Coin Barrettes - - Here's a fun and easy way to make quick hair accessories. These cute little barrettes are perfect for St. Patrick's Day or any time of the year!

Cool Pillows - - Decorate your dream pillow! Add a splash of color to your room, make them at a sleepover or as a.pngt!

Craft Stick Door Hanger - - With a few craft sticks, some paint, and a lot of imagination, your child can have a personalized door hanger to call their own. This project is simple and it's fun to make.

Custom Paper Dolls - - About five minutes after somebody invented paper, we figure, some little girl invented paper dolls. And they haven't changed much since then. However, get ready for the 21st-Century paper doll!

Decorated Canvas Shoes - - Allow children to design their own shoes. You can provide suggestions as to how they should decorate their shoes, but try to let them exercise their own creativity as much as possible (they'll love to wear their shoes if they are the artists!)

Decorated CD Cases - - Having a dance party? Burn a CD with the party songs and have your guests decorate a case. It makes a terrific party favor!

Designer Pillow - - Sew a pillow or decorate one you buy. Create a set to toss with your friends at a sleepover. Sweet dreams!

Diamond Braid Lanyard Keychain - - The braiding technique of this classic camp craft lends itself nicely to creating key chains, bracelets, or just for passing the time. Combine different colors for a variety of looks.

Dragonfly Memories Book - - Record your party memories, vacation photos, or sleepover fun in style! Have a high-flying time crafting a jazzy dragonfly journal.

Easy Braided Friendship Bracelet - - Friendship bracelets have been around for years and are a favorite with girls. Some forms of this craft use intricate weaving and macramé patterns, but ours is as simple as braiding a friend's hair!

Easy Homemade Soap Making - - This fun project is perfect for kids of almost any age. These inexpensive yet lovely soap bars make perfect.pngts for teachers, mom, grandma, or just about anyone. Plus, they're fun to use in the bath, too!

Fabric Necklace - - Who knew an old pair of pants could turn into such a cute necklace, or even a headband. Simply cut, add beads, tie it together, and voila--an instant accessory. This idea can be adapted for any holiday, using special colors or festive fabrics.

Face Painting Fun - - Face painting is something that all kids enjoy, boys and girls alike. A face painting section is a fun addition to any party and the designs are limited only by the painter. Perfect for holidays, birthdays and other special occasions, follow these tips for optimum results.

Floss Friendship Bracelet - Weave a friendship bracelet using embroidery floss. Learn the basic knot first and try your hands at the diagonal stripe.

Friendship Rings - - These flashy rings let a kid wear her heart on her finger. Cupid's Tip: If you make your ring from craft foam, you won't need a hole punch; simply poke the pipe cleaner through the foam.

Fluffy Flip-Flops - - These adorable slippers make it a cinch to slip into something cute and comfortable.

Fun Foam Purse - - The girls had fun making these in preparation for school.

Funky Flip Flops - - Super fun and easy for birthday parties, slumber parties or just for summer fun. Girls of all ages love them … kids, tweens or teens! They are easy and inexpensive to make. The perfect summer craft and party favor rolled into one.

Furry Head Pencils - - Watch 'em wiggle when you write! Makes a great party favor.
Glamour Girls Jewelry Craft - - The glamour girls jewelry craft bring a dose of color to an outfit, a little liveliness to an afternoon, and a few treasures to a friendship. Keep reading to learn about a few easy steps to a few new jewelry pieces.

Glitzy Gloves - - An ideal wearable craft project for all little glamour girls. Turn your plain gloves into pretty mittens, complete with beautiful painted fingernails and dazzling rings. This craft is perfect for the fall and winter seasons—don't forget to share the glitz by making one as a.pngt for your friend.

Hair Fun with Scrunchies - - Transform plain and boring scrunchies into these fun and festive St. Patrick's Day hair decorations! You can adapt this craft to fit just about any holiday or occasion by changing colors and accents.

Handmade Paper Bead Necklace - - What fun we had making this necklace from one sheet of colored paper that came out of an advertisement in the newspaper. This necklace can be fashioned with many different types of paper and any combinations of colors to go with special outfits or for special occasions. Use strips of.pngt wrap, newspaper, the comics, or brown paper bags decorated to your liking with permanent markers.

Homemade Hair Clip for Christmas - - Stay stylish this holiday season with these Christmas hair clips. A dash of glitter and miniature Christmas lights make this a sparkling craft for fashionable young crafters.

How to make Lip Gloss - - Girls can make their own lip gloss and it tastes great!

Jelly Bean Dazzler - - I would like to give you and your friends an art idea that I have created. It's something to wear in your hair.

Lovely Ribbon Bracelets - - This twist on the classic friendship bracelet takes only a few minutes to put together.

Macramé Key Chain - - Great teen project for sleepovers!

Make a Simple Beaded Ring for Fingers or Toes - - This simple beaded ring can be made in any color or multi-colors. It is versatile in size, just add or subtract a few of the smaller beads to make it bigger or smaller. And the elastic makes it comfortable to wear as a toe ring as well, which is a trend teens really like.

Memory Wire Hair Accessories - - Wear these unique hair accessories when you dress up or with casual attire.

Mexican Bean Bracelets - - Mexican jewelry is often made of silver with turquoise, amber and other stone-like decorations.

No-Sew Fleece Pillow - - Making this cuddly pillow is so quick and easy, it's like performing a magic trick. What's the secret? Knots. The pieces are tied together (fleece fabric needs no hemming), which makes this.pngt simple enough to complete in an afternoon, and cute enough to give to a best friend or cousin.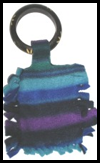 No Sew Mobile Bangle Tote - - This bag is so quick to make and great for crafters who can not sew. And uses a bangle to hook it onto your wrist which makes it a great party bag.

No Sew Pillow - - Lots of fun and easy to do. Get together with a bunch of friends and make a few.

No-Sew Pillowcase Skirt - - Trendsetters won't be able to resist the creative trick of transforming a pillowcase into a sassy skirt (or beach cover-up). Be sure that the case your child chooses won't be see-through, and consider that cases with a decorative edge offer a fabulous instant hem detail. If the case is brand new, preshrink it before you begin.

Panda Pajama Pillow - - What could be more fun that cuddling up to this adorable Panda Pajama Pillow on a cold winter's night.

Paper Jewelry - - These rings are as dazzling as real ones, but won't cost you a month's pay.

Party Pillows - - Send sleepover guests home with pillowcase favors that the kids can make themselves.

Party Pillows - - Send sleepover guests home with pillowcase favors that will remind them of fun memories for nights to come.

Perler Bead Bracelets - - We made one with 6 flowers and one with 4 flowers and pony beads in between each flower.

Personalized Barrette - - This simple Personalized foam barrette craft takes kids no time to make and is sure to impress.

Personalized License Plate - - Kids will have fun crafting an instant souvenir with this personalized license plate.

Personalized Locker Mirrors - - Dress up your locker this school year with a fun and unique locker mirror. Personalize it with your first name, school team or nickname. It easily hangs on the inside of your locker door with magnets, so it's a cinch to take down at the end of the year too!

Pipecleaner and Bead Bagtags - - Decorate your bags and satchels with these super easy pipecleaner and bead bagtags - perfect for kids to make for school, or as.pngts for friends and family.

Pretty, Plump Pillow - - Show your personal style on colorful, plump pillows. Create several with your favorite colors for your room. You're an interior designer!

Pretty Wrapped Headband - - Headbands are a hot accessory this summer, so your little fashionista is sure to want one. Use your imagination to change the colors and pattern of this easy-to-make headband.
Rag Doll - - Scraps of cloth of old clothes turn into a delightful doll for hours of fun.

Recycled Tee Shirt Pillow - - For this project you can use old t-shirts that are in good condition that you may have out grown or accidentally shrunk in the wash. Or perhaps its a t-shirt of a loved one who is away.

Ribbon Bracelet - - This pretty ribbon bracelet is a perfect little.pngt for girls to make for their friends, or perhaps for Mother's Day or as a teacher's .pngt.

Ribbon Pillow - - Cute and colorful, this no-sew throw pillow has a woven ribbon front tied to a fleece back.

Rice and Beans Bracelet - - It's such a simple and fun idea that anyone can do it.

Rolled Paper Bracelet - - Here's the latest FreeKidsCrafts Contest Winner. Taylor Oldfield from Prosser, Washington designed this earth friendly bracelet that is sure to be a hit with the teen crowd.
Sleepover Party Crafts - - Sleepovers are always so much fun because you get to see all of your friends at once. You get to stay up late and play games. But sometimes sleepover parties are a time for kids to cause mischief and they do so because they are simply given a little too much free time.

Sleepover Party Pillowcase Craft - - A fun, easy and popular activity to do at Sleepover parties is for Teenage or Tween girls to decorate pillowcases. Guests can either decorate each other pillowcases or decorate their own. This way each pillowcase is unique and customized for each person. Great take home party favors!

Sleepover Autograph Pillow - - Make one for each girl to take home as a party favor! Great for beginner sewing project.

Sleepover Pillowcase Craft - This is a great slumber party activity and craft - something to do and a great keepsake to remember the fun time that you and your friends had.

Sleepover Scrapbook - - What craft tells you to go out and have a great time with friends as step one? This one! Plan a fun event for you and your friends and don't forget your camera. Stop on your way home to get your photos printed at a lab or use your own photo printer at home (be sure to print enough copies for everyone!).

Sleepytime Slippers - - Make sleepover guests feel right at home with these simple, but sassy, jungle slippers.

Soap Buddies - - Create your very own Soap Buddies with this simple, homemade soap recipe. Let your kids pick a variety of candy molds to make a whole range of soapy friends.

Soda Can Tab Belt - - It won't take long to save up enough soda can tabs to make this cool belt.

Splatter Caps - - Here's a party craft the kids will actually make and wear.

Striking Pendant and Earrings - - Jewelry takes on a whole new look with Crayola Color Surge™ Paper and Markers! Will your fashion statement be delicate or dramatic?

Striped Headbands - - What could be easier than this. Inexpensive and easy enough to make one to match each school outfit.

Stylin' Sleep Masks - - Superstars need their beauty rest, and these nighttime shades have diva written all over them. You can either prep the masks ahead of time and let partygoers decorate them, or have guests make them from start to finish. The instructions below are for 3 masks.

Thrifty Paper Napkin Pillows - - This is a fun project to do at your next sleepover!

Toilet Paper Roll Bracelet - - This is a very simple, creative recycling project children will love. It's very quick to make and fun for kids of all ages. The best part is it's made with scraps most of us have around the house.

Tri-Bead Heart - - Decorate anything with a tri-bead heart. It's an easy, quick craft for kids that comes in especially handy around Valentine's Day.
You Might Also Like Our Resource Crafts Page for Making Special Journals ...Bracelet Crafts ... Friendship Bracelet Crafts ... Necklace Crafts ... Ring Crafts ... Decorative Pins Crafts ... Jewelry Boxes Crafts ... Lanyard Crafts ... Macrame Crafts ... Pony Beads Crafts .... String Art Crafts