Home > Arts and Crafts Projects for Kids > Jewelry Crafts for Kids
JEWELRY MAKING CRAFTS FOR KIDS: How to Make Jewelry Instructions such as bracelets, necklaces, rings, earings, decorative pins, beads for Children, Teens, and Girls
Below you will find many ways to make jewelry, different jewelry projects to make for kids and other beaded jewelry crafts for children to make on their own jewelry such as beads, bracelets, necklaces, rings, earings, etc. How to Make Jewelry Instsructions for Children includes activities & projects such as bracelets, necklaces, rings, earings, decorative pins, beadsetc.
Making Paper Clips Necklaces and Bracelets

Make these beautiful pieces of jewelry by looping paper clips together. If you are looping a necklace together, you will need about 25 - 30 paper clips. To make a bracelet, obviously, you will need a lot less. Get decorative paper, wrapping paper, or magazines out and cut out 1 inch by 1 inch squares. Then cover the center of each paper clip with one of the squares that you cut out. Secure it with glue. When your bracelet or necklace is completely covered then you should coat it with clear glue (glue that dries clear). To make it really sturdy, do this several times ... wating 30+ minutes before reapplying. This will keep your necklace or bracelet wearable for years to come. Your Mom will love this thoughtful gift...I am sure of that.
Instructions for Making Decorative Paper Clip Earrings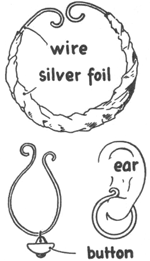 When you are playing Indian, pirate or gypsy, you will want to have an earring for your costume. You can make different kinds of earrings from paper clips. Stretch the clip out and bend it into a new and interesting shape. Bend them inwards or outwards so that they don't stick you. You can wrap silver or aluminum foil around it, or string a button or bead on. Then just slip it over your ear lobe (Do Not Stick These In To Your Ears). These are meant as Clip-On Earrings in that they DON'T go through an earring hole.
More Jewelry to Make Below

Make Your Own Cardboard Beading Looms - You can make advanced beaded jewely and art with a simple-to-make cardboard loom project. You will love this.

How to Make a Halloween Skeleton Bones Necklace Craft for Kids - Have you decided what you're gonna wear for Halloween? Here's an interesting scary jewelry accessory you can add to your costume. Learn to make this easy-to-make skeleton bone necklace with just tissue and colored paper.

Make a Locket Necklace - Just buy a hinge, glue some photos on it and place it on a chain and you have a beautiful locket...why buy an expensive one when you can make one within a few minutes.

How to Make Mini Paper Fan Earrings for the Chinese New Year - Let's make a pair of earrings (you'll need a little help on step # 4). These will be made of paper and will have two very important Chinese symbols : the fan and the cherry blossom.

Origami Butterfly Earrings - Learn how to make these beautiful origami butterflies.

How to make a Valentine Gift Box with a Bear Heart Brooch Pin - This is a cute and easy to do, Valentine's Day gift that kids can make for their parents, grandparents, or close friends. This arts and crafts lesson is in 2 parts. In this arts and crafts tutorial, we will show you how to make a Teddy Bear Heart Brooch Pin.

Make Baby Doll Earrings - Learn how to make a pair of baby doll earrings with ribbon, beads, etc.

Make Mom Jewelry Gift : Necklaces and Bracelets by Making Paper or Fabric Beads - Did you know that you can make beads out of paper and / or fabric material? Well, you can.

How to Make Pretty Earrings or Ear studs Hearts for Valentines Day - Learn how to make these adorable polymer clay stud hearts (aka heart earrings). You can give these stud hearts to your Mom, Grandma, friends, etc to show them how much you care about them…especially for Valentine's Day, Mother's day, or a birthday.

Make a Necklace Gift for Mom or Grandma on Mother's Day - All Moms love jewelry made by hand from their babies (no matter how old you get, you will always be your Mother's baby). Here is a necklace arts and crafts project for kids. This jewelry is made from colorful cardboard, stiff paper, or construction paper. This makes a great, colorful, and thoughtful gift to make for your Grandmother or Mother.

Make Mom Jewelry Gift : Necklaces and Bracelets for Mother's Day - This is a cute idea for kids to make jewelry, such as bracelets and necklaces for Mom, Grandma or an Aunt on Mother's Day or a birthday. Girls especially seem to love this arts and crafts project because many girls love to sew with needle and thread and they love making and wearing jewelry. Either way, this is a lot of fun.

Make Paper New Years Earrings - This craft isn't as complicated as it sounds…. the earrings are actually made out of paper that is decorated by you. You can use your imagination to decorate the earrings however you see fit.

Make Earrings with Sea Shells for Mom on Mothers Day - Sea Shell earrings turn out beautifully and they are very simple to make. Below you can find easy instructions for putting together earrings that are made from sea shells and earring clips. These would make a great gift for Mom or your Grandmother on Mother's Day.

Making Pom Pom Party Earrings - These are party pom poms that we made for a New Years Eve Party. Find out how to make them with the following tutorial.

Make Mom a Plastic Straw Necklace - It is time to start thinking about making your Mom a gift. How about trying to make this pretty necklace for mother that can be made out of simple plastic straws. All you need is some yarn and some straws and some love for your Mom. The simple instructions follow.

Making Spider Pendants - Learn how to make these spider pendants / jewelry.

Make Ghost Earrings for Halloween - Learn how to make these polymer clay Ghosts and Earrings with the following simple-to-follow craft.

Seashell Bracelets & Earrings - Learn how to make seashell jewelry that turns out beautifully.

Make Polymer Clay Christmas Tree Earrings - Learn how to make these Christmas Tree Earrings from Polymer Clay.

Make Wood Rings - This is a terrific craft idea for woodworking class at school or for Summer Camps.

Coin Earrings - Learn how to make coin earrings - a great craft for travelers coming back from a foreign country...remember your vacation forever.

Leather Rings - Learn how to make leather rings.

Coin Necklaces & Bracelets - A lesson on making coin bracelets and necklaces out of coins from different countries...great after travels to foreign lands.


You Might Also Like Bracelet Crafts ... Friendship Bracelet Crafts ... Necklace Crafts ... Ring Crafts ... Decorative Pins Crafts ... Jewelry Boxes Crafts ... Lanyard Crafts ... Macrame Crafts ... Pony Beads Crafts ... String Art Crafts