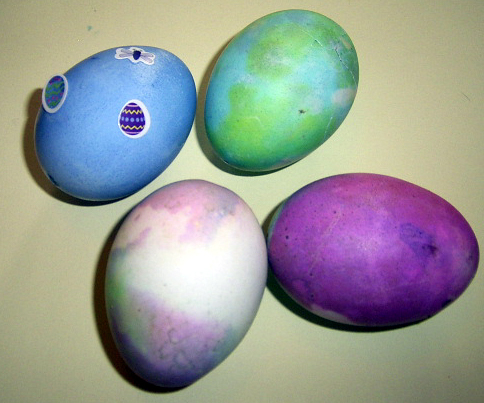 Every year, there are a hundred celebrations and events that I want to keep something from.  Sometimes my keepsakes are countless photographs, while at other times, those keepsakes are little toys, pieces of artwork, or a dozen other little things. The main point is that I have something to remember the event by.  Easter, while filled with many photographs, has always been something that I could never keep something from.  Every year, a few days before Easter Sunday, I would break out the eggs and boil them up for dying.  Then my children and I would spend a few hours creating small masterpieces on the eggs.  Unfortunately, hard boiled eggs never last and I would have to throw away everything that had taken so long to make.
That was until I realized that there was a way to keep the eggs without any worry of them becoming rotten and that is what I will share with you today; making your own keepsake Easter eggs.
Keepsake Easter Eggs Decorating Craft for Kids : How to Make These Decorated Easter Eggs with Your Children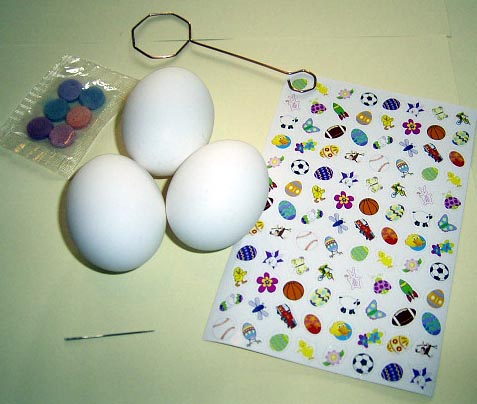 Gather all the crafts materials you need:
Eggs (about a dozen and I prefer to use the large sized eggs)
Easter Egg Dye Kit
Bowl
Needle
Stickers (optional)
Vinegar (for the dye)
1.     Before you begin, take a few minutes to wash the eggs since you will need to put your mouth on the shell. This cuts down on any risk of salmonella.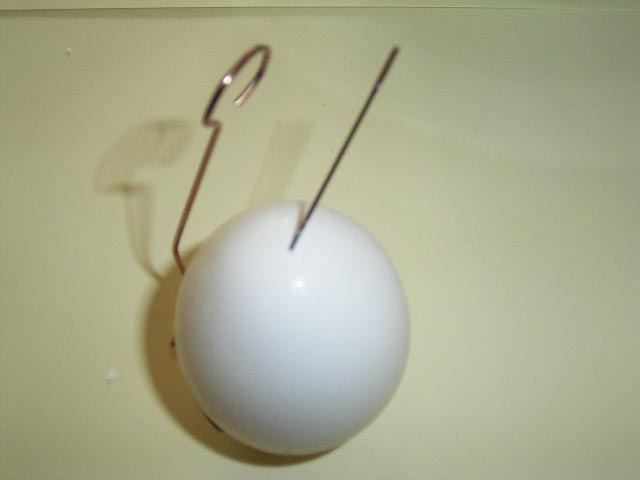 2.    This stage of the project will need to be done by an adult to prevent any injuries.  Once the eggs are washed, take the needle and carefully push it through the tip (or top) of the egg.  Carefully remove a few pieces of shell so you have a small whole in one end of the egg.  Repeat the process with the other end so that you have a hole on both ends of the egg. (Note: This should be the top and bottom of the oval and not the sides of the egg.)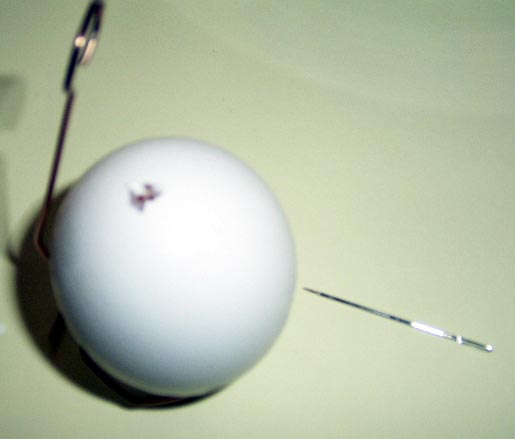 3.   When you have a hole in both sides, insert a long needle into the hole and swirl it around the inside of the egg.  The goal is to break the yolk and remove the membrane from the sides of the egg.  If you miss this stage you won't be able to clean out the egg.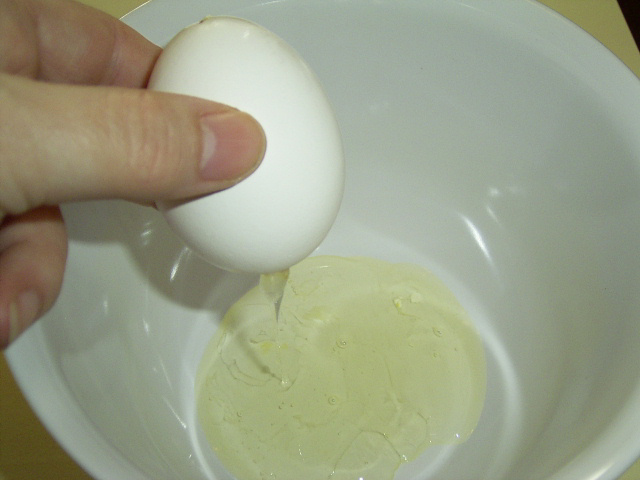 4.   Wipe off the egg white that has leaked out of the top of the egg and then place your lips around the hole.  Firmly blow into the egg while you have the egg resting over a bowl.  The egg should pour out of the other hole but if it doesn't, repeat the swirling with needle until you are sure that the yolk has broken.  Continue to blow until all the yolk and egg white is removed from the inside of the shell.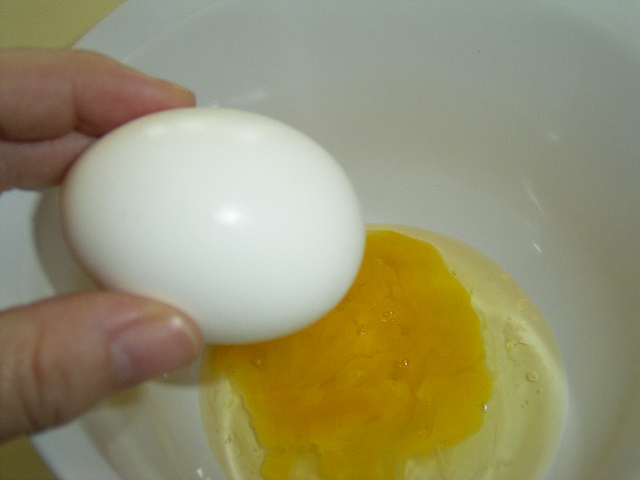 5.    Now that the eggs are ready, wipe off any excess egg white or yolk and set aside.  Prepare the egg dye according to the directions on the package.  (Most egg dyes use vinegar but not all of them do.)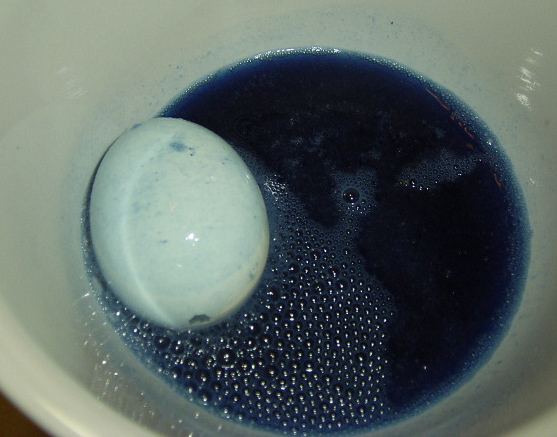 6.   Have your child dye the eggs.  If you want to add layers to the design, you can actually use wax (or crayons) to draw on designs before you dye the eggs.  Once the egg is dyed, you can wipe off the wax to display the design.  When you remove the eggs from the dye, make sure that you allow them to drain completely since the shells will fill up with the dye.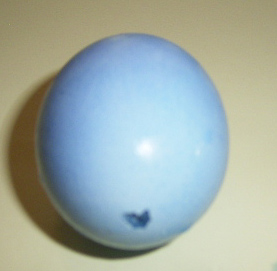 7.   Dry the eggs completely and then finish decorating them with stickers (optional)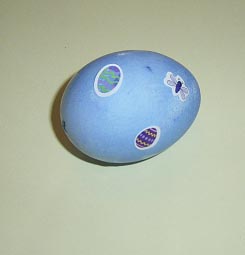 On Easter, the eggs can be used for the egg hunt or they can be used to make beautiful decorations.  One of the best things about blowing the eggs before you dye them is that you can use them for crafts, ornaments or you can simply pack them into an egg carton (with your child's name and the year on each egg) and place them into your keepsake box.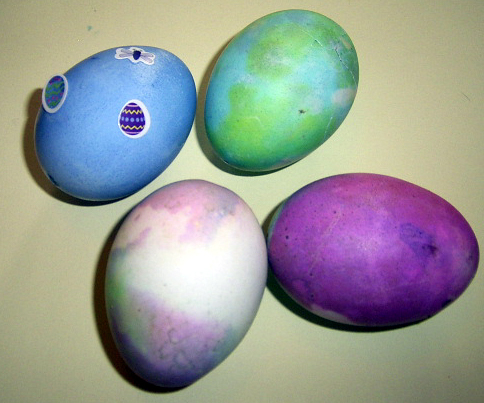 So if you are looking for a way to decorate eggs that you can keep, then this is definitely the way to do it.
MORE EASTER CRAFTS ON THIS BLOG
MORE EASTER CRAFTS ON OUR CRAFTS FOR KIDS SITE
Easter Lambs Crafts Ideas for Kids
Easter Hats & Bonnets Crafts Activities for Kids
Easter Eggs & Egg Decoration Crafts Activities for Kids
MORE EASTER FLOWER CRAFTS & ACTIVITIES FOR KIDS FROM OTHER BLOGS
Craft Project: Easter Egg Duck – Kids will enjoy making these cute and easy ducks from purchased plastic Easter eggs.
Preschool Easter Crafts for Kids Inspire Young Minds – Easter crafts for kids is a great way to mark the Easter festivities, and a great excuse to get your classroom talking about Easter.
Paper Dot Easter Egg Craft for Kids – The paper dots can be used like glitter to embellish cards, decorate picture frames, and yes, even coat styrofoam Easter eggs.  With a few simple craft items that you probably have on hand, create an Easter activity workstation for your young children and make some paper dot Easter eggs for decorations and gifts this Easter season!
Tie Dyed Easter Eggs Craft for Kids –  Tie Dye Easter EggsI saw this egg dying craft on Martha Stewart's site and I have no idea if everyone else on the planet has already seen it but I'm going to take the risk that the majority of you out there are just as behind the times as I am and this will be new to you as well.
Easter Art & Creativity Kits From ELC – Increasing numbers of people are looking for alternatives to chocolate when buying Easter gifts. If you too have noticed chocolates eggs becoming seemingly less special then you may find Early Learning Centre's Easter Art & Creativity range a delightful way of marking this holiday.
Easter Kids Crafts – It is Easter time and with Easter comes Spring break.  Spring break means that the kids are home and need something to do.  I have been researching crafts all day to find just the right ones.  I have compiled a list with the links of crafts we are intending to try.
Easter and Spring Crafts for Toddlers, Preschoolers, and Kids – As always these crafts are suited from 18 months and up, depending on how much parental help is needed.  As for egg cartons, I prefer the cardboard type as they are easier to color, using crayons, markers and color pencils.  But this time I did the crafts with a Styrofoam egg carton, which can only be colored on with crayon and some pressure.
Easter Bunny Egg/Flower Holder – Make this cute Easter bunny holding a flower in front of an Easter egg.
Kids Crafts for Holidays & Easter – Easter is coming up which got me thinking about how I am going to keep my kids occupied this year.
Easter Craft For Kids (including a bouquet of flowers) – My absolute favorite book for Toddler Crafts is called The Toddler's Busy Book by Trish Kuffner. It has 365 Games and Activities in it that are easy and fun to do!  There are crafts for every holiday.  It breaks the crafts down into great categories like : Rainy Day Play, Kids in the Kitchen, Water Play, Outdoor Adventures, Arts & Crafts and much more.  I highly recommend getting this book!!  It is a great resource, one I have used over and over!!  Below is one of the craft ideas for Easter that is in the book.
Easter Craft Ideas for Kids – Get crafty and create a colorful Easter holiday for the kids.  Along with the Easter egg masterpieces you have planned using some of the ideas in our article about 20 ways to decorate an Easter egg, craft your own panoramic sugar eggs, chocolate Easter lollipops, feathered Easter baskets, and more to celebrate the holiday.
Keeping Easter Fun and Frugal –   Finding great activities for your kids to do for Easter can be easier than you think, here's a little craft making felt Easter decorations that you can use every year.
Easter and Springtime Crafts for Kids – Easter and springtime traditionally signals the turn of the year into a time of rebirth and fresh beginnings. It's a season groaning with possibilities for so many crafts for kids to enjoy.
Easter Family Fun – For many families, Easter is a time honored tradition when the earth is reborn and loved ones reunite. A time for honey baked ham, mashed potatoes and, of course, chocolate, chocolate and more chocolate.
Free Kids Crafts for Easter – I've been posting mostly patterns for things tou make FOR kids, well, here's some crafts that they can make theirselves!
Have Fun With Your Easter Egg Hunt – The tradition of Easter egg hunts goes back centuries in one form or another. As a symbol of fertility and new birth, eggs planted around the home bring to mind the rebirth of Spring. Incorporate that same feeling of joy into your hunt to make it fun for the whole family.
Preschool Easter Crafts for Kids Promotes Creativity – Children can be very trying at times, anyone with kids knows that. But there comes a time, after the terrible twos, but before pre-teens, that they are simply delightful. They haven't learnt any bad behavior yet, and all they want to do is please you.
Two Super Easy Easter Crafts for Kids! – Easter is only two weeks away! Here are some fun and thrifty crafts to do with your kiddos.
Technorati Tags: easter egg crafts, easter eggs, decorate easter eggs, easter egg decoration, easter egg crafts for kids, crafts for kids, easter crafts, easter crafts for kids, arts and crafts, Blow Egg, Blown Egg, Blown Eggs, easter, Easter Eggs, Egg Dye, Egg Keepsake, Egg Whites, Eggs, Keepsake, Yolk