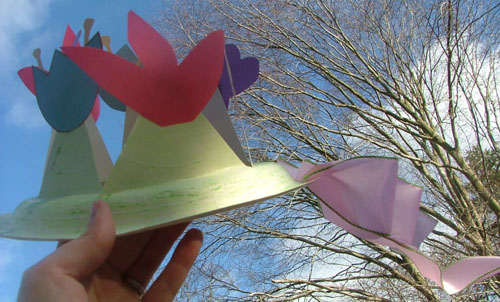 An Easter bonnet is a longstanding tradition for little girls in many families – and calling it a flower crown will make any little boy excited to be the king of spring! Explain the history of the Easter bonnet to your children and even teach them the song from Irvin Berlin's "Easter Parade." Then, get started!
Easter Bonnet or Flower Crown Craft for Kids : How to Make an Easter Bonnet, Hat, or Flower Crown with Your Children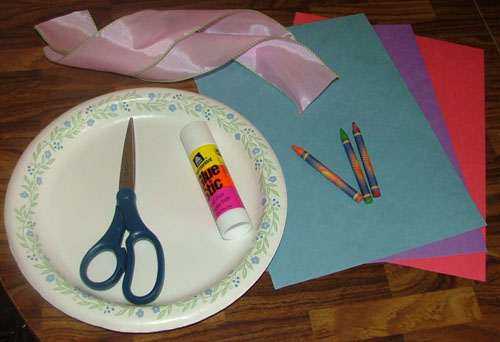 What you'll need:
Paper plate – I used one with flowers for a pretty inside trim to my bonnet
Construction paper
Crayons, markers or paint
Ribbon, glitter or tissue paper for embellishments
Scissors
Glue
Step 1: Turn paper plate upside down and color or paint it green.
Step 2: Cut three slits from edge to edge of paper plate, leaving about 1″ margins.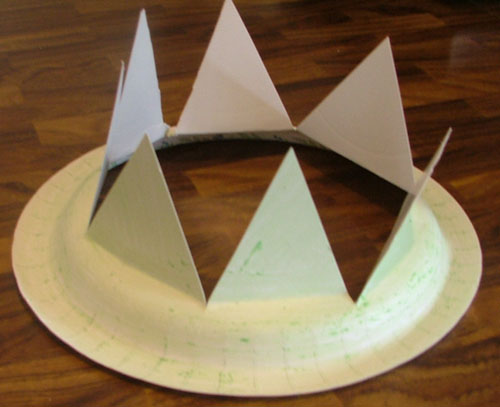 Step 3: Bend the points created by slits upward.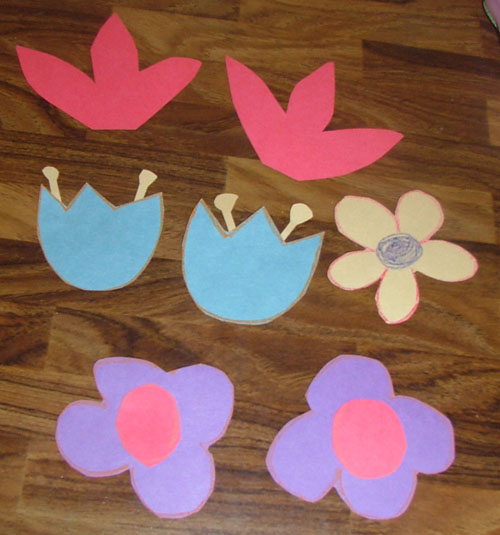 Step 4: Cut out some flowers out of contruction paper or tissue paper. Have your child identify flowers that grow in your yard or you typically see around Easter and draw them, or just be creative and create your own spring foliage!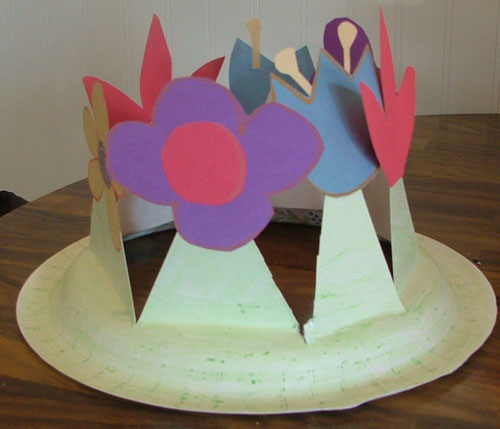 Step 5: Glue your flowers to the points and add any other decorations you want – like glitter or stickers. I added ribbons down the back of my bonnet.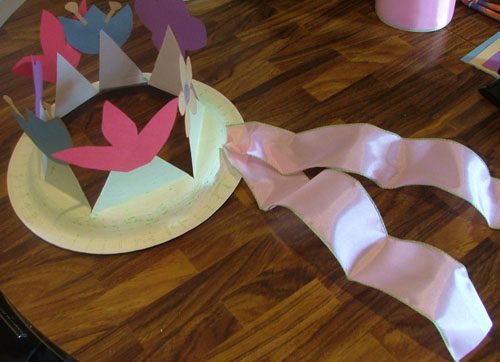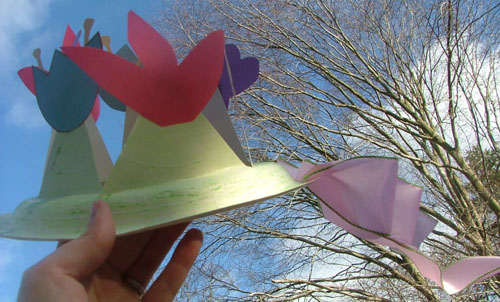 MORE EASTER CRAFTS ON THIS BLOG
MORE EASTER CRAFTS ON OUR CRAFTS FOR KIDS SITE
Easter Lambs Crafts Ideas for Kids
Easter Hats & Bonnets Crafts Activities for Kids
Easter Eggs & Egg Decoration Crafts Activities for Kids
MORE EASTER FLOWER CRAFTS & ACTIVITIES FOR KIDS FROM OTHER BLOGS
Easter Hat –  Just in time for Easter I've dragged out my Fiskars tools and stash and created a masterpiece !  This gorgeous Easter Hat was the result of an afternoon's work, an empty nappy box, some Fiskars goodies, and a little bit of creativity.
Paper mache eggs and Easter Bonnet Hats –  How to make an Easter Bonnet Hat and Paper Mache Eggs with Your Kids.
Easter Hats and other ramblings – Loughie's is set on his Goofy Hat – a rather fine base I must say and Hettie's is set on a pink cowboy hat – deceptively simple, 100% cool 🙂
Easter Bunny holds treats –  Boxes can be filled with sweet surprises for someone special
Celebrating Easter Week –  Make Easter meaningful for your family this year by celebrating it for an entire week,  all the while focusing on the true meaning of Easter.
Make Animal Masks for Your Eggs -Making a paper crown might also be a good way to make animal masks for your eggs. Just make a narrow paper crown for your egg, attach eyes, nose, ears, hair, etc. to it as befits your chosen animal.
Easter Celebration Ideas – Easter Fun Craft Activities For All The Family – Easter egg hunting is what my children love the most and now that we live in an apartment we aren't able to have an Outdoor Easter egg hunt so I make a luck dip for my children in the shape of an Easter hen.   I make a big Paper Mache' hen and paint her in autumn colors. She sits on a nest with eggs underneath her.  Through out the holiday the children can find eggs hidden underneath the hen and inside the body wings head and beak of our Easter hen.
Craft Project: Easter Egg Duck – Kids will enjoy making these cute and easy ducks from purchased plastic Easter eggs.
Preschool Easter Crafts for Kids Inspire Young Minds – Easter crafts for kids is a great way to mark the Easter festivities, and a great excuse to get your classroom talking about Easter.
Paper Dot Easter Egg Craft for Kids – The paper dots can be used like glitter to embellish cards, decorate picture frames, and yes, even coat styrofoam Easter eggs.  With a few simple craft items that you probably have on hand, create an Easter activity workstation for your young children and make some paper dot Easter eggs for decorations and gifts this Easter season!
Tie Dyed Easter Eggs Craft for Kids –  Tie Dye Easter EggsI saw this egg dying craft on Martha Stewart's site and I have no idea if everyone else on the planet has already seen it but I'm going to take the risk that the majority of you out there are just as behind the times as I am and this will be new to you as well.
Easter Art & Creativity Kits From ELC – Increasing numbers of people are looking for alternatives to chocolate when buying Easter gifts. If you too have noticed chocolates eggs becoming seemingly less special then you may find Early Learning Centre's Easter Art & Creativity range a delightful way of marking this holiday.
Easter Kids Crafts – It is Easter time and with Easter comes Spring break.  Spring break means that the kids are home and need something to do.  I have been researching crafts all day to find just the right ones.  I have compiled a list with the links of crafts we are intending to try.
Easter and Spring Crafts for Toddlers, Preschoolers, and Kids – As always these crafts are suited from 18 months and up, depending on how much parental help is needed.  As for egg cartons, I prefer the cardboard type as they are easier to color, using crayons, markers and color pencils.  But this time I did the crafts with a Styrofoam egg carton, which can only be colored on with crayon and some pressure.
Easter Bunny Egg/Flower Holder – Make this cute Easter bunny holding a flower in front of an Easter egg.
Kids Crafts for Holidays & Easter – Easter is coming up which got me thinking about how I am going to keep my kids occupied this year.
Easter Craft For Kids (including a bouquet of flowers) – My absolute favorite book for Toddler Crafts is called The Toddler's Busy Book by Trish Kuffner. It has 365 Games and Activities in it that are easy and fun to do!  There are crafts for every holiday.  It breaks the crafts down into great categories like : Rainy Day Play, Kids in the Kitchen, Water Play, Outdoor Adventures, Arts & Crafts and much more.  I highly recommend getting this book!!  It is a great resource, one I have used over and over!!  Below is one of the craft ideas for Easter that is in the book.
Easter Craft Ideas for Kids – Get crafty and create a colorful Easter holiday for the kids.  Along with the Easter egg masterpieces you have planned using some of the ideas in our article about 20 ways to decorate an Easter egg, craft your own panoramic sugar eggs, chocolate Easter lollipops, feathered Easter baskets, and more to celebrate the holiday.
Keeping Easter Fun and Frugal –   Finding great activities for your kids to do for Easter can be easier than you think, here's a little craft making felt Easter decorations that you can use every year.
Easter and Springtime Crafts for Kids – Easter and springtime traditionally signals the turn of the year into a time of rebirth and fresh beginnings. It's a season groaning with possibilities for so many crafts for kids to enjoy.
Easter Family Fun – For many families, Easter is a time honored tradition when the earth is reborn and loved ones reunite. A time for honey baked ham, mashed potatoes and, of course, chocolate, chocolate and more chocolate.
Free Kids Crafts for Easter – I've been posting mostly patterns for things tou make FOR kids, well, here's some crafts that they can make theirselves!
Have Fun With Your Easter Egg Hunt – The tradition of Easter egg hunts goes back centuries in one form or another. As a symbol of fertility and new birth, eggs planted around the home bring to mind the rebirth of Spring. Incorporate that same feeling of joy into your hunt to make it fun for the whole family.
Preschool Easter Crafts for Kids Promotes Creativity – Children can be very trying at times, anyone with kids knows that. But there comes a time, after the terrible twos, but before pre-teens, that they are simply delightful. They haven't learnt any bad behavior yet, and all they want to do is please you.
Two Super Easy Easter Crafts for Kids! – Easter is only two weeks away! Here are some fun and thrifty crafts to do with your kiddos.
Technorati Tags: easter bonnet craft, easter hat craft, flower crown craft, flower craft, crown craft, bonnet craft, hat craft, spring craft, easter craft, how to make a hat, how to make a crown, how to make a bonnet, crafts for kids, easter craft for kids, spring craft for kids, craft for children