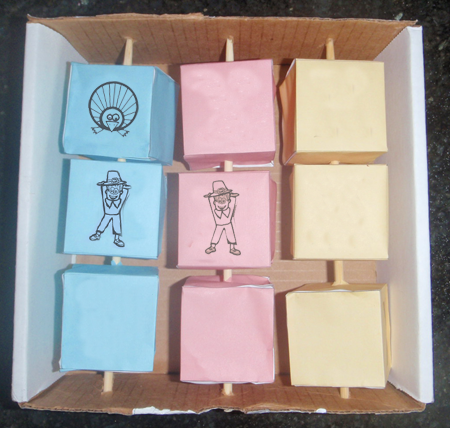 Free Thanksgiving Pigrim & Turkey Activity Game  : Make Printable Foldable Pilgrims & Turkeys Thaksgiving Tic-Tac-Toe Paper Crafts Game for Kids
Have a free afternoon and want to make the coolest craft you have ever made? All you need are a box, chopsticks, printer, paper, scissors, glue, and patience and you will have a fun Thanksgiving arts and crafts activity to keep you busy. This Thanksgiving game was a big hit in my house and I think your kids will love it too. Find out more below.
(Also learn how to fold up a 3D paper turkey)
(Also learn how to fold up a 3D pilgrim girl)
Materials Required:
Printer
Paper
Scissors
Chopsticks
Cardboard Box
Glue
Small Stick
Patience
Free Tic-Tac-Toe Thanksgiving Game Paper Models Diagrams Below:
Print this template out 3 times.
Print this template out 3 times.
Print this template out 3 times.
Instructions for Making Tic-Tac-Toe Thanksgiving Game Activity:
(1) Cut out the templates (9 pages in all – 3 of each template) along the outer lines.
(2) This is what the template should look like after cut out along the lines. (above)
(3a) A hole must be cut in both '+' marks on the template. You can either fold lightly (without creasing) and cut a slit in both directions on both '+' marks  OR
(3b) put a pencil through the '+' marks
(4) Fold along all inner lines and along each tab…after folding at these lines, the paper will sort of take shape (as seen above).
(5) Glue along all white tabs (as seen above).
(6) Push tabs into sides of box as seen above and hold down for about 8 seconds along each corner (as seen above).
(7) The very last side is hardest to put together … the only way to close it is to squeeze tightly and hope the crease doesn't stay.
(8) Fold all 9 cubes together.
(9) Take 3 chopsticks and put each one through 3 of the cubes. You can put each color on one chopstick like I did, or mix up the colors the way that you want to.
Find a cardboard box that is a bit bigger than all of the squares so that there is space for the cubes to turn. Space the chopsticks out evenly and then with a scissor, put the tip through the sides of the box so that you can put the chopsticks through each side. At the end, the game should look like this and the cubes should turn easily.
MORE THANKSGIVING ARTS AND CRAFTS IDEAS BELOW
It is almost Thanksgiving time so check out our Thanksgiving Coloring Pages & Thanksgiving Crafts for Kids Page to find some great turkey and thanks-giving crafts project ideas for kids to celebrate Thanksgiving such as
Autumn / Fall Crafts ..
Cornucopia Crafts..
Indian Corn Crafts ..
Pilgrim Crafts ..
Preschoolers & Toddlers Thanksgiving Crafts ..
Scarecrow Crafts ..
Thanksgiving Coloring Pages & Printouts ..
Thanksgiving Decorations Crafts ..
Thanksgiving Table Decorations Crafts ..
Thanksgiving Turkey Crafts ..
Thanksgiving Worksheets & Printouts
Technorati Tags: thanksgiving games, free thanksgiving games, make games, making games, free thanksgiving toys, Thanksgiving activities, thanksgiving coloring pages, thanksgiving printables, free thanksgiving activities, free thanksgiving coloring pages, thanksgiving activity, turkey activities, turkey coloring pages, pilgrim activities, pilgrim coloring pages, indian activities, indian coloring pages, printable paper toys, print out paper toys, free paper crafts, free printable paper toys, thanksgiving turkey crafts, thanksgiving turkeys crafts, turkeys crafts, turkey crafts, crafts with turkeys, thanksgiving crafts, thanksgiving, thanksgiving crafts for kids, thanksgiving activities for kids, thanksgiving decoration crafts, coloring pages, activities, activities for kids, crafts, arts and crafts, arts & crafts, arts and crafts for kids