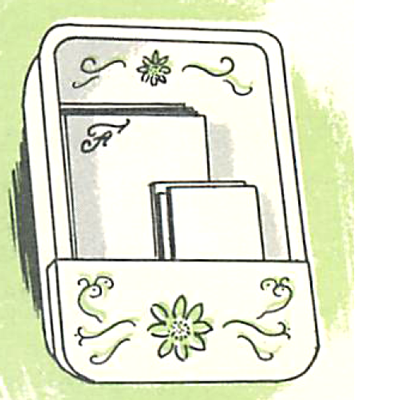 Make Stationery Holder Crafts Gift for Mom on Mother's Day
Need ideas for gifts to make for your Moms for Mother's Day? Every Mom I know has a box full of stationery for times when they need to write correspondence and other type of letters. This attractive and useful gift is made from a pressed paper package tray and cover from a super market.
To make it you will need the following crafts materials:
-pressed paper tray and cover
-stationery
-paints
-scissors
-brush
-ruler
-pencil
-glue or paste
Step 1
Remove the cover from the tray.
Step 2
On the cover, make a line marking off about 1/3 the length of the cover with a ruler and pencil.
Step 3
Cut away 2/3 of the cover with a pair of scissors.
Step 4
Glue the remaining section of the cover to the tray.
Step 5
Paint designs or decorations on the holder, inside and out, and allow it to dry thoroughly.
Step 6
Paint a small decorative design, monogram, or initial in the upper left hand corner of the stationery sheets that will go into the holder, and allow them to dry.
Step 7
Place the stationery in the holder and your gift is ready to be presented.
Technorati Tags: stationery holders, stationery box, paper holder, paper box, make gifts, making gifts for mom, making gifts, mothers day gifts, mothers day crafts, kids crafts, crafts for kids, make mothers day presents