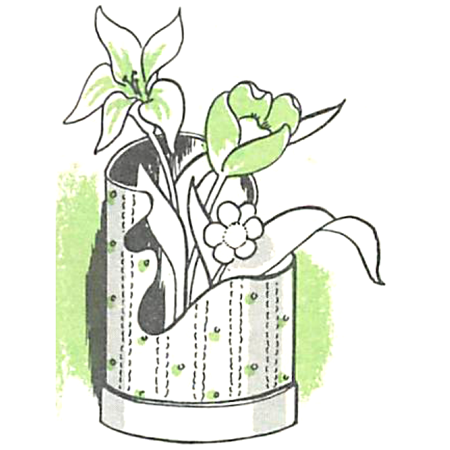 Make Flower Holders Gift for Mom on Mothers Day
Flowers make a great gift for Moms or Grandmothers on Mother's Day…they are beautiful, just like she is, inside and out. How about making a pretty flower holder vase for the flowers that you pick for her (or buy for her). This beautiful flower holder in which you can place real flowers would make an especially nice Easter gift for someone you love.
To make it you will need the following materials:
-large cylindrical food container
-safety back razor blade (With Parental Supervision from Dad or Someone Other Than Mom)
-paints
-real or artificial flowers
-small jar
-scissors
-pencil
-magazine cut-outs
-glue or paste
Step 1
Remove the cover from the container.
Step 2
Stand the container into the cover to give it a firmer base.
Step 3
With a pencil, draw an irregular shape on the container of the portion to be cut away.
Step 4
With a safety back razor blade, carefully cut away the portion to be discarded.
Step 5
Paint the flower holder a solid color and allow it to dry thoroughly.
Step 6
Either paint designs or decorations on the holder, or glue on colorful magazine cut-outs.
Step 7
Fill a small jar with water and stand it inside the holder.
Step 8
Place several real flowers in the jar. If you use artificial flowers you will not need to put water in the jar.
Technorati Tags: flower holders, flower holder, make flower holders, make flower vase, flower vases, flowers, flower holder craft, flower vase craft, crafts for kids, kids crafts, mothers day crafts, mothers day, mothers day gifts, gifts for mom, mom crafts