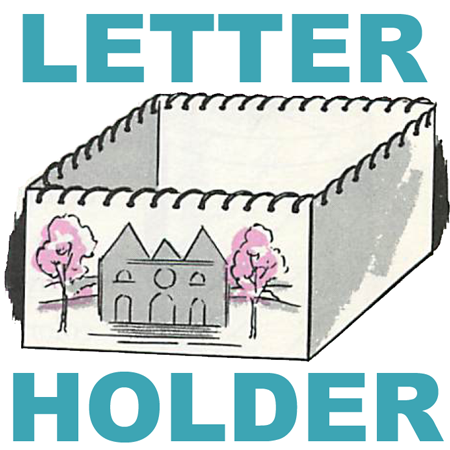 Make Letter Holders Box as Gift for Mom on Mother's Day
Make this cool letter holder as a gift for Mom  on Mother's Day or Dad on Father's Day or for someone else you love. You can  make this attractive and useful letter holder box gift in which to hold correspondence letters.
To make it you will need the following crafts materials:
-glue
-colorful greeting cards
-magazine cut-outs
-paints
-brush
-nail
-firm rectangular cereal box
-scissors
-needle
-wool
-colored paper
Step 1
Cut the cereal box down to the height you want, with a pair of scissors.
Step 2
Cut a piece of colored paper to fit around the box, and glue it in place. Allow it to dry.
Step 3
With a nail, punch evenly-spaced holes at 1/2 inch intervals about 1/4 inch down from the top, all around the box.
Step 4
With a needle and wool, run an overcast stitch through the holes to make a decorative finish.
How to Make an Overcasting Stitch
Make a knot at the end of your piece of thread. Point the needle away from the hand with which you are working and toward the shoulder of the other hand. The stitches should be about 1/4 inch apart. End a row of overcasting stitches with a few little backstitches one over the other.
Step 5
Cut a colorful picture from a greeting card, and glue it to the front of the box.
Technorati Tags: letter box, making letter box, letter holder, letters holders, mothers day gifts, make mothers day gifts, making mothers day gifts, mothers day crafts, correspondence box, cardboard crafts, crafts with boxes