Father's Day is coming up in the middle of June…which isn't too far away from now. Do you want to start planning a great gift for your Dad? This is an arts and crafts project that uses a cork and a wire coat hanger to make a great rack to hold magazines and newspapers. If your Dad reads a lot of periodicals (newspapers and magazines), then this might be the perfect craft to make for your Dad. Instructions are below…enjoy.
Make Newspaper or Magazine Holder Rack for Dad on Father's Day
CRAFTS MATERIALS THAT YOU WILL NEED:
– Wire hanger
– Gummed tape or felt / fabric or ribbon
– Bottle cork, optional
HOW TO MAKE THIS CRAFT TO MAKE RACK HOLDER FOR MAGAZINES AND NEWSPAPERS
Bend the wire hanger as indicated in the illustrations below.
Step 1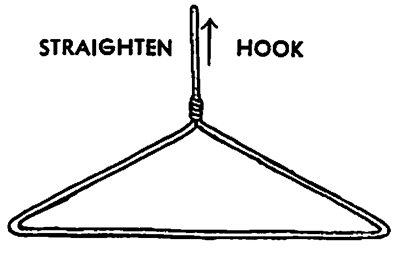 Straighten hook on wire hanger as pictured above.
Step 2
Now bend hook on wire hanger down as pictured above.
Step 3
Now bend arms on wire hanger down as seen above. Letter 'C' is where the cork will be placed.
Step 4
Now pull apart hanger about 6 inches at the top. Remember, the cork can also be seen as letter 'c'.
Step 5
Cover the hanger entirely with gummed tape. If you don't have gummed tape, then wrap your hanger in ribbon, fabric or felt…but you will need to use glue to secure to the hanger.
Step 6
Insert the end (C) into the center of the cork, if you have one. The cork will keep the holder from scratching table, desk, or floor when it stands with magazines held neatly in it.
This holder is the perfect size for magazines and newspapers of most sizes. Your Dad or Grandpa would love this for Father's Day…however Moms and Grandmas would love this as well for Mother's Day or a birthday as well.
Technorati Tags: make magazine holder, make newspaper holder, make magazine rack, make newspaper rack, how to make newspaper holder, how to make magazine holder, magazines, newspapers, make fathers day gifts, making fathers day gifts, make gifts for dad, making gifts for dad, crafts for dad, crafts for father, crafts for kids, kids crafts, crafts with hangers, crafts with wire hangers